Anaerobic phenanthrene biodegradation with four kinds of electron acceptors enriched from the same mixed inoculum and exploration of metabolic pathways
Abstract
Polycyclic aromatic hydrocarbons (PAHs) are widespread and persistent contaminants worldwide, especially in environments devoid of molecular oxygen. For lack of molecular oxygen, researchers enhanced anaerobic zones PAHs biodegradation by adding sulfate, bicarbonate, nitrate, and iron. However, microbial community reports of them were limited, and information of metabolites was poor except two-ring PAH, naphthalene. Here, we reported on four phenanthrene-degrading enrichment cultures with sulfate, bicarbonate, nitrate, and iron as electron acceptors from the same initial inoculum. The high-to-low order of the anaerobic phenanthrene biodegradation rate was the nitrate-reducing conditions>sulfate-reducing conditions>methanogenic conditions>iron-reducing conditions. The dominant bacteria populations were Desulfobacteraceae, Anaerolinaceae, and Thermodesulfobiaceae under sulfate-reducing conditions; Moraxellaceae, Clostridiaceae, and Comamonadaceae under methanogenic conditions; Rhodobacteraceae, Planococcaceae, and Xanthomonadaceae under nitrate-reducing conditions; and Geobacteraceae, Carnobacteriaceae, and Anaerolinaceae under iron-reducing conditions, respectively. Principal component analysis (PCA) indicated that bacteria populations of longtime enriched cultures with four electron acceptors all obtained significant changes from original inoculum, and bacterial communities were similar under nitrate-reducing and iron-reducing conditions. Archaea accounted for a high percentage under iron-reducing and methanogenic conditions, and Methanosarcinaceae and Methanobacteriaceae, as well as Methanobacteriaceae, were the dominant archaea populations under iron-reducing and methanogenic conditions. The key steps of phenanthrene biodegradation under four reducing conditions were carboxylation, further ring system reduction, and ring cleavage.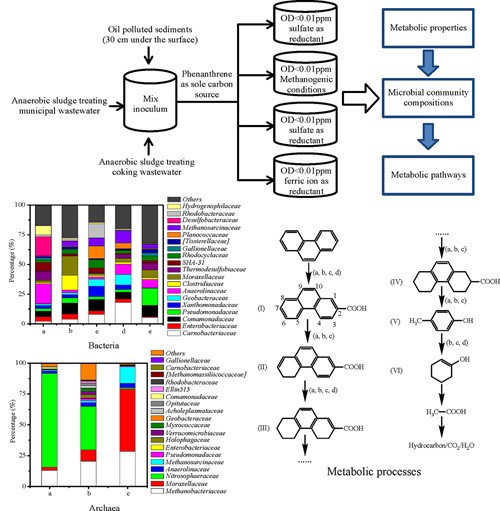 Keywords
Phenanthrene 
Anaerobic biodegradation 
Bacterial populations 
Archaea populations 
Metabolic pathway 
Notes
Acknowledgements
This study was funded by the National Natural Science Foundations of China (Grant Nos. 41573065 and 41773082), the Key Project of Natural Science Foundation of China (No. 21337001) and the Mega-projects of Science Research for Water Environment Improvement (No. 2017ZX07202002).
Copyright information
© Higher Education Press and Springer-Verlag GmbH Germany, part of Springer Nature 2019