A comprehensive simulation approach for pollutant bio-transformation in the gravity sewer
Abstract
Presently, several activated sludge models (ASMs) have been developed to describe a few biochemical processes. However, the commonly used ASM neither clearly describe the migratory transformation characteristics of fermentation nor depict the relationship between the carbon source and biochemical reactions. In addition, these models also do not describe both ammonification and the integrated metabolic processes in sewage transportation. In view of these limitations, we developed a new and comprehensive model that introduces anaerobic fermentation into the ASM and simulates the process of sulfate reduction, ammonification, hydrolysis, acidogenesis and methanogenesis in a gravity sewer. The model correctly predicts the transformation of organics including proteins, lipids, polysaccharides, etc. The simulation results show that the degradation of organics easily generates acetic acid in the sewer system and the high yield of acetic acid is closely linked to methanogenic metabolism. Moreover, propionic acid is the crucial substrate for sulfate reduction and ammonification tends to be affected by the concentration of amino acids. Our model provides a promising tool for simulating and predicting outcomes in response to variations in wastewater quality in sewers.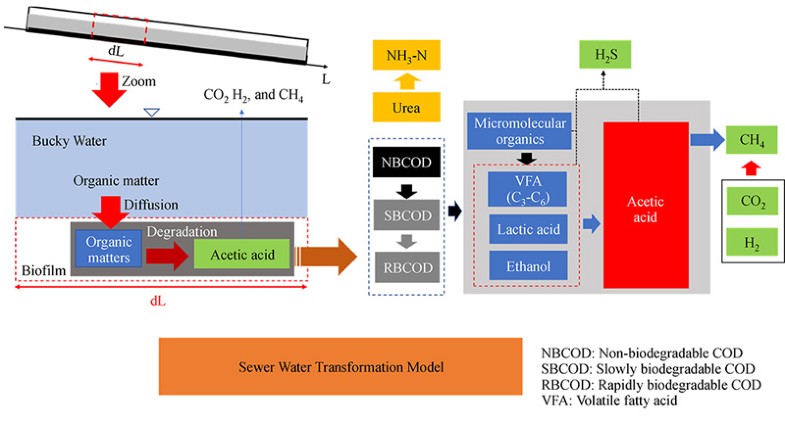 Keywords
Gravity sewer 
Modeling 
Pollutant transformation 
Biochemical reaction process 
Notes
Acknowledgements
This work was financially supported by the National Key Project of Water Pollution Control and Management (Grant No. 2012ZX07313-001), the New Century Excellent Talents Award Program from Education Ministry of China (Grant No. NCET-12-1043), and the Program for Innovative Research Team in Shaanxi Province (Grant No. 2013KCT-13).
Copyright information
© Higher Education Press and Springer-Verlag GmbH Germany, part of Springer Nature 2019