Biodegradation of triclosan and triclocarban in sewage sludge during composting under three ventilation strategies
Part of the following topical collections:
Abstract
Triclosan (TCS) and triclocarban (TCC) are widely used in home and personal care products as antimicrobial agents. After these products are used, TCS and TCC enter the terrestrial environment and pose a great risk to humans and animals. In this research, the biodegradation of TCS and TCC was investigated during sewage sludge composting with ventilation rates of 108, 92, and 79 m3/min. TCS and TCC were mainly biodegraded in the mesophilic and thermophilic phases, and the biodegradation rates improved with an increase in ventilation. After sewage sludge was composted for 16 days with forced ventilation (108 m3/min), the concentration of TCS decreased from 497.4 to 214.5 µg/kg, and the concentration of TCC decreased from 823.2 to 172.7 µg/kg. The biodegradation rates of TCS and TCC were 65.2% and 83.1%, respectively. However, after the sewage sludge was stacked for 16 days, the biodegradation rates of TCS and TCC were only 17.0% and 18.2%, respectively. The environmental risks of TCS and TCC in the sewage sludge piles significantly decreased after composting. In the sludge pile with a ventilation rate of 108 m3/min, the RQ values of TCS and TCC decreased from 8.29 and 20.58 to 3.58 and 4.32 after composting for 16 days, respectively. There is still a high risk if the sludge compost is directly used as a culture substrate. Nevertheless, the environmental risk could be decreased distinctly if a reasonable quantity of sludge compost is applied to land to ensure an RQ of < 1 for TCS and TCC.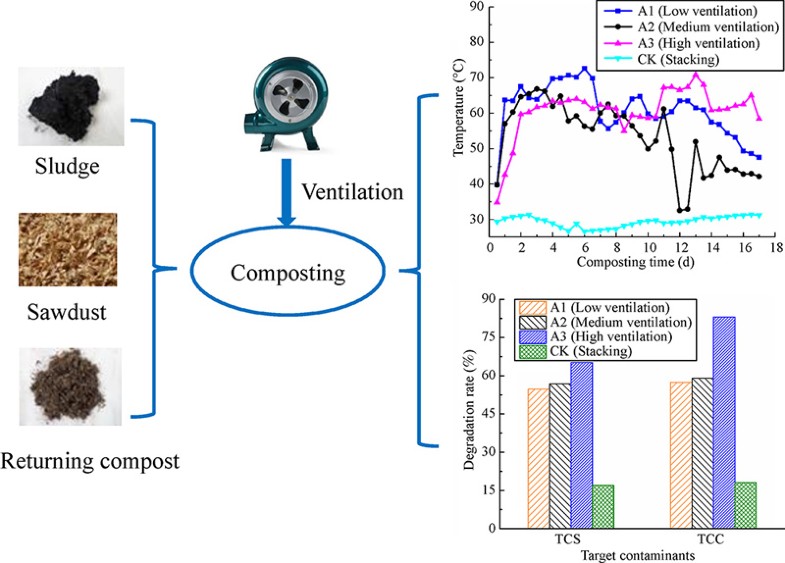 Keywords
Sewage sludge 
Compost 
Triclosan 
Triclocarban 
Ventilation 
Risk assessment 
Notes
Acknowledgements
This work was supported by the National Natural Science Foundation of China (Grant Nos. 41371455 & 41101463).
Copyright information
© Higher Education Press and Springer-Verlag GmbH Germany, part of Springer Nature 2019