Culturomics and metagenomics: In understanding of environmental resistome
Open Access
Review Article
Part of the following topical collections:
Abstract
Pharmaceutical residues, mainly antibiotics, have been called "emerging contaminants" in the environment because of their increasing frequency of detection in aquatic and terrestrial systems and their sublethal ecological effects. Most of them are undiscovered. Both human and veterinary pharmaceuticals, including antibiotics, are introduced into the environment via many different routes, including discharges from municipal wastewater treatment plants and land application of animal manure and biosolids to fertilize croplands. To gain a comprehensive understanding of the widespread problem of antibiotic resistance, modern and scientific approaches have been developed to gain knowledge of the entire antibiotic-resistant microbiota of various ecosystems, which is called the resistome. In this review, two omics methods, i.e. culturomics, a new approach, and metagenomics, used to study antibiotic resistance in environmental samples, are described. Moreover, we discuss how both omics methods have become core scientific tools to characterize microbiomes or resistomes, study natural communities and discover new microbes and new antibiotic resistance genes from environments. The combination of the method for get better outcome of both culturomics and metagenomics will significantly advance our understanding of the role of microbes and their specific properties in the environment.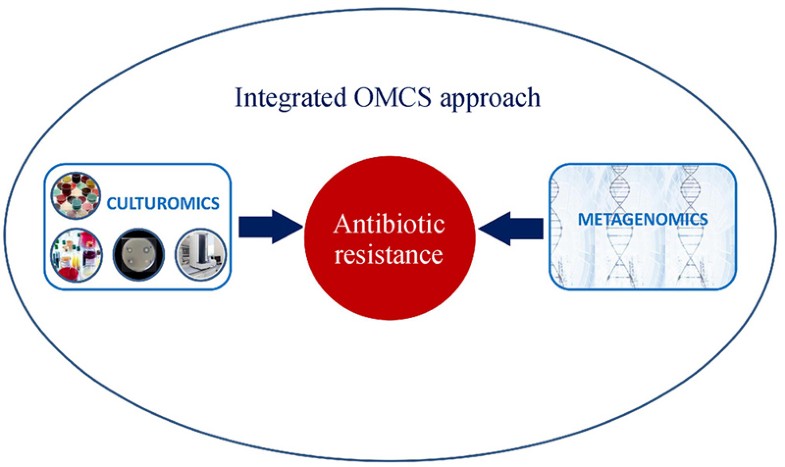 Keywords
Culturomics 
Metagenomics 
Antibiotic resistance 
Resistome 
Notes
Acknowledgements
This paper was prepared in connection with the work done under the project No. 2017/26/M/NZ9/00071 funded by the National Science Center (Poland).
Copyright information
© The Author(s). This article is published with open access at link.springer.com and journal.hep.com.cn 2019
Open Access This article is licensed under a Creative Commons Attribution 4.0 International License, which permits use, sharing, adaptation, distribution and reproduction in any medium or format, as long as you give appropriate credit to the original author(s) and the source, provide a link to the Creative Commons licence, and indicate if changes were made. The images or other third party material in this article are included in the article's Creative Commons licence, unless indicated otherwise in a credit line to the material. If material is not included in the article's Creative Commons licence and your intended use is not permitted by statutory regulation or exceeds the permitted use, you will need to obtain permission directly from the copyright holder. To view a copy of this licence, visit https://doi.org/creativecommons.org/licenses/by/4.0/.