Unlocked disinfection by-product formation potential upon exposure of swimming pool water to additional stimulants
Abstract
Anthropogenic organics are known to be responsible for the formation of harmful disinfection byproducts (DBPs) in swimming pool water (SPW). The research explored an important scenario of SPW with no additional anthropogenic organic input. With stimulations by residual chlorine or additional chlorine and extended incubation, the formation of DBPs, especially chloroform, was significantly induced. Similar observations were found by investigating synthetic SPW made with sweat and urine. The presence of urine led to a massive formation of chloroform, as noted by an approximate 19-fold increase after 165-day incubation with a shock chlorine dose. The research suggests that consistent residual chlorine and long water retention as two typical features of SPW could unlock the DBP formation potential of anthropogenic organics. Thus, limiting the introduction of anthropogenic organics may not have an immediate effect on reducing DBP levels, because their reactions with chlorine can be slow and long-lasting. Pool management should prioritize on control of urine and improving air ventilation. This work is useful to deepen understandings about DBP formation in SPW and provide implications for pool management and prospective legislation.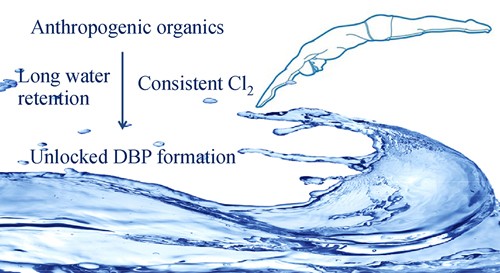 Keywords
Trihalomethanes 
Haloacetic acids 
Chloroform 
Residual chlorine 
Anthropogenic organics 
Swimming pool water 
Notes
Acknowledgements
This research was supported by the start-up fund provided by College of Natural Sciences and Mathematics at Indiana University of Pennsylvania. The author gratefully acknowledges Penn State Harrisburg for provision of access to its Aquatic Center and laboratory facilities.
Copyright information
© Higher Education Press and Springer-Verlag GmbH Germany, part of Springer Nature 2019