Removal of tetrachlorobisphenol A and the effects on bacterial communities in a hybrid sequencing biofilm batch reactor-constructed wetland system
Abstract
Tetrachlorobisphenol A (TCBPA) released into the sewage may cause environmental pollution and health risk to human beings. The objective of this study was to investigate the removal of TCBPA and bacterial community structures in a laboratory-scale hybrid sequencing biofilm batch reactor (SBBR)- constructed wetland (CW) system. The results showed that the removal efficiency of chemical oxidation demand (COD), ammonia, total nitrogen and total phosphorus in the SBBR-CW system was 96.7%, 97.3%, 94.4%, and 88.6%, respectively. At the stable operation stage, the system obtained a 71.7%±1.8% of TCBPA removal efficiency with the influent concentration at 200 mg/L. Illumina MiSeq sequencing of 16S rRNA gene revealed that the presence of TCBPA not only reduced the bacterial diversity in the SBBR-CW system, but also altered the composition and structure of bacterial community. After the addition of TCBPA, Proteobacteria increased from 31.3% to 38.7%, while Acidobacteria and Parcubacteria decreased greatly in the SBBR. In contrast, Acidobacteria replaced Proteobacteria as the dominant phylum in the upper soils of CW. The results indicated that TCBPA stimulated the growth of GAOs in the SBBR without deteriorating the phosphorus removal due to the presence of sufficient carbon sources. The ammonia oxidizing bacteria, Nitrosomonas, and denitrification bacteria, Hyphomicrobium and Pseudomonas, were inhibited by TCBPA, resulting in a decreasing the removal efficiency of TN and ammonia.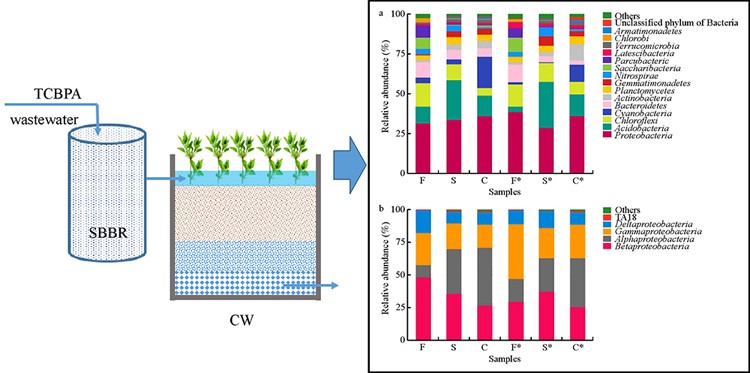 Keywords
SBBR 
Constructed wetland 
Tetrachlorobisphenol A 
Microbial community structure 
Notes
Acknowledgements
This work was supported by the National Key Research and Development Program of China (Grant No. 2016YFC0401105), National Natural Science Foundation of China (Grant Nos. 51508538 and 51308319) and Beijing Talented Backbones Program (No. 2015000021733G171).
Copyright information
© Higher Education Press and Springer-Verlag GmbH Germany, part of Springer Nature 2019