Microbial responses to combined oxidation and catalysis treatment of 1,4-dioxane and co-contaminants in groundwater and soil
Part of the following topical collections:
Abstract
Post-treatment impacts of a novel combined hydrogen peroxide (H
2
O
2
) oxidation and WO
x
/ZrO
2
catalysis used for the removal of 1,4-dioxane and chlorinated volatile organic compound (CVOC) contaminants were investigated in soil and groundwater microbial community. This treatment train removed ~90% 1,4-dioxane regardless of initial concentrations of 1,4-dioxane and CVOCs. The Illumina Miseq platform and bioinformatics were used to study the changes to microbial community structure. This approach determined that dynamic shifts of microbiomes were associated with conditions specific to treatments as well as 1,4-dioxane and CVOCs mixtures. The biodiversity was observed to decrease only after oxidation under conditions that included high levels of 1,4-dioxane and CVOCs, but increased when 1,4-dioxane was present without CVOCs. WO
x
/ZrO
2
catalysis reduced biodiversity across all conditions. Taxonomic classification demonstrated oxidative tolerance for members of the genera
Massilia
and
Rhodococcus
, while catalyst tolerance was observed for members of the genera
Sphingomonas
and
Devosia
. Linear discriminant analysis effect size was a useful statistical tool to highlight representative microbes, while the multidimensional analysis elucidated the separation of microbiomes under the low 1,4-dioxane-only condition from all other conditions containing CVOCs, as well as the differences of microbial population among original, post-oxidation, and post-catalysis states. The results of this study enhance our understanding of microbial community responses to a promising chemical treatment train, and the metagenomic analysis will help practitioners predict the microbial community status during the post-treatment period, which may have consequences for long-term management strategies that include additional biodegradation treatment or natural attenuation.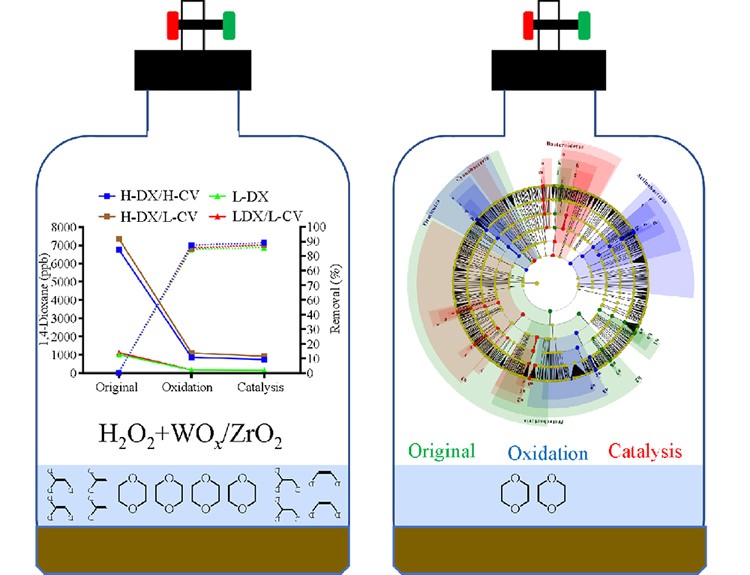 Keywords
Coupled treatments 
Chlorinated solvents 
Diethylene ether 
Biological diversity 
Microbial populations 
Biomarkers 
Notes
Acknowledgements
This study was supported by the Strategic Environmental Research and Development Program (SERDP) award ER-2307 and by National Science Foundation Faculty Early Career Development (CAREER) award #1255021. This research was performed in a renovated collaboratory funded by the National Science Foundation Grant Number 0963183, which was awarded under the American Recovery and Reinvestment Act of 2009 (ARRA). The authors thank Michelle Myers for her assistance with 1,4- dioxane analyses and total nucleic acids extractions.
Copyright information
© Higher Education Press and Springer-Verlag GmbH Germany, part of Springer Nature 2018