Simultaneously recovering electricity and water from wastewater by osmotic microbial fuel cells: Performance and membrane fouling
Part of the following topical collections:
Abstract
Since the concept of the osmotic microbial fuel cell (OsMFC) was introduced in 2011, it has attracted growing interests for its potential applications in wastewater treatment and energy recovery. However, forward osmosis (FO) membrane fouling resulting in a severe water flux decline remains a main obstacle. Until now, the fouling mechanisms of FO membrane especially the development of biofouling layer in the OsMFC are not yet clear. Here, the fouling behavior of FO membrane in OsMFCs was systematically investigated. The results indicated that a thick fouling layer including biofouling and inorganic fouling was existed on the FO membrane surface. Compared to the inorganic fouling, the biofouling played a more important role in the development of the fouling layer. Further analyses by the confocal laser scanning microscopy (CLSM) implied that the growth of biofouling layer on the FO membrane surface in the OsMFC could be divided into three stages. Initially, microorganisms associated with ß-D-glucopyranose polysaccharides were deposited on the FO membrane surface. After that, the microorganisms grew into a biofilm caused a quick decrease of water flux. Subsequently, some of microorganisms were dead due to lack of nutrient source, in the meantime, polysaccharide and proteins in the biofouling layer were decomposed as nutrient source, thus leading to a slow development of the biofouling layer. Moreover, the microorganisms played a significant role in the formation and development of the biofouling layer, and further studies are needed to mitigate the deposition of microorganisms on FO membrane surfaces in OsMFCs.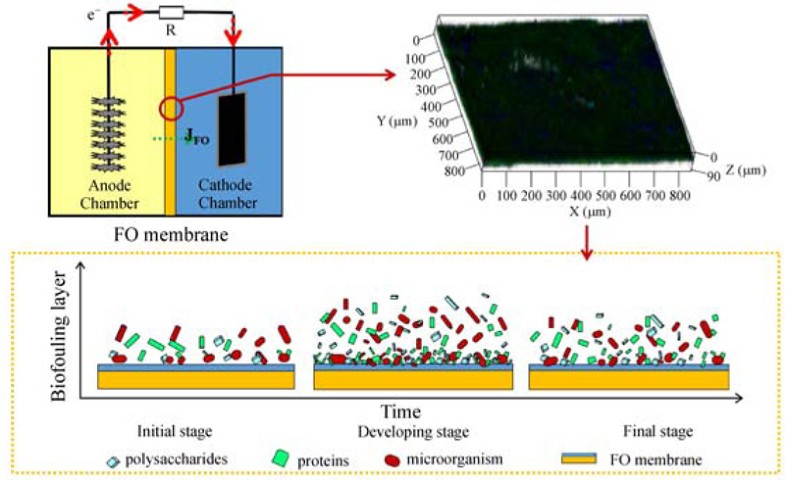 Keywords
Microbial fuel cell 
Forward osmosis 
Membrane fouling 
Biofouling 
Wastewater treatment 
Notes
Acknowledgements
This work was supported by the National Natural Science Foundation of China (Grant No. 51578265); the Fundamental Research Funds for the Central Universities (Grant No. JUSRP 51728A); the National Key Research and Development Program of China (Grant No. 2016YFC0400707); and Jiangsu Cooperative Innovation Center of Technology and Material of Water Treatment.
Copyright information
© Higher Education Press and Springer-Verlag GmbH Germany, part of Springer Nature 2018