Abstract
A 48-year-old man with a pulmonary artery aneurysm was referred to our hospital. Enhanced computed tomography revealed an aneurysm extending from the main trunk to the bilateral pulmonary branch (maximum diameter 6.4 cm) of the artery. Echocardiography revealed moderate pulmonary valve (PV) regurgitation with right ventricle dilatation. Surgery was indicated because of the pulmonary aneurysm and dyspnea on exertion due to moderate PV regurgitation. Intra-operatively, two cusps were found to be normal in shape, whereas a third left-facing cusp was thick and resembled a small ridge. Therefore, we created one neo-cusp with autologous pericardium using a custom-made template and sutured it along a new, predetermined annulus. We then replaced the pulmonary aneurysm with a T-shaped artificial graft. Postoperative echocardiography showed satisfactory movement of the neo-cusp without pulmonary regurgitation and reduced right ventricular size.
This is a preview of subscription content, log in to check access.
Access options
Buy single article
Instant access to the full article PDF.
US$ 39.95
Price includes VAT for USA
Subscribe to journal
Immediate online access to all issues from 2019. Subscription will auto renew annually.
US$ 99
This is the net price. Taxes to be calculated in checkout.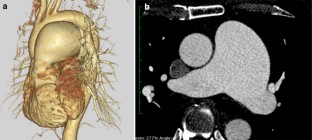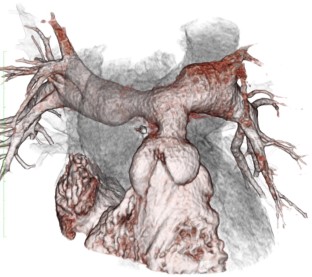 References
1.

Hou R, Ma GT, Liu XR, Zhang CJ, Liu JZ, Cao LH, et al. Surgical treatment of pulmonary artery aneurysm: an institutional experience and literature review. Interact Cardiovasc Thorac Surg. 2016;23:438–42.

2.

Ozaki S, Kawase I, Yamashita H, Uchida S, Nozawa Y, Takatoh M, et al. A total of 404 cases of aortic valve reconstruction with glutaraldehyde-treated autologous pericardium. J Thorac Cardiovasc Surg. 2014;147:301–6.

3.

Kreibich M, Siepe M, Kroll J, Höhn R, Grohmann J, Beyersdorf F. Aneurysms of the pulmonary artery. Circulation. 2015;131:310–6.

4.

Veldtman GR, Dearani JA, Warnes CA. Low pressure giant pulmonary artery aneurysms in the adult: natural history and management strategies. Heart. 2003;89:1067–70.

5.

Garcia A, Byme JG, Bueno R, Flores RM. Aneurysm of the main pulmonary artery. Ann Thorac Cadiovasc Surg. 2008;14:399–401.

6.

Shih HH, Kang PL, Lin CY, Lin YH. Main pulmonary artery aneurysm. J Chin Med Assoc. 2007;70:453–5.

7.

Anagnostopoulos P, Azakie A, Natarajan S, Alphonso N, Brook MM, Karl TR. Pulmonary valve cusp augmentation with autologous pericardium may improve early outcome for tetralogy of Fallot. J Thorac Cardiovasc Surg. 2007;133:640–7.

8.

Tomasko JM, Rankin JS, Malaisrie SC. Single leaflet reconstruction of pulmonic valve with decellurized bovine pericardium. Interact Cardiovasc Thorac Surg. 2017;24:969–71.

9.

Brown JW, Ruzmetov M, Vijay P, Rodefeld MD, Turrentine MW. Right ventricular outflow tract reconstruction with a polytetrafluoroethylene monocusp valve: a twelve-year experience. J Thorac Cardiovasc Surg. 2007;133:1336–433.
Funding
This case report received no grant from any funding agency in the public, commercial or not-for-profit sectors
Ethics declarations
Conflict of interest
The authors declare that there is no conflict of interest.
Ethical approval
Written informed consent for the use of photography or video for publication was obtained from the patient. Consistent with our Institutional Review Boards, approval was obtained.
Additional information
Publisher's Note
Springer Nature remains neutral with regard to jurisdictional claims in published maps and institutional affiliations.
Electronic supplementary material
Below is the link to the electronic supplementary material.
Supplementary file1 Video 1: Operative procedure (MPG 49204 kb)
Supplementary file2 Video 2: Postoperative echocardiogram. The arrow indicates the neo-cusp (MPG 15694 kb)
About this article
Cite this article
Takahashi, Y., Shibata, T., Sakaguchi, M. et al. Concomitant operation for pulmonary artery aneurysm and pulmonary valve regurgitation. Gen Thorac Cardiovasc Surg (2020). https://doi.org/10.1007/s11748-020-01315-4
Received:

Accepted:

Published:
Keywords
Pulmonary aneurysm

Pulmonary valve reconstruction

Ozaki procedure

Pericardium