Abstract
Objectives
Ivor Lewis and McKeown esophagectomy are common techniques to treat esophageal cancer. In this study, we aim to compare these two approaches.
Method
We used the American College of Surgeons National Surgical Quality Improvement Project database (2005–2017) to compare both techniques using bivariate analysis after propensity matching.
Results
We identified 6136 patients with esophagectomy and divided them into 2 groups based on whether they received a McKeown (1676; 27.31%) or an Ivor Lewis (4460; 70.14%) esophagectomy. McKeown esophagectomy was associated with higher rates of superficial surgical site infections (8.02% vs 3.67%, p < 0.001), anastomotic leaks (9.12% vs 7.71%, p = 0.02), prolonged intubation (15.06% vs 10.10%, p < 0.001), re-intubation (15.30% vs 10.34%, p ≤ 0.001), and return to the OR (16.46% vs 11.32%, p < 0.001). The McKeown esophagectomy patients also had longer hospital length of stay (14.5 ± 11.99 vs 13.37 ± 11.8, p = 0.002), higher re-admission rate (21.56% vs 16.87%, p = 0.002), and higher discharges to nursing/rehabilitation institutions (14.06% vs 11.99%, p = 0.004).The mortality rate and positive resection margins were not significantly different. There was a trend toward more utilization of Ivor Lewis esophagectomy over years.
Conclusion
When compared to Ivor Lewis esophagectomy, McKeown esophagectomy is associated with more unplanned intubation, increased difficulty weaning from the ventilator, incisional surgical site infections, anastomotic leak, and higher length of stay.
This is a preview of subscription content, log in to check access.
Access options
Buy single article
Instant unlimited access to the full article PDF.
US$ 39.95
Price includes VAT for USA
Subscribe to journal
Immediate online access to all issues from 2019. Subscription will auto renew annually.
US$ 99
This is the net price. Taxes to be calculated in checkout.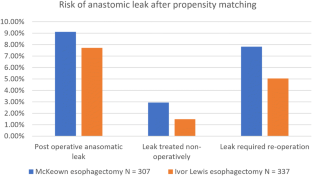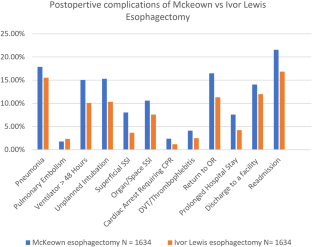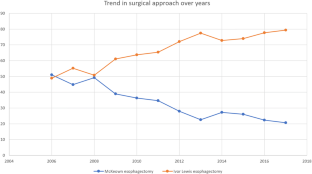 References
1.

World Cancer Research Fund/American Institute for Cancer Research. Diet, nutrition, physical activity and cancer: a global perspective. Continuous update project Expert Report. 2018.

2.

Enzinger PC, Mayer RJ. Esophageal cancer. N Engl J Med. 2003;349(23):2241–52.

3.

Ferlay J, Ervik M, Lam F, Colombet M, Mery L, Pineros M, Znaor A, Soerjomataram I BF (2018) International Agency for Research On Cancer. World Health Organization. GLOBOCAN. [Internet]. Global Cancer Observatory : Cancer Today. International Agency for Research on Cancer, Lyon, France. Available from: https://gco.iarc.fr/today. Cited 2018 May 12

4.

Pennathur A, Gibson MK, Jobe BA, Luketich JD. Oesophageal carcinoma. The Lancet. 2013;381(9864):400–12.

5.

Siegel RL, Miller KD, Jemal A. Cancer statistics, 2018. CA Cancer J Clin. 2018;68(1):7–30.

6.

American Cancer Society (2018) Cancer statistics center [Internet]. Available from: https://cancerstatisticscenter.cancer.org. Cited 12 May 2018

7.

Arnold M, Laversanne M, Brown LM, Devesa SS, Bray F. Predicting the future burden of esophageal cancer by histological subtype: international trends in incidence up to 2030. Am J Gastroenterol. 2017;112(8):1247–55.

8.

Lazzarino AI, KNABOFKMPA. Open versus minimally invasive esophagectomy: trends of utilization and associated outcomes in England. Ann Surg. 2010;252(2):292–8.

9.

Barreto JC, Posner MC. Transhiatal versus transthoracic esophagectomy for esophageal cancer. World J Gastroenterol. 2010;16(30):3804–10.

10.

van Hagen P, Hulshof MC, Van Lanschot JJ, Steyerberg EW, Henegouwen MV, Wijnhoven BP, Richel DJ, Nieuwenhuijzen GA, Hospers GA, Bonenkamp JJ, Cuesta MA. Preoperative chemoradiotherapy for esophageal or junctional cancer. N Engl J Med. 2012;366(22):2074–84.

11.

Ajani JA, Barthel JS, Bentrem DJ, D'Amico TA, Das P, Denlinger CS, et al. Esophageal and esophagogastric junction cancers. J Natl Compr Cancer Netw JNCCN. 2011;9(8):830–87.

12.

Deng J, Su Q, Ren Z, Wen J, Xue Z, Zhang L, et al. Comparison of short-term outcomes between minimally invasive McKeown and Ivor Lewis esophagectomy for esophageal or junctional cancer: a systematic review and meta-analysis. OncoTargets Ther. 2018;11:6057–69.

13.

van Workum F, Slaman AE, van Berge Henegouwen MI, Gisbertz SS, Kouwenhoven EA, van Det MJ, et al. Propensity score-matched analysis comparing minimally invasive Ivor Lewis versus minimally invasive McKeown esophagectomy. Ann Surg. 2018. https://doi.org/10.1097/SLA.0000000000002982.

14.

Yang YS, Shang QX, Yuan Y, Wu XY, Hu WP, Chen LQ. Comparison of long-term quality of life in patients with esophageal cancer after Ivor-Lewis, Mckeown, or sweet esophagectomy. J Gastrointest Surg. 2019;23(2):225–31.

15.

Brown AM, Pucci MJ, Berger AC, Tatarian T, Evans NR, Rosato EL, et al. A standardized comparison of peri-operative complications after minimally invasive esophagectomy: Ivor Lewis versus McKeown. Surg Endosc. 2018;32(1):204–11.

16.

Meredith K, Blinn P, Maramara T, Takahashi C, Huston J, Shridhar R. Comparative outcomes of minimally invasive and robotic-assisted esophagectomy. Surg Endosc. 2019; 1–7.

17.

Enestvedt CK, Perry KA, Kim C, McConnell PW, Diggs BS, Vernon A, Orourke RW, Luketich JD, Hunter JG, Jobe BA. Trends in the management of esophageal carcinoma based on provider volume: treatment practices of 618 esophageal surgeons. Dis Esophagus. 2010;23(2):136–44.

18.

Swanson SJ, Batirel HF, Bueno R, Jaklitsch MT, Lukanich JM, Allred E, et al. Transthoracic esophagectomy with radical mediastinal and abdominal lymph node dissection and cervical esophagogastrostomy for esophageal carcinoma. Ann Thorac Surg. 2001;72(6):1918–24.

19.

Biere SSAY, Maas KW, Cuesta MA, van der Peet DL. Cervical or thoracic anastomosis after esophagectomy for cancer: a systematic review and meta-analysis. Dig Surg. 2011;28(1):29–35.

20.

Walther B, Johansson J, Johnsson F, Von Holstein CS, Zilling T. Cervical or thoracic anastomosis after esophageal resection and gastric tube reconstruction: a prospective randomized trial comparing sutured neck anastomosis with stapled intrathoracic anastomosis. Ann Surg. 2003;238(6):803–12.

21.

Scholtemeijer MG, Seesing MF, Brenkman HJ, Janssen LM, van Hillegersberg R, Ruurda JP. Recurrent laryngeal nerve injury after esophagectomy for esophageal cancer: incidence, management, and impact on short-and long-term outcomes. J Thorac Dis. 2017;9(Suppl 8):S868.

22.

Kassis ES, Kosinski AS, Ross PJ, Koppes KE, Donahue JM, Daniel VC. Predictors of anastomotic leak after esophagectomy: an analysis of the society of thoracic surgeons general thoracic database. Ann Thorac Surg. 2013;96(6):1919–26.

23.

Sundaram A, Srinivasan A, Baker S, Mittal SK. Readmission and risk factors for readmission following esophagectomy for esophageal cancer. J Gastrointest Surg. 2015;19(4):581–5.

24.

Hechenbleikner EM, Makary MA, Samarov DV, Bennett JL, Gearhart SL, Efron JE, et al. Hospital readmission by method of data collection. J Am Coll Surg. 2013;216(6):1150–8.

25.

Horwitz LI, Partovian C, Lin Z, Grady JN, Herrin J, Conover M, et al. Development and use of an administrative claims measure for profiling hospital-wide performance on 30-day unplanned readmission. Ann Intern Med. 2014;161(10 Suppl):S66–S75.

26.

Allen MS, Blackmon S, Nichols FC, Cassivi SD, Shen KR, Wigle DAJTAots. Comparison of two national databases for general thoracic surgery. Ann Thorac Surg. 2015;100(4):1155–62.
Ethics declarations
Conflict of interest
The authors declare that there is no conflict of interest.
Additional information
Publisher's Note
Springer Nature remains neutral with regard to jurisdictional claims in published maps and institutional affiliations.
About this article
Cite this article
Sabra, M.J., Alwatari, Y.A., Wolfe, L.G. et al. Ivor Lewis vs Mckeown esophagectomy: analysis of operative outcomes from the ACS NSQIP database. Gen Thorac Cardiovasc Surg (2020). https://doi.org/10.1007/s11748-020-01290-w
Received:

Accepted:

Published:
Keywords
Ivor-Lewis

McKeown

Esophagectomy

Outcomes

NSQIP