Abstract
Persistent tracheal fistula after tracheostomy decannulation is a recognized sequel to long-term tracheostomy use, causing important morbidity including difficult to vocalization and control of air secretions, recurrent pulmonary infections, and cosmetic and social problems. Herein, we reported a new method for closure of persistent tracheocutaneous fistula with rib cartilages. Compared to other techniques previously reported, the variations of our strategy were the use of temporary metal-covered tracheal stent and the hinged turnover skin bi-flaps reinforced with rib cartilage grafts. Rib cartilages were useful in order to reconstruct the trachea and prevent stenosis. Since it become difficult to obtain the maintenance of the trachea stability until healing of suture was well established, a covered metallic stent was also inserted to avoid flap collapse. The stent was removed 3 months later. Six months follow-up showed normal tracheal patency.
This is a preview of subscription content, log in to check access.
Access options
Buy single article
Instant unlimited access to the full article PDF.
US$ 39.95
Price includes VAT for USA
Subscribe to journal
Immediate online access to all issues from 2019. Subscription will auto renew annually.
US$ 99
This is the net price. Taxes to be calculated in checkout.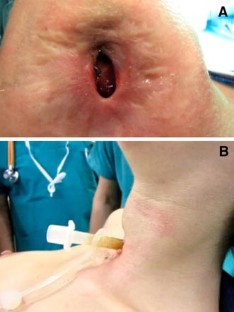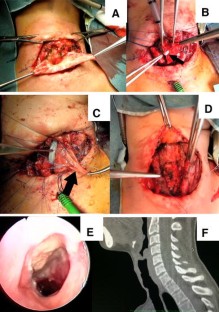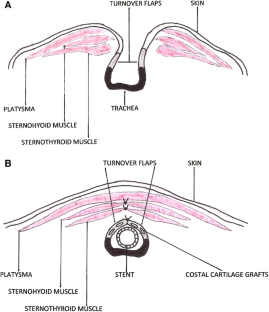 References
1.

Lee BJ, Goh EK, Wang SG, Hwang SM. Closure of large tracheocutaneous fistula using turn-over hinge flap and V-Y advancement flap. J Laryngol Otol. 2002;116:627–9.

2.

Rennekampff HO, Tenenhaus M. Turnover flap closure of recalcitrant tracheostomy fistula: a simplified approach. Plast Reconstr Surg. 2007;119:551–5.

3.

Tatekawa Y, Yamanaka H, Hasegawa T. Closure of a tracheocutaneous fistula by two hinged turnover skin flaps and a muscle flap: a case report. Int J Surg Case Rep. 2013;4:170–4.

4.

Riedel F, Reinhart Goessler U, Grupp S, Bran G, Hörmann K, Verse T. Management of radiation-induced tracheocutaneous tissue defects by transplantation of an ear cartilage graft and deltopectoral flap. Auris Nasus Larynx. 2006;33:79–84.

5.

Terra RM, Minamoto H, Carneiro F, Pego-Fernandes PM, Jatene FB. Laryngeal split and rib cartilage interpositional grafting: treatment option for glottic/subglottic stenosis in adults. J Thorac Cardiovasc Surg. 2009;137:818–23.

6.

Fiorelli A, Mazzone S, Di Crescenzo VG, Costa G, Del Prete A, Vicidomini G, Mazzone A, Santini M. A simple technique to control placement of Dumon stent in subglottic tracheal stenosis. Interact Cardiovasc Thorac Surg. 2014;18:390–2.

7.

Fiorelli A, Accardo M, Galluccio G, Santini M. Tracheobronchial amyloidosis treated by endobronchial laser resection and self expanding Y stent. Arch Bronconeumol. 2013;49:303–5.

8.

Mughal MM, Gildea TR, Murthy S, Pettersson G, DeCamp M, Mehta AC. Short-term deployment of self-expanding metallic stents facilitates healing of bronchial dehiscence. Am J Respir Crit Care Med. 2005;172:768–71.

9.

Tsukada H, Majid A, Kent MS, Ernst A, DeCamp MM, Gangadharan SP. Two-stage end-to-end reconstruction of long-segment tracheal defects with a bioabsorbable scaffold grafting technique in a canine model. Ann Thorac Surg. 2012;93:1088–92.
Conflict of interest
The authors disclose no conflict of interest and funding for the present paper.
Additional information
F. P. Caronia and A. Fiorelli have equally contributed to prepare the present paper.
Electronic supplementary material
Below is the link to the electronic supplementary material.
Video 1. The edited video reported the most important steps of operation as the incision and dissection of fistula, the preparation of two hinged turnover skin bi-flaps, their reinforcement with cartilage grafts, the placement of tracheal stent, the coverage of tracheal defect, and the result at six months follow-up. During operation the patient was ventilated using jet ventilation. (M4V 38733 kb)
About this article
Cite this article
Caronia, F.P., Fiorelli, A., Santini, M. et al. A persistent tracheocutaneous fistula closed with two hinged skin flaps and rib cartilage interpositional grafting. Gen Thorac Cardiovasc Surg 64, 625–628 (2016). https://doi.org/10.1007/s11748-015-0529-8
Received:

Accepted:

Published:

Issue Date:
Keywords
Tracheocutaneous fistula

Rib cartilage graft

Skin flap

Reconstruction

Surgery