Catalytic oxidative desulfurization of gasoline using phosphotungstic acid supported on MWW zeolite
Abstract
Catalysts for the desulfurization of gasoline samples were synthesized via the immobilization of well-dispersed phosphotungstic acid (HPW) on Mobil composition of matter-twenty-two (MWW) zeolite. Characterization results indicated that these catalysts possess a mesoporous structure with the retention of the Keggin structure of immobilized HPW. Relevant reaction parameters influencing sulfur removal were systematically investigated, including HPW loading, catalyst dosage, temperature, initial S-concentration, molar ratio of oxidant to sulfide (O/S), volume ratio of MeCN to model oil (Ext./oil), and sulfide species. The 40 wt-% HPW/MWW catalyst exhibited the highest catalytic activity with 99.6% dibenzothiophene sulfur removal from prepared samples. The 40 wt-% HPW/MWW catalyst was recycled four times and could be easily regenerated. Finally, as an exploratory study, straight-run-gasoline and fluid catalytic cracking gasoline were employed to accurately evaluate the desulfurization performance of 40 wt-% HPW/MWW. Our research provides new insights into the development and application of catalysts for desulfurization of gasoline.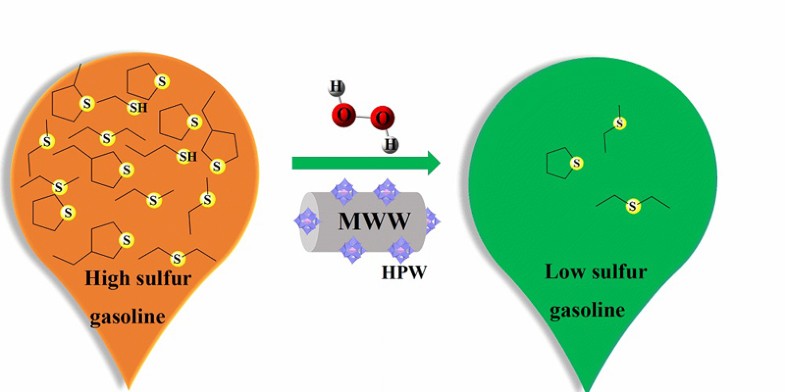 Keywords
oxidative desulfurization 
phosphotungstic acid 
MWW 
wet impregnation 
adsorption energy 
Notes
Acknowledgements
This work was supported by Petroleum Technology Development Fund (PTDF), Nigeria, and the Training Program for Outstanding Young Teachers in Universities in Guangdong Province (Grant No. YQ2015116), and Petrochemical Industry Transformation and Upgrading Technology Innovation Public Service Platform in Maoming City (No. 2016B020211002), the National Natural Science Foundation of China (Grant No. 21403038), the Natural Science Foundation of Guangdong Province (Grant No. 2015A030313892).
Copyright information
© Higher Education Press and Springer-Verlag GmbH Germany, part of Springer Nature 2019