Process synthesis with simultaneous consideration of inherent safety-inherent risk footprint
Abstract
Process plants should be designed to be economically viable and environmentally friendly, while also being operable and maintainable during process implementation. The safety of processes is among the most important considerations in obtaining results that are more acceptably realistic, as it is linked to the availability and reliability of the process. Inherent safety can effectively be enhanced in the early stages of the design, when the main decisions on process design are made. The aim of this study is to enhance and select the appropriate risk assessment method and to incorporate it into process synthesis, using a mathematical programming approach. A mixed-integer, nonlinear programming (MINLP) model was used for the synthesis of a methanol production process, considering risk assessment during the synthesis. Risk assessment is performed simultaneously with the MINLP process synthesis, where the risk is determined either for the whole process as overall risk, or on a per unitof- a-product basis. For the latter, a new measurement is proposed: the inherent risk footprint. The results of a case study led to two main conclusions: (i) Significantly safer designs can be obtained at negligible economic expense, and (ii) at higher production capacities, a lower inherent risk footprint can be achieved. The results also indicate that designs obtained using this method can have significantly increased inherent safety, while remaining economically viable.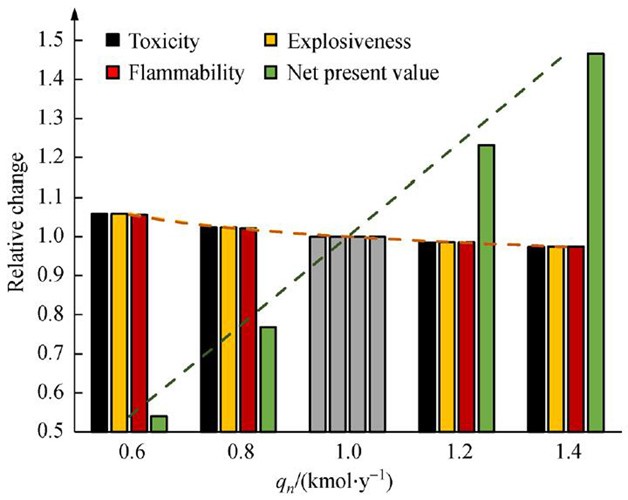 Keywords
inherent safety 
process design 
simultaneous risk assessment 
risk footprint 
methanol process 
Notes
Acknowledgement
This study was financially supported by the EU project "Sustainable Process Integration Laboratory—SPIL", project No. CZ.02.1.01/0.0/0.0/15_003/0000456 funded by EU "CZ Operational Program Research and Development, Education", Priority 1: Strengthening capacity for quality research in collaboration agreement with the University of Maribor and by the Slovenian Research Agency (programs P2-0032, project L2-7633).
Copyright information
© Higher Education Press and Springer-Verlag GmbH Germany, part of Springer Nature 2018