Extension of pilot tests of cyanide elimination by ozone from blast furnace gas washing water through Aspen Plus® based model
Abstract
For improving wastewater quality, one of the dare of steelworks is reducing cyanide in wastewater of gas washing treatment of blast furnaces. Costs of existing treatments, stringent environmental regulations and changeable composition of water from gas treatment, have led to study how available treatments can be modified and to examine new ones. Ozonation is one of cyanide treatments, tested within a European project. A process model was set up with Aspen Plus®, to assess operating conditions and wastewater distinctive characteristics and to demonstrate treatment robustness. Process was modeled by theoretical reactors, taking into account all more affecting reactions. A genetic algorithm was exploited to find kinetic parameters of these reactions. After validation, the model was used to analyse scenarios, by considering also real contexts. Pilot tests were extended, process knowledge was enhanced and suggestions were obtained. To promote cyanide removal with ozone, temperature and pH values were 30°C and 10, respectively. With an ozone (mg/h)/ water (L/h) ratio of 100 mg/L, batch mode ensure reaching cyanide regulation limit (0.2 mg/L) after maximum 4.5 h, if initial amount was less than 20 mg/L. Higher removal was obtained than in continuous mode due to constraints related to this last run. Higher wastewater contamination needed further time and more ozone.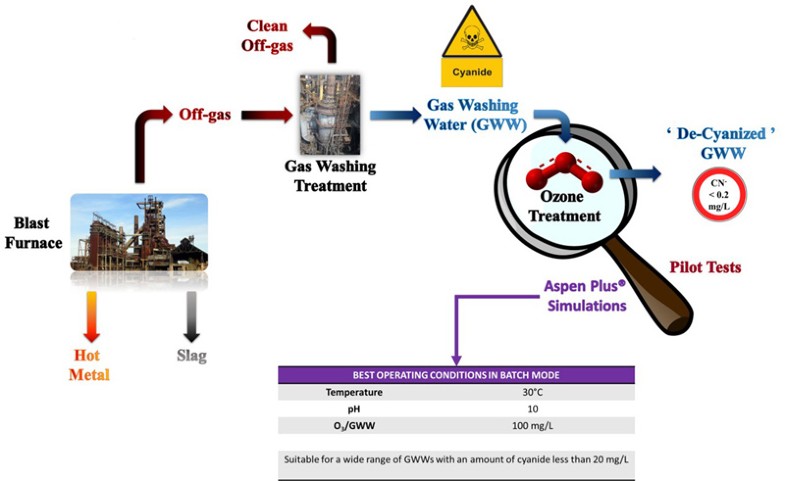 Keywords
blast furnace 
cyanide removal 
gas washing water 
modeling and simulation 
ozonation 
Notes
Acknowledgements
The described work is part of the project "Cyanide Monitoring and Treatment under Dynamic Process Conditions" (DynCya-nide) (Contract No. RFSR-CT-2013-00028) funded by the Research Fund for Coal and Steel of the European Union. The sole responsibility of the issues treated in the present paper lies with the authors; the Commission is not responsible for any use that may be made of the information contained therein.
Copyright information
© Higher Education Press and Springer-Verlag GmbH Germany, part of Springer Nature 2018