Influence of entrainer recycle for batch heteroazeotropic distillation
Abstract
Dehydration of isopropanol applying batch heteroazeotropic distillation with toluene as entrainer (E) is investigated. The composition of the feed is near to that of the isopropanol (A)-water (B) azeotrope. The effects of recycling the entrainer and the off-cut are studied by dynamic simulation with a professional flow-sheet simulator. Three consecutive batches (one production cycle) is studied. Both operational modes (Mode I: decantation after distillation and Mode II: decantation during distillation) are simulated. For Mode II, calculations are performed both for Strategy A (distillate from the aqueous (E-lean) phase only) and Strategy B (partial withdrawal of the organic (Erich phase), as well). The E-rich phase, the final column hold-up and the off-cut (Mode II only) are recycled to the next batch. The influence of the following parameters are determined: quantity of entrainer, reflux ratios of the steps. The variations caused by the recycling in the 2nd and 3rd batches are also shown. The best results (lowest specific energy demand and highest recovery of A) are obtained by Mode II, Strategy A. Recycling increases the recovery, and drastically diminishes the entrainer consumption. However, it makes the production slower and decreases the quantity of fresh feed that can be processed.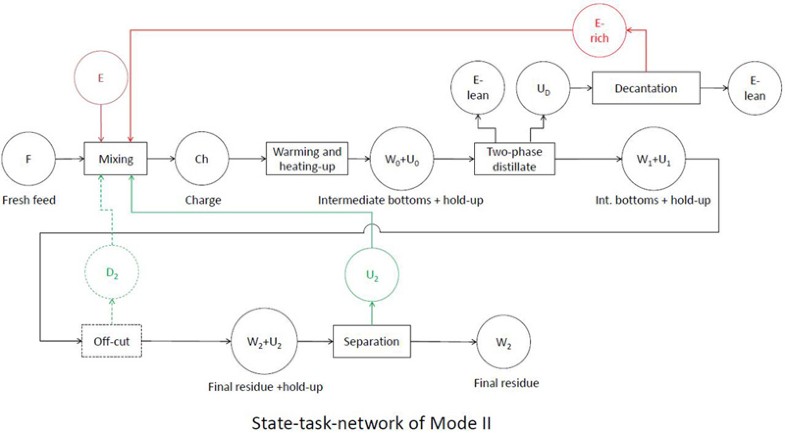 Keywords
batch distillation 
heteroazeotropic distillation 
operational policies 
off-cut recycle 
entrainer 
Notes
Acknowledgements
This work was financially supported by the Hungarian Scientific Research Fund (OTKA) (project No. K-120083) and by the BMEBiotechnology FIKP grant of EMMI (BME FIKP-BIO). The authors thank Mr. Bence Nemeth for his help in the simulation.
Copyright information
© Higher Education Press and Springer-Verlag GmbH Germany, part of Springer Nature 2018