Superhydrophobic, mechanically flexible and recyclable reduced graphene oxide wrapped sponge for highly efficient oil/water separation
Abstract
Water pollution has become an urgent issue for our modern society, and it is highly desirable to rapidly deal with the water pollution without secondary pollution. In this paper, we have prepared a reduced graphene oxide (RGO) wrapped sponge with superhydrophobicity and mechanically flexibility via a facile low-temperature thermal treatment method under a reducing atmosphere. The skeleton of this sponge is completely covered with RGO layers which are closely linked to the skeleton. This sponge has an abundant pore structure, high selectivity, good recyclability, low cost, and outstanding adsorption capacity for floating oil or heavy oil underwater. In addition, this sponge can maintain excellent adsorption performance for various oils and organic solvents over 50 cycles by squeezing, and exhibits extremely high separation efficiencies, up to 6 × 106 and 3.6 × 106 L·m–3·h–1 in non-turbulent and turbulent water/oil systems, respectively. This superhydrophobic adsorbent with attractive properties may find various applications, especially in large-scale removal of organic contaminants and oil spill cleanup.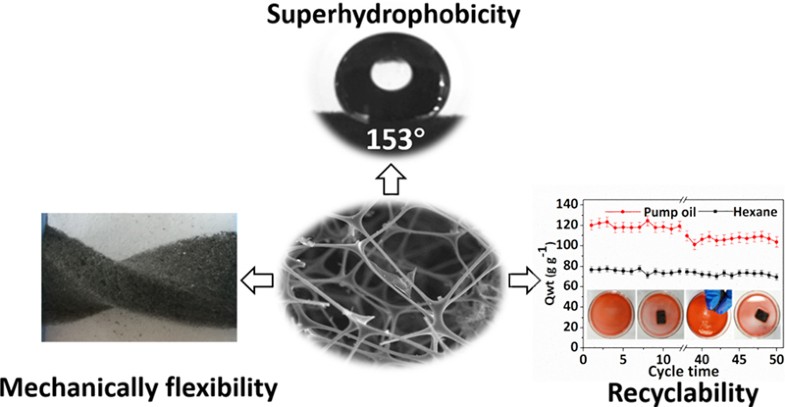 Keywords
superhydrophobicity 
mechanically flexibility 
water/oil separation 
reduced graphene oxide wrapped sponge 
Notes
Acknowledgements
We thank the Sichuan Provincial International Cooperation Project (2017HH0030), the Scientific Research Starting project of SWPU (2014QHZ021), the Training funds for academic and technological leaders in Sichuan and the Innovative Research Team of Sichuan Province (2016TD0011) for financial support.
Supplementary material
Supplementary material, approximately 362 KB.
Supplementary material, approximately 2.32 MB.
Copyright information
© Higher Education Press and Springer-Verlag GmbH Germany, part of Springer Nature 2018