Improving prodeoxyviolacein production via multiplex SCRaMbLE iterative cycles
Abstract
The synthetic chromosome rearrangement and modification by loxP-mediated evolution (SCRaMbLE) system has been used to improve prodeoxyviolacein (PDV) production in haploid yeast containing chromosome synV. To rapidly and continuously generate genome diversification with the desired phenotype, the multiplex SCRaMbLE iterative cycle strategy has been developed for the screening of high PDV production strains. Wholegenome sequencing analysis reveals large duplications, deletions, and even the whole genome duplications. The deletion of
YER151C
is proved to be responsible for the increase. This study demonstrates that artificial DNA rearrangement can be used to accelerate microbial evolution and the production of biobased chemicals.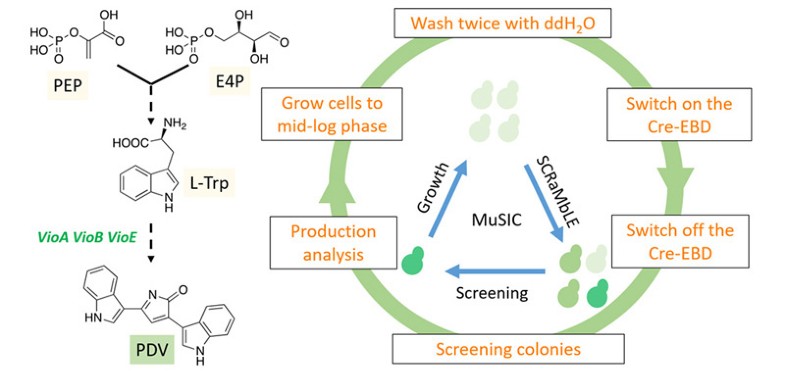 Keywords
synthetic biology 
genome rearrangement 
prodeoxyviolacein 
SCRaMbLE 
Saccharomyces cerevisiae
Notes
Acknowledgements
We thank the National Program on Key Basic Research Project of China (2014CB745100) and the National Natural Science Foundation of China (21750001 and 21621004) for funding.
Copyright information
© Higher Education Press and Springer-Verlag GmbH Germany, part of Springer Nature 2018