Efficient production of
d

-1,2,4-butanetriol from

d

-xylose by engineered Escherichia coli whole-cell biocatalysts
Abstract
We have developed a whole-cell bioconversion system for the production of d-1,2,4-butanetriol (BT) from renewable biomass. A plasmid pETduet-xylB-yjhG-T7-adhP-T7-mdlC was constructed and transformed to Escherichia coli BL21(DE3) to obtain the whole cells of E. coli BL21-XYMA capable of bioconversion d-xylose to BT. Then, the factors including carbon sources, nitrogen sources, metal ions, and culture conditions (pH, temperature, IPTG) were identified, and their effects on the whole-cell activity for BT production were investigated. To obtain the highest whole-cell activity, the optimal cultivation parameters are: 15 g·L–1 yeast extract, 5 g·L–1 sucrose, 3 g·L–1 KH2PO4, 5 g·L–1 NaCl, 3 g·L–1 NH4Cl, 0.25 g·L–1 MgSO4·7H2O and 1 mL·L–1 the mixture of trace elements. With the optimized whole cells of E. coli BL21-XYMA, 60 g·L–1 of xylose was converted to 28 g·L–1 BT with a molar yield of 66 %, which is higher than those reported in the biotechnological system.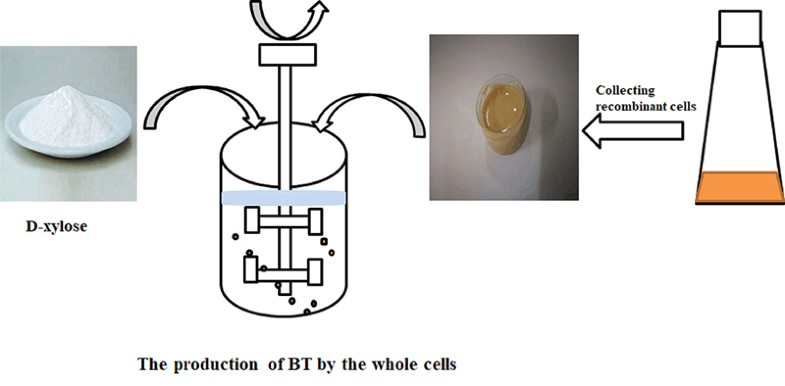 Keywords
d

-1,2,4-butanetriol 
whole-cell bioconversion 
carbon source 
nitrogen sources 
metal ions 
culture conditions 
Notes
Acknowledgements
This research was financially supported by the Open Funding Project of the State Key Laboratory of Bioreactor Engineering, the National Natural Science Foundation of China (Grant Nos. 21576134, 21606127, 21390200) and the National Key Research and Development Program of China (Grant No. 2016YFA0204300).
Copyright information
© Higher Education Press and Springer-Verlag GmbH Germany, part of Springer Nature 2018