Biomimetic mineralization and cytocompatibility of nanorod hydroxyapatite/graphene oxide composites
Abstract
Nanorod hydroxyapatite (NRHA)/graphene oxide (GO) composites with weight ratios of 0.4, 1.5, and 5 have been fabricated by a facile ultrasonic-assisted method at room temperature and atmospheric pressure. The chemical structure properties and morphology of the composites were characterized by field emission source scanning electron microscope, X-ray diffraction, transmission electron microscopy, and high-resolution transmission electron microscopy. The results indicate that the NRHA/ GO composites have an irregular surface with different degree wrinkles and are stable, and NRHA are well combined with GO. In addition, the biomimetic mineralization mechanism of hydroxyapatite on the NRHA/GO composites in simulated body fluid (SBF) is presented. The presence of a bone-like apatite layer on the composite surface indicate that the NRHA/GO composites facilitate the nucleation and growth of hydroxyapatite crystals in SBF for biomimetic mineralization. Moreover, the NRHA- 1.5/GO composite and pure GO were cultured with MC3T3-E1 cells to investigate the proliferation and adhesion of cells.
In vitro
cytocompatibility evaluation demonstrated that the NRHA/GO composite can act as a good template for the growth and adhesion of cells. Therefore, the NRHA/GO composite could be applied as a GO-based, free-template, non-toxic, and bioactive composite to substitute for a damaged or defect bone.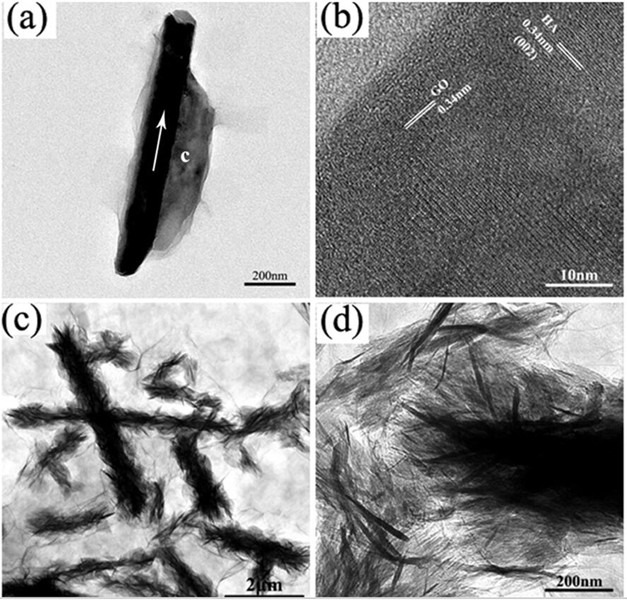 Keywords
hydroxyapatite 
graphene oxide 
biomimetic mineralization 
cytocompatibility 
Notes
Acknowledgments
This work was financially supported by the National Natural Science Foundation of China (Grant Nos. 21201142 and 11502158) and Southwest University of Science and Technology Researching Project (Grant No. 14tdsc03).
Copyright information
© Higher Education Press and Springer-Verlag GmbH Germany, part of Springer Nature 2018