Abstract
Background
Cytoreductive surgery with hyperthermic intraperitoneal chemotherapy (CRS-HIPEC) is an appropriate treatment for select patients with peritoneal carcinomatosis. While most commonly performed through an open incision, the laparoscopic approach has been reported and offers short-term benefits. A robotic-assisted approach for carcinomatosis of gastrointestinal origin, however, has not yet been described.
Methods
We report our approach to robotic-assisted CRS-HIPEC for a patient with a perforated appendiceal mucocele. Our dynamic video highlights the advantages of this approach.
Results
Our patient was a 57-year-old woman with minimal residual disseminated peritoneal adenomucinosis (DPAM), having a peritoneal carcinomatosis index (PCI) score of 1. She had a previous surgical history of a Roux-en-Y gastric bypass. A robotic-assisted approach was utilized using the Intuitive daVinci Xi robotic surgical system through 4 ports. No laparoscopic assistant port was required. The operative time was 426 min, and the estimated blood loss was 50 cc. The greater omentum, falciform ligament, bilateral ovaries, and two small areas of tumor implant were resected. The post-operative length of stay was 4 days, and the patient had regained bowel function by post-operative day 2.
Conclusions
Our video demonstrates the feasibility of a robotic-assisted CRS-HIPEC in a patient with minimal, residual DPAM. Similar to a laparoscopic approach, the short-term outcomes are improved as compared to an open approach. An MIS approach to CRS-HIPEC, now with the first-reported robotic-assisted approach, is a viable option for select patients with peritoneal tumors.
This is a preview of subscription content, log in to check access.
Access options
Buy single article
Instant unlimited access to the full article PDF.
US$ 39.95
Price includes VAT for USA
Subscribe to journal
Immediate online access to all issues from 2019. Subscription will auto renew annually.
US$ 99
This is the net price. Taxes to be calculated in checkout.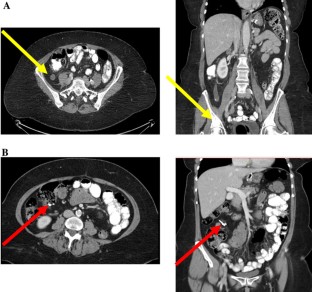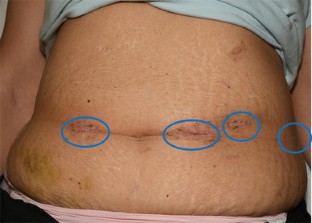 References
1.

Esquivel J, Sticca R, Sugarbaker P, Levine E, Yan TD, Alexander R, Baratti D, Bartlett D, Barone R, Barrios P et al (2007) Cytoreductive surgery and hyperthermic intraperitoneal chemotherapy in the management of peritoneal surface malignancies of colonic origin: a consensus statement. Society of Surgical Oncology. Ann Surg Oncol 14(1):128–133

2.

Glehen O, Gilly FN, Boutitie F, Bereder JM, Quenet F, Sideris L, Mansvelt B, Lorimier G, Msika S, Elias D (2010) Toward curative treatment of peritoneal carcinomatosis from nonovarian origin by cytoreductive surgery combined with perioperative intraperitoneal chemotherapy: a multi-institutional study of 1,290 patients. Cancer 116(24):5608–5618

3.

Verwaal VJ, Bruin S, Boot H, van Slooten G, van Tinteren H (2008) 8-year follow-up of randomized trial: cytoreduction and hyperthermic intraperitoneal chemotherapy versus systemic chemotherapy in patients with peritoneal carcinomatosis of colorectal cancer. Ann Surg Oncol 15(9):2426–2432

4.

National Comprehensive Cancer Network. Colon Cancer (2017) (Version 2.2017). http://www.nccn.org/professionals/physician_gls/pdf/colon.pdf. Accessed 5 January 2018

5.

Sugarbaker PH, Van der Speeten K (2016) Surgical technology and pharmacology of hyperthermic perioperative chemotherapy. J Gastrointest Oncol 7(1):29–44

6.

Lotti M, Capponi MG, Piazzalunga D, Poiasina E, Pisano M, Manfredi R, Ansaloni L (2016) Laparoscopic HIPEC: a bridge between open and closed-techniques. J Minim Access Surg 12(1):86–89

7.

Facchiano E, Risio D, Kianmanesh R, Msika S (2012) Laparoscopic hyperthermic intraperitoneal chemotherapy: indications, aims, and results: a systematic review of the literature. Ann Surg Oncol 19(9):2946–2950

8.

Fagotti A, Costantini B, Gallotta V, Cianci S, Ronsini C, Petrillo M, Pacciani M, Scambia G, Fanfani F (2015) Minimally invasive secondary cytoreduction plus HIPEC versus open surgery plus HIPEC in isolated relapse from ovarian cancer: a retrospective cohort study on perioperative outcomes. J Minim Invasive Gynecol 22(3):428–432

9.

Esquivel J, Averbach A, Chua TC (2011) Laparoscopic cytoreductive surgery and hyperthermic intraperitoneal chemotherapy in patients with limited peritoneal surface malignancies: feasibility, morbidity and outcome in an early experience. Ann Surg 253(4):764–768

10.

Gabriel E, Singla S, Kim M, Fisher D, Powers C, Visioni A, Attwood K, Skitzki J (2017) Water lavage as an adjunct to cytoreductive surgery with hyperthermic intraperitoneal chemotherapy (CRS-HIPEC). Am J Surg 214(3):462–467

11.

Levine EA, Votanopoulos KI, Shen P, Russell G, Fenstermaker J, Mansfield P, Bartlett D, Stewart JH (2018) A multicenter randomized trial to evaluate hematologic toxicities after hyperthermic intraperitoneal chemotherapy with oxaliplatin or mitomycin in patients with appendiceal tumors. J Am Coll Surg 226(4):434–443

12.

Abu Gazala M, Wexner SD (2017) Re-appraisal and consideration of minimally invasive surgery in colorectal cancer. Gastroenterol Rep (Oxf) 5(1):1–10

13.

Kang SB1, Park JW, Jeong SY, Nam BH, Choi HS, Kim DW, Lim SB, Lee TG, Kim DY, Kim JS et al (2010) Open versus laparoscopic surgery for mid or low rectal cancer after neoadjuvant chemoradiotherapy (COREAN trial): short-term outcomes of an open-label randomised controlled trial. Lancet Oncol 11(7):637–645

14.

Tarr ME, Brancato SJ, Cunkelman JA, Polcari A Nutter B, Kenton K (2015) Comparison of postural ergonomics between laparoscopic and robotic sacrocolpopexy: a pilot study. J Minim Invasive Gynecol 2(2):234–238

15.

Lunca S, Bouras G, Stanescu AC (2005) Gastrointestinal robot-assisted surgery. A current perspective. Rom J Gastroenterol 14(4):385–391

16.

Harr JN, Luka S, Kankaria A, Juo YY, Agarwal S, Obias V (2017) Robotic-assisted colorectal surgery in obese patients: a case-matched series. Surg Endosc 31(7):2813–2819

17.

Lotti M, Giulii Capponi M, Campanati L, Poiasina E, Ansaloni L, Poletti E, Frigerio L (2016) The onset of intra-abdominal adhesions during closed-abdomen hyperthermic intraperitoneal chemotherapy. J Laparoendosc Adv Surg Tech A 26(12):997–1002

18.

Tuvin D, Berger Y, Aycart SN, Shtilbans T, Hiotis S, Labow DM, Sarpel U (2016) Prophylactic hyperthermic intraperitoneal chemotherapy in patients with epithelial appendiceal neoplasms. Int J Hyperth 32(3):311–315

19.

Fish R, Selvasekar C, Crichton P, Wilson M, Fulford P, Renehan A, O'Dwyer S (2014) Risk-reducing laparoscopic cytoreductive surgery and hyperthermic intraperitoneal chemotherapy for low-grade appendiceal mucinous neoplasm: early outcomes and technique. Surg Endosc 28(1):341–345

20.

Vasudevan V, Reusche R, Wallace H, Kaza S (2016 Dec) Clinical outcomes and cost-benefit analysis comparing laparoscopic and robotic colorectal surgeries. Surg Endosc 30(12):5490–5493
Ethics declarations
Conflict of interest
Drs. Gabriel, Elli, Bagaria, Wasif, Grotz, Stauffer, Kasi, and Asbun have no conflicts of interest or financial ties to disclose.
Informed consent
Written informed consent was obtained from the patient for publication of this case report/any accompanying images. A copy of the written consent is available for review by the Editor-in-Chief of this journal.
Electronic supplementary material
Below is the link to the electronic supplementary material.
Supplementary material 1 (MP4 228900 KB)
About this article
Cite this article
Gabriel, E., Elli, E., Bagaria, S. et al. Robotic-assisted cytoreductive surgery with hyperthermic intraperitoneal chemotherapy (CRS-HIPEC). J Robotic Surg 13, 175–179 (2019) doi:10.1007/s11701-018-0820-7
Received:

Accepted:

Published:

Issue Date:
Keywords
Robotic assisted

Cytoreductive surgery

HIPEC