Abstract
An epiphrenic oesophageal diverticulum is most commonly a pulsion diverticulum which develops consequent to protrusion of mucosa through the muscular wall of the distal oesophagus. Most of them are associated with underlying oesophageal motility disorders. The predominant symptoms are dysphagia with regurgitation, and sometimes retrosternal pain, if accompanied by spasm of the oesophagus. Surgical management is recommended for symptomatic patients. Traditional procedures include thoracotomy or laparotomy with excision of the diverticula, but these are associated with high morbidity. Laparoscopic approach is a safe treatment option associated with lesser morbidity. Here, we present a case of epiphrenic diverticulum which was treated by the robotic approach without any complication. There was also no associated motility abnormality in our case so fundoplication was not done. Robotic surgery is a useful tool while operating near the hiatus and gastro-oesophageal junction. We consider transhiatal robotic approach as a safe and easy approach for surgery of epiphrenic diverticulum.
This is a preview of subscription content, log in to check access.
Access options
Buy single article
Instant unlimited access to the full article PDF.
US$ 39.95
Price includes VAT for USA
Subscribe to journal
Immediate online access to all issues from 2019. Subscription will auto renew annually.
US$ 99
This is the net price. Taxes to be calculated in checkout.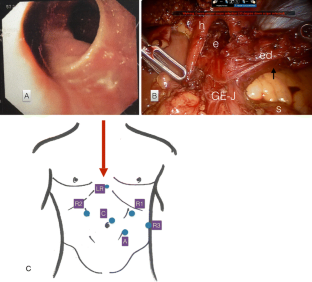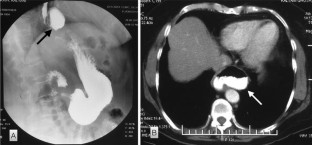 References
1.

Hudspeth DA, Thorne MT, Conroy R et al (1993) Management of epiphrenic esophageal diverticula: a fifteen-year experience. Am Surg 59:40–42

2.

Deschamps C, Trastek VF (2000) Esophageal diverticula. In: Shields TW, LoCicero J, Ponn RB (eds) General thoracic surgery, 5th edn. Lippincott Williams & Wilkins, Philadelphia, pp 1839–1849

3.

Benacci JC, Deschamps C, Trastek VF, Allen MS, Daly RC, Pairolero PC (1993) Epiphrenic diverticulum: results of surgical treatment. Ann Thorac Surg 55:1109–1114

4.

Jordan PH Jr, Kinner BM (1999) New look at epiphrenic diverticula. World J Surg 23:147–152

5.

Fasano NC, Levine MS, Rubesin SE, Redfern RO, Laufer I (2003) Epiphrenic diverticulum: clinical and radiographic findings in 27 patients. Dysphagia 18:9–15

6.

Tescado P, Fisichella PM, Way LW, Patti MG (2005) Cause and treatment of epiphrenic diverticula. Am J Surg 190:891–894

7.

Costantini M, Zaninotto G, Rizzetto G, Narne S, Ancona E (2004) Esophageal diverticula. Best Pract Res Clin Gastroenterol 18:3–17

8.

Ruizde Angulo Martin D, Ortiz Escandell MA, Martinez de Haro LF et al (2009) Epiphrenic diverticula: when and how to operate? Cir Esp 85:196–204

9.

Altorki NK, Sunagawa M, Skinner DB (1993) Thoracic esophageal diverticula: Why is operation necessary? J Thorac Cardiovasc Surg 105:260–264

10.

Zaninotto G, Parise P, Salvador R, Costantini M, Zanatta L, Rella A et al (2012) Laparoscopic repair of epiphrenic diverticulum. Semin Thorac Cardiovasc Surg 24(3):218–222

11.

Laubert T, Hildebrand P, Roblick UJ, Kraus M, Esnaashari H, Wellhöner P et al (2010) MIS approach for diverticula of the esophagus. Eur J Med Res 15(9):390–396

12.

Klaus A, Hinder RA, Swain J, Achem SR (2003) Management of epiphrenic diverticula. J Gastrointest Surg. 7(7):906–911

13.

Elola-Olaso AM, Mullett TW, Gagliardi RJ (2009) Epiphrenic diverticulum: robotic-assisted transhiatal approach. Surg Laparosc Endosc Percutan Tech 19(5):184–188

14.

Pernazza G, Monsellato I, Pende V, Alfano G, Mazzocchi P, D'Annibale A (2012) Fully robotic treatment of an epiphrenic diverticulum: report of a case. Minim Invasive Ther Allied Technol 21(2):96–100

15.

Cerfolio RJ, Bryant AS, Minnich DJ (2012) Operative techniques in robotic thoracic surgery for inferior or posterior mediastinal pathology. J Thorac Cardiovasc Surg 143(5):1138–1143
Ethics declarations
Conflict of interest
Dr. Vachan S. Hukkeri, Dr. Satyaprakash Jindal, Dr. Mohd. Qaleem, Dr. Vivek Tandon and Dr. Deepak Govil declare that they have no conflict of interest.
Ethical considerations
Written informed consent was obtained from the patient for publication of this case report and the accompanying images. The present publication has been approved by the ethical committee of the hospital. A copy of the written consent is available for review in case required.
Electronic supplementary material
Below is the link to the electronic supplementary material.
Supplementary material 1 (MP4 117470 kb)
About this article
Cite this article
Hukkeri, V.S., Jindal, S., Qaleem, M. et al. Robotic transhiatal excision of epiphrenic diverticula. J Robotic Surg 10, 365–368 (2016). https://doi.org/10.1007/s11701-016-0595-7
Received:

Accepted:

Published:

Issue Date:
Keywords
Epiphrenic diverticula

Robotic surgery

Transhiatal

Dysphagia