This is a preview of subscription content, log in to check access.
Access options
Buy single article
Instant unlimited access to the full article PDF.
US$ 39.95
Price includes VAT for USA
Subscribe to journal
Immediate online access to all issues from 2019. Subscription will auto renew annually.
US$ 99
This is the net price. Taxes to be calculated in checkout.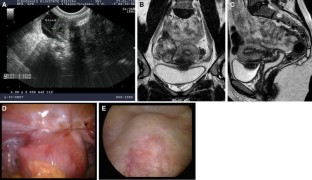 References
1.

Giudice LC (2010) Clinical practice endometriosis. N Engl J Med 362:2389–2398. doi:10.1056/NEJMcp1000274

2.

Berkley KJ, Rapkin AJ, Papka RE (2005) The pains of endometriosis. Science 308:1587–1589

3.

Bulun SE (2009) Endometriosis. N Engl J Med 360:268–279

4.

Tokushige N, Markham R, Russell P, Fraser IS (2006) Nerve fibres in peritoneal endometriosis. Hum Reprod 21:3001–3007

5.

Maccagnano C, Pellucchi F, Rocchini L, Ghezzi M, Scattoni V, Montorsi F, Rigatti P, Colombo R (2012) Diagnosis and treatment of bladder endometriosis: state of the art. Urol Int 89:249–258. doi:10.1159/000339519

6.

Comiter CV (2002) Endometriosis of the urinary tract. Urol Clin North Am 29:625–635

7.

Koninck PR, Martin DC (1995) Surgical treatment of deeply infiltrating endometriosis. In: Shaw RX (ed) Endometriosis: current understanding and management. Blackwell, Oxford, pp 264–281

8.

Seracchioli R, Mannini D, Colombo FM, Vianello F, Reggiani A, Venturoli S (2002) Cystoscopy-assisted laparoscopic resection of extramucosal bladder endometriosis. J Endourol 16:663–666

9.

Chammas MF Jr, Kim FJ, Barbarino A, Hubert N, Feuillu B, Coissard A, Hubert J (2008) Asymptomatic rectal and bladder endometriosis: a case for robotic-assisted surgery. Can J Urol 15:4097–4100

10.

Liu C, Perisic D, Samadi D, Nezhat F (2008) Robotic-assisted laparoscopic partial bladder resection for the treatment of infiltrating endometriosis. J Minim Invasive Gynecol 15:745–748

11.

Nezhat C, Hajhosseini B, King LP (2011) Robotic-assisted laparoscopic treatment of bowel, bladder, and ureteral endometriosis. JSLS 15:387–392

12.

Siesto G, Ieda N, Rosati R, Vitobello D. Robotic surgery for deep endometriosis: a paradigm shift. Int J Med Robot. 13. doi:10.1002/rcs.1518. (Epub ahead of print)
Conflict of interest
Authors Nap, Wijnberger and Wijburg declare that they have no conflicts of interest (both personal and institutional) regarding specific financial interests that are relevant to the work conducted or reported in this manuscript.
Consent section
Written informed consent was obtained from the patient for publication of this Case Report and any accompanying images. A copy of the written consent is available for review by the Editor-in-Chief of this journal.
Electronic supplementary material
Below is the link to the electronic supplementary material.
Videofragment: In this fragment, part of the robot procedure is shown in the upper part. In the lower part the cystoscopic view is presented. The nodus is removed in toto from outside of the bladder, under cystoscopic view of the inside of the bladder, enabling the surgeon to resect the nodus as precise as possible. (MP4 83495 kb)
About this article
Cite this article
Nap, A.W., Wijnberger, L. & Wijburg, C. Robot-assisted partial cystectomy for bladder endometriosis. J Robotic Surg 8, 393–396 (2014). https://doi.org/10.1007/s11701-014-0474-z
Received:

Accepted:

Published:

Issue Date:
Keywords
Endometriosis

Endometriotic Lesion

Punctum Maximum

Endometriosis Lesion

Bladder Endometriosis