Abstract
Lingual thyroid is an uncommon condition, often asymptomatic. Given its benign nature, every treatment should be well balanced in terms of advantages and local morbidity. When a treatment is planned, medical and surgical therapy should be weighed against each other. Among surgical options, robotic techniques offer several advantages compared to traditional transoral procedures and external approaches, in terms of ability of resection, morbidity and quality of life. Here we present the case of a patient with tongue-base ectopic thyroid managed by means of transoral robotic surgery. The intuitiveness of the procedure associated with very minimal invasiveness are confirmed in this case. Particularly when dealing with benign lesions that involve hard-to-reach regions such as the tongue base, robotic techniques should be considered as a truly valid alternative to traditional techniques.
This is a preview of subscription content, log in to check access.
Access options
Buy single article
Instant unlimited access to the full article PDF.
US$ 39.95
Price includes VAT for USA
Subscribe to journal
Immediate online access to all issues from 2019. Subscription will auto renew annually.
US$ 99
This is the net price. Taxes to be calculated in checkout.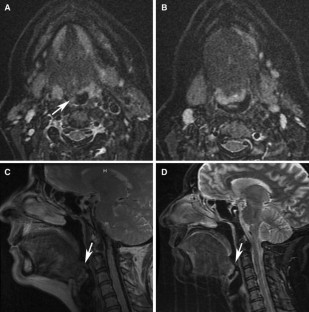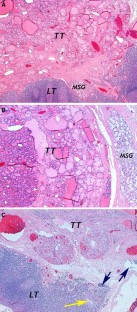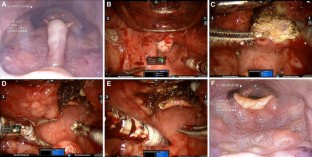 References
1.

Toso A, Colombani F, Averono G, Aluffi P, Pia F (2009) Lingual thyroid causing dysphagia and dyspnoea. Case reports and review of literature. Acta Otorhinolaryngol Ital 29:213–217

2.

Yu TY, Chang TC (2012) Images in clinical medicine. Lingual Thyroid. N Engl J Med 366:10

3.

Amr B, Monib S (2011) Lingual thyroid: a case report. Int J Surg Case Rep 2:313–315

4.

Goldstein B, Westra WH, Califano J (2002) Multifocal papillary thyroid carcinoma arising in a lingual thyroid: a case report. Arch Otolaryngol Head Neck Surg 128:1198–1200

5.

Perez JS, Munoz M, Naval L, Blasco A, Diaz FJ (2003) Papillary carcinoma arising in a lingual thyroid. J Craniomaxillofac Surg 31:179–182

6.

Shah BC, Revichand CS, Juluri S, Agarwal A, Pramesh CS, Mistry RC (2007) Ectopic thyroid cancer. Ann Thorac Cardiovasc Surg 13:122–124

7.

O'Malley BW Jr, Weinstein GS, Snyder W, Hockstein NG (2006) Transoral robotic surgery (TORS) for base of tongue neoplasms. Laryngoscope 116:1465–1472

8.

Vicini C, Montevecchi F, Tenti G, Canzi P, Dallan I, Huntley T (2012) Transoral robotic surgery: tongue base reduction and supraglottoplasty for obstructive sleep apnea. Oper Tech Otolaryngol 23:45–47

9.

Akyol MU, Ozcan M (1996) Lingual thyroid. Otolaryngol Head Neck Surg 115:483–484

10.

Altay C, Erdogan N, Karasu S, Uluc E, Sarsilmaz A, Mete B, Oyar O (2012) CT and MRI findings of developmental abnormalies and ectopia varieties of the thyroid gland. Diagn Interv Radiol 18:335–343

11.

Steiner W, Fierek O, Ambrosch P, Hommerick CP, Kron M (2003) Transoral laser microsurgery for squamous cell carcinoma of the base of the tongue. Arch Otolaryngol Head Neck Surg 129:36–43

12.

Hockstein NG, O'Malley BW Jr (2008) Transoral robotic surgery. Oper Tech Otolaryngol 19:67–71

13.

Vicini C, Dallan I, Canzi P, Frassineti S, Nacci A, Seccia V, Panicucci E, LaPietra MG, Montevecchi F, Tschabitscher M (2012) Transoral robotic surgery of the tongue base in obstructive sleep apnoea-hypopnoea syndrome: anatomic considerations and clinical experience. Head Neck 34:15–22
Conflict of interest
We declare that the manuscript has not been previously published, nor is it under consideration elsewhere, and none of the authors has any conflict of interest, financial or otherwise.
Consent section
Written informed consent was obtained from the patient for publication of this Case Report and any accompanying images. A copy of the written consent is available for review by the Editor-in-Chief of this journal.
Electronic supplementary material
Below is the link to the electronic supplementary material.
Supplementary material 1 (MP4 32974 kb)
About this article
Cite this article
Dallan, I., Montevecchi, F., Seccia, V. et al. Transoral robotic resection of an ectopic tongue-base thyroid gland. J Robotic Surg 7, 83–86 (2013). https://doi.org/10.1007/s11701-012-0382-z
Received:

Accepted:

Published:

Issue Date:
Keywords
Ectopic thyroid

Robotic surgery

Transoral approach

Tongue base

Transoral robotic surgery