Abstract
The objective of our study is to describe the peri-operative and early postoperative surgical outcomes following robotic sacrocolpoperineopexy with ventral rectopexy for the combined treatment of rectal and pelvic organ prolapse. This was a retrospective cohort study of ten women with symptomatic Stage 2 or greater pelvic organ prolapse and concomitant rectal prolapse who desired combined robotic surgery, at a single institution. The mean age of the subjects was 55.3 ± 19.2 years (range 19–86)  and the mean body mass index was 25.8 ± 5.7 kg/m2. Preoperatively, the women had Stage 2 or greater pelvic organ prolapse and the average length of rectal prolapse was 2.1 ± 1.9 cm. There were no conversions to conventional laparoscopy or laparotomy. The mean operating room time was 307 ± 45 min with an estimated blood loss of 144 ± 68 ml. The average length of stay was 2.4 ± 0.8 days. Preliminary data suggest that robotic sacrocolpoperineopexy with ventral rectopexy is a feasible procedure with minimal operative morbidity for the combined treatment of rectal and pelvic organ prolapse. Longer follow-up is needed to ensure favorable long-term subjective and objective outcomes.
This is a preview of subscription content, log in to check access.
Access options
Buy single article
Instant unlimited access to the full article PDF.
US$ 39.95
Price includes VAT for USA
Subscribe to journal
Immediate online access to all issues from 2019. Subscription will auto renew annually.
US$ 99
This is the net price. Taxes to be calculated in checkout.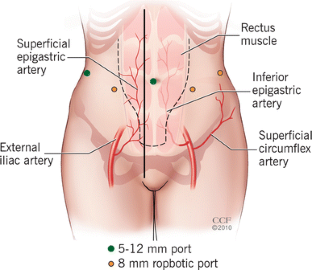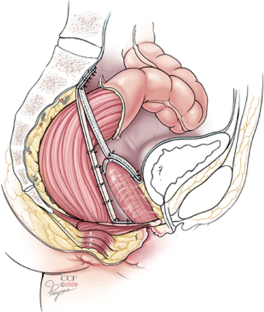 References
1.

Nygaard I, Barber MD, Burgio KL et al (2008) Prevalence of symptomatic pelvic floor disorders in US women. JAMA 300:1311–1316

2.

Wu JM, Hundley AF, Fulton RG et al (2009) Forecasting the prevalence of pelvic floor disorders in US women: 2010 to 2050. Obstet Gynecol 114:1278–1283

3.

Subak LL, Waetjen LE, van den Eeden S et al (2001) Cost of pelvic organ prolapse surgery in the United States. Obstet Gynecol 98:646–651

4.

Sullivan ES, Longaker CJ, Lee PY (2001) Total pelvic mesh repair: a ten-year experience. Dis Colon Rectum 44:857–863

5.

Ayav A, Bresler L, Brunaud L et al (2005) Surgical management of combined rectal and genital prolapse in young patients: transabdominal approach. Int J Colorectal Dis 20:173–179

6.

Sagar PM, Thekkinkattil DK, Heath RM et al (2008) Feasibility and functional outcome of laparoscopic sacrocolporectopexy for combined vaginal and rectal prolapse. Dis Colon Rectum 51:1414–1420

7.

Geller EJ, Siddiqui NY, Wu JM et al (2008) Short-term outcomes of robotic sacrocolpopexy compared with abdominal sacrocolpopexy. Obstet Gynecol 112:1201–1206

8.

Lim M, Sagar PM, Gonsalves S et al (2007) Surgical management of pelvic organ prolapse in females: functional outcome of mesh sacrocolpopexy and rectopexy as a combined procedure. Dis Colon Rectum 50:1412–1421

9.

Riansuwan W, Hull TL, Bast J et al (2010) Combined surgery in pelvic organ prolapse is safe and effective. Colorectal Dis 12:188–192

10.

Boccasanta P, Venturi M, Spennacchio M et al (2010) Prospective clinical and functional results of combined rectal and urogynecologic surgery in complex pelvic floor disorders. Am J Surg 199:144–153

11.

Bump RC, Mattiasson A, Bo K et al (1996) The standardization of terminology of female pelvic organ prolapse and pelvic floor dysfunction. Am J Obstet Gynecol 175:10–17

12.

Hodde J, Hiles M (2007) Constructive soft tissue remodeling with a biologic extracellular matrix graft: overview and review of the clinical literature. Acta Chir Belg 107:641–647

13.

Stepp KJ, Walters MD (2007) Anatomy of the lower urinary tract, rectum, and pelvic floor. In: Walters MD, Karram MM (eds) Urogynecology and reconstructive pelvic surgery, 3rd edn. Elsevier, Philadelphia, pp 17–30

14.

Gordon D, Groutz A, Goldman G et al (1999) Anal incontinence: prevalence among female patients attending urogynecologic clinic. Neurourol Urodyn 18:199–204

15.

Jackson SL, Weber AM, Hull TL et al (1997) Fecal incontinence in women with urinary incontinence and pelvic organ prolapse. Obstet Gynecol 89:423–427

16.

Ellerkmann RM, Cundiff GW, Melick CF et al (2001) Correlation of symptoms with location and severity of pelvic organ prolapse. Am J Obstet Gynecol 185:1332–1337

17.

Steele SR, Lee P, Mullenix PS et al (2006) Is there a role for concomitant pelvic floor repair in patients with sphincter defects in the treatment of fecal incontinence? Int J Colorectal Dis 21:508–514

18.

Darai E, Countant C, Rouzier R et al (2009) Genital prolapse repair using porcine skin implant and bilateral sacrospinous fixation: midterm functional outcome and quality-of-life assessment. Urology 73:245–250

19.

Ellis CN (2008) Outcomes after repair of repair of rectovaginal fistulas using bioprosthetics. Dis Colon Rectum 51:1084–1088

20.

Williams NS, Giordano P, Dvorkin LS et al (2005) External pelvic rectal suspension (the express procedure) for full-thickness rectal prolapse: evolution of a new technique. Dis Colon Rectum 48:307–316

21.

Kropp BP, Cheng EY, Pope JC IV et al (2002) Use of small intestinal submucosa for corporal body grafting in cases of severe penile curvature. J Urol 168:1742–1745
Electronic supplementary material
Below is the link to the electronic supplementary material.
Supplementary material 1 (MPG 51818 kb)
About this article
Cite this article
Reddy, J., Ridgeway, B., Gurland, B. et al. Robotic sacrocolpoperineopexy with ventral rectopexy for the combined treatment of rectal and pelvic organ prolapse: initial report and technique. J Robotic Surg 5, 167–173 (2011) doi:10.1007/s11701-011-0257-8
Received:

Accepted:

Published:

Issue Date:
Keywords
Robotic-assisted laparoscopy

Rectal prolapse

Pelvic organ prolapse

Sacrocolpopexy

Pelvic floor disorders