Abstract
An efficient and atom economic modification of a previously reported synthetic pathway to tetrasubstituted thiophenes is described. The previously published synthetic methodology involved a one pot procedure starting with ketene dithioacetal and an appropriate secondary amine, and subsequent reaction with Na2S and phenacyl bromide. However, the liberated methanethiolate by-product was competed with enethiolate intermediate for phenacyl bromide, which reduced the yield and imposed the necessity to use two molar equivalents of α-haloketone reagent to increase the yield of the target thiophene products. In the present work, the proposed modification consisted in isolation of the intermediate enethiolate derivative, thereby reducing quantity of the α-haloketone to one molar equivalent. Moreover, the reaction conditions were optimized to attain optimum base/solvent combination to improve the yield of the target derivatives. Following our modified procedure, three series of new 3-amino-4-cyanothiophene derivatives were synthesized and isolated in high yields and high purity.
This is a preview of subscription content, log in to check access.
Access options
Buy single article
Instant access to the full article PDF.
US$ 39.95
Price includes VAT for USA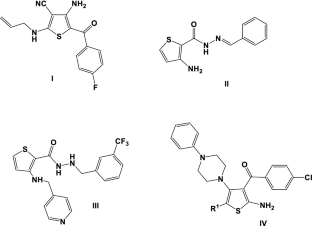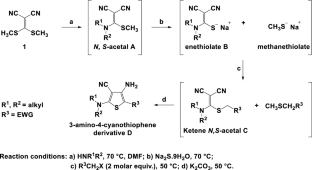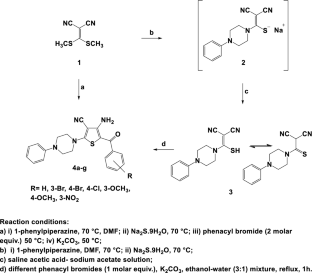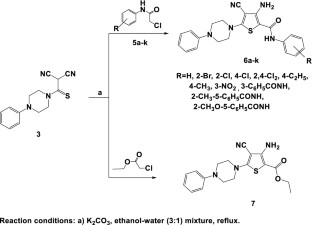 Ethics declarations
Conflict of interest
No conflict of interest.
Additional information
Publisher's Note
Springer Nature remains neutral with regard to jurisdictional claims in published maps and institutional affiliations.
About this article
Cite this article
El-Meligie, S.E.M., Khalil, N.A., El-Nassan, H.B. et al. Efficient synthesis of new 3-amino-4-cyanothiophene derivatives. Chem. Pap. (2020). https://doi.org/10.1007/s11696-020-01070-z
Received:

Accepted:

Published:
Keywords
Thiophene

3-Amino-4-cyanothiophene

Ketene dithioacetals

Thiophene-2-carboxamides