Abstract
In this work, heat-activated peroxymonosulfate (heat-PMS) oxidation was used to condition waste activated sludge. The results showed that the optimal temperature and PMS dosage for sludge dewatering were 75 °C and 150 mg/g-volatile solids (VS), and the addition of rice husk (100–400 mg/g-VS) was favorable to further enhance sludge dewaterability. Under optimal conditions, the capillary suction time reduction and water content of sludge cake were 82.4% and 65.8%, respectively. The significant improvement of sludge dewaterability was ascribed to the releases of extracellular polymeric substances (EPS)-bound water and cell water caused by the significant breakdown of tightly bound EPS, as well as the skeleton effect. In addition, heat-PMS oxidation has been demonstrated with the merits of improving the immobilization of heavy metals (HMs) and weakening their environmental risk. After conditioning, HMs solubilization was enhanced significantly and their leaching toxicity decreased obviously. Meanwhile, HMs were transformed into more stable forms. Therefore, heat-PMS oxidation might be a potential and desirable technology for sludge conditioning with respect to the enhancement of sludge dewaterability and the decrease of HMs environmental risk.
This is a preview of subscription content, log in to check access.
Access options
Buy single article
Instant unlimited access to the full article PDF.
US$ 39.95
Price includes VAT for USA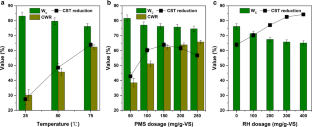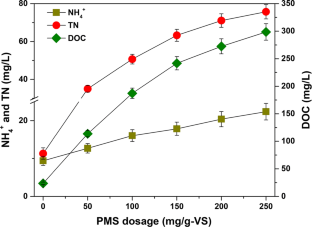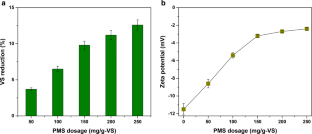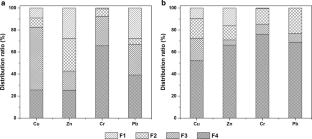 Abbreviations
AOPs:

Advanced oxidation processes

BCR:

Community Bureau of Reference

CST:

Capillary suction time

CW:

Centrifuged weight

CWR:

Centrifuged weight reduction

DOC:

Dissolved organic carbon

DS:

Dry solids

EPS:

Extracellular polymeric substances

F1:

Fraction of soluble and exchangeable HMs

F2:

Fraction of HMs bound to organic and sulfide

F3:

Fraction of HMs bound to iron and manganese oxides

F4:

Fraction of residual HMs

HMs:

Heavy metals

LB-EPS:

Loosely bound EPS

PDS:

Peroxydisulfate

PMS:

Peroxymonosulfate

RAC:

Risk assessment code

RH:

Rice husk

RS:

Raw sludge

S-EPS:

Soluble EPS

TB-EPS:

Tightly bound EPS

TCLP:

Toxicity characteristic leaching procedure

TN:

Total nitrogen

TS:

Total solids

VS:

Volatile solids

WAS:

Waste activated sludge

W C :

Water content of sludge cake

WWTPs:

Wastewater treatment plants
Acknowledgements
This work was financially supported by the Applied Basic Research Project of Science and Technology Department of Sichuan Province (Grant No. 2018JY0303), National Natural Science Foundation of China (Grant Nos. 21976098 and 21607088), Program of Education Department of Sichuan Province (Grant No. 18ZA0287), and Doctoral Fund Project of Panzhihua University (Grant No. 0210600022).
Additional information
Publisher's Note
Springer Nature remains neutral with regard to jurisdictional claims in published maps and institutional affiliations.
Electronic supplementary material
Below is the link to the electronic supplementary material.
About this article
Cite this article
Huang, Z., Liu, C., Zhu, X. et al. Behaviors of dewaterability and heavy metals of waste activated sludge conditioned by heat-activated peroxymonosulfate oxidation. Chem. Pap. 74, 641–650 (2020) doi:10.1007/s11696-019-00912-9
Received:

Accepted:

Published:

Issue Date:
Keywords
Waste activated sludge

Dewatering

Heavy metals

Advanced oxidation

Heat/peroxymonosulfate