Abstract
Background
Many patients considering bariatric surgery will obtain medical information through the Internet. The type and quality of information patients access may vary significantly by geographic region.
Methods
Searches were performed using commercial search engines in both the United States of America (USA) and United Arab Emirates (UAE) using search terms "bariatric surgery" and "weight loss surgery." Quality was assessed using the scoring systems previously published by DISCERN (United Kingdom (UK)), the Journal of the American Medical Association Benchmark (JAMA; USA), and Expanded Ensuring Quality Information for Patients (EQIP) (UK).
Results
Website types were more evenly distributed in UAE, though physician websites were also the most common (n = 25, 25%). Within the USA, most websites analyzed were from physicians (n = 32, 32%), followed by academic sources (n = 26, 26%). Academic websites were the highest average quality in the USA (p < .00001). The overall mean DISCERN scores for all websites in the UAE group and US group had no statistically significance differences (p = .950). The overall mean JAMA Benchmark for all websites in the UAE group and USA had no statistically significance differences (p = 0.202). There were no major differences between the USA and UAE in Expanded EQIP scores.
Conclusions
The overall quality of information regarding bariatric surgery is poor to fair in both the USA and UAE. Additionally, there are differences in the types of sites retrieved by the most commonly used search engines in each region. The lack of high-quality, evidence-based, information regarding bariatric surgery online is a potential target to improve public education.
This is a preview of subscription content, log in to check access.
Access options
Buy single article
Instant unlimited access to the full article PDF.
US$ 39.95
Price includes VAT for USA
Subscribe to journal
Immediate online access to all issues from 2019. Subscription will auto renew annually.
US$ 99
This is the net price. Taxes to be calculated in checkout.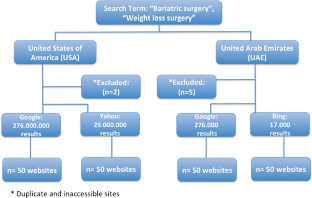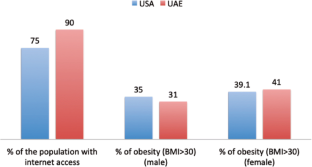 References
1.

Internet World Stats: Usage and Population Statistics [Internet]. Miniwatts marketing group; 2017 Nov. Available from: http://www.internetworldstats.com/stats.htm.

2.

Gero D, Hulesch B, Bueter M. Mindset and communication barriers in the diffusion of bariatric surgery. Curr Atheroscler Rep. 2018;20(8):38.

3.

Daraz L, Morrow AS, Ponce OJ, et al. Can patients trust online health information? A meta-narrative systematic review addressing the quality of health information on the internet. J Gen Intern Med. 2019;34(9):1884–91.

4.

Charnock D, Shepperd S, Needham G, et al. DISCERN: an instrument for judging the quality of written consumer health information on treatment choices. J Epidemiol Community Health. 1999;53(2):105–11.

5.

Silberg WM, Lundberg GD, Musacchio RA. Assessing, controlling, and assuring the quality of medical information on the internet: Caveant lector et viewor--let the reader and viewer beware. JAMA. 1997;277(15):1244–5.

6.

"Health On the Net (HON): Health On the Net Code of Conduct (HONcode)." Accessed July 17, 2019. https://www.hon.ch/HONcode/.

7.

Trainer SS. Body image, health, and modernity: women's perspectives and experiences in the United Arab Emirates. Asia Pac J Public Health. 2010;22(3_suppl):60S–7S.

8.

Charvet-Berard AI, Chopard P, Perneger TV. Measuring quality of patient information documents with an expanded EQIP scale. Patient Educ Couns. 2008;70(3):407–11.

9.

Moult B, Franck LS, Brady H. Ensuring quality information for patients: development and preliminary validation of a new instrument to improve the quality of written health care information. Health Expect. 2004;7(2):165–75.

10.

Hesse BW, Nelson DE, Kreps GL, et al. Trust and sources of health information: the impact of the internet and its implications for health care providers: findings from the first health information National Trends Survey. Arch Intern Med. 2005;165(22):2618–24.

11.

Corcelles R, Daigle CR, Talamas HR, et al. Assessment of the quality of internet information on sleeve gastrectomy. Surg Obes Relat Dis. 2015;11(3):539–44.

12.

Vetter D, Ruhwinkel H, Raptis DA, et al. Quality assessment of information on bariatric surgery websites. Obes Surg. 2018;28(5):1240–7.

13.

Melloul E, Raptis DA, Oberkofler CE, et al. Donor information for living donor liver transplantation: where can comprehensive information be found? Liver Transpl. 2012;18(8):892–900.

14.

Frueh FS, Palma AF, Raptis DA, et al. Carpal tunnel syndrome: analysis of online patient information with the EQIP tool. Chir Main. 2015;34(3):113–21.

15.

Organisation mondiale de la santé. Global Status Report on Noncommunicable Diseases. In: Attaining the nine global noncommunicable diseases targets; a shared responsibility. Geneva: World Health Organization; 2014. p. 2014.

16.

"Overweight & Obesity Statistics | NIDDK." National Institute of Diabetes and Digestive and Kidney Diseases. Available from: https://www.niddk.nih.gov/health-information/health-statistics/overweight-obesity.

17.

Bruce-Brand RA, Baker JF, Byrne DP, et al. Assessment of the quality and content of information on anterior cruciate ligament reconstruction on the internet. Arthroscopy. 2013;29(6):1095–100.

18.

Hanif F, Abayasekara K, Willcocks L, et al. The quality of information about kidney transplantation on the World Wide Web. Clin Transpl. 2007;21(3):371–6.

19.

Reid P, Borycki EM. Emergence of a new consumer health informatics framework: introducing the healthcare organization. Stud Health Technol Inform. 2011;164:353–7.

20.

Akbari K, Som R. Evaluating the quality of Internet information for bariatric surgery. Obes Surg. 2014;24(11):2003–6.

21.

Ferhatoglu MF, Kartal A, Ekici U, et al. Evaluation of the reliability, utility, and quality of the information in sleeve gastrectomy videos shared on open access video sharing platform YouTube. Obes Surg. 2019;29(5):1477–84.
Ethics declarations
Conflict of Interest
The authors declare that they have no conflict of interest.
Informed Consent Statement
For this type of study formal consent is not required.
Additional information
Publisher's Note
Springer Nature remains neutral with regard to jurisdictional claims in published maps and institutional affiliations.
About this article
Cite this article
Barajas-Gamboa, J.S., Klingler, M., Landreneau, J. et al. Quality of Information About Bariatric Surgery on the Internet: A Two-Continent Comparison of Website Content. OBES SURG (2020) doi:10.1007/s11695-019-04375-5
Keywords
Bariatric surgery

Weight loss surgery

Internet

Quality

Website

Information