Abstract
Purpose
Post-operative changes in moderate-to-vigorous physical activity (MVPA) may contribute to improved weight loss and long-term weight maintenance of individuals after bariatric surgery. Patients experience minimal changes in MVPA > 6 months after surgery, but no studies have investigated early changes in physical activity after surgery. This study aims to assess MVPA changes during the rapid weight loss phase through self-reporting and objective measures.
Methods
Physical activity patterns were assessed as minutes per day spent doing MVPA. A walking cadence of ≥ 100 steps per minute defined MVPA. Individuals completing gastric bypass (N = 7) and sleeve gastrectomy (N = 17) procedures (21 females, 3 males, age 42.2 ± 12.6 years, body mass 121.8 ± 24.8 kg, BMI 44.0 ± 6.5) completed office visits at 12 ± 6 days pre- and 35 ± 10 days post-operative. Each wore an ActiGraph GT3X tri-axial accelerometer at the hip for 7 days before and again for 7 days 30.6 ± 10 days after surgery. Assessments also included a subjective question about their anticipated and perceived post-operative MVPA (scale of − 3 to 3 with 3 being much more physically active and − 3 being much less).
Results
Participants did not change their minutes per day of MVPA significantly (pre-operative 1.5 ± 2.1; post-operative 2.6 ± 5.6, NS). Participants predicted their post-operative physical activity level would increase (2.8 ± 0.4). The self-reported activity level on the same scale after surgery was significantly less than predicted (1.9 ± 1.0, p < 0.05) but still suggested that participants thought they were more physically active.
Conclusion
Consistent with reports > 6 months after surgery, MVPA did not increase in the early post-operative period, despite patient expectations. The early post-operative period may be a time for behavioral intervention.
This is a preview of subscription content, log in to check access.
Access options
Buy single article
Instant unlimited access to the full article PDF.
US$ 39.95
Price includes VAT for USA
Subscribe to journal
Immediate online access to all issues from 2019. Subscription will auto renew annually.
US$ 99
This is the net price. Taxes to be calculated in checkout.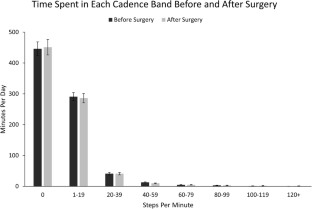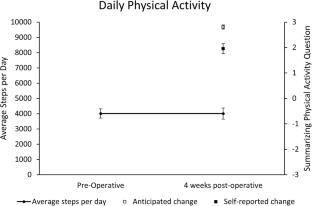 References
1.

Fryar CD, Carroll MD, Ogden CL. Prevalence of overweight, obese, and extreme obesity among adults aged 20 and over: United States, 1960–1962 through 2013–2014. 2016.

2.

Kitahara CM, Flint AJ, Berrington de Gonzalez A, et al. Association between class III obesity (BMI of 40-59 kg/m2) and mortality: a pooled analysis of 20 prospective studies. PLoS Med. 2014;11(7):e1001673.

3.

Longitudinal Assessment of Bariatric Surgery Consortium, Flum DR, Belle SH, et al. Perioperative safety in the longitudinal assessment of bariatric surgery. N Engl J Med. 2009;361(5):445–54.

4.

Sjostrom L, Lindroos A, Peltonen M, et al. Lifestyle, diabetes, and cardiovascular risk factors 10 years after bariatric surgery. N Engl J Med. 2004;351(26):2683–93.

5.

Adams TD, Davidson LE, Litwin SE, et al. Weight and metabolic outcomes 12 years after gastric bypass. N Engl J Med. 2017;377(12):1143–55.

6.

Papalazarou A, Yannakoulia M, Kavouras SA, et al. Lifestyle intervention favorably affects weight loss and maintenance following obesity surgery. Obesity (Silver Spring). 2010;18(7):1348–53.

7.

Coen PM, Goodpaster BH. A role for exercise after bariatric surgery? Diabetes Obes Metab. 2016;18(1):16–23.

8.

Elkins G, Whitfield P, Marcus J, et al. Noncompliance with behavioral recommendations following bariatric surgery. Obes Surg. 2005;15:546–51.

9.

Davidson LE, Yu W, Goodpaster BH, et al. Fat-free mass and skeletal muscle mass five years after bariatric surgery. Obesity (Silver Spring). 2018;26(7):1130–6.

10.

Carey DG, Pliego GJ, Raymond RL, et al. Body composition and metabolic changes following bariatric surgery: effects on fat mass, lean mass and basal metabolic rate. Obes Surg. 2006;16:469–77.

11.

Carey DG, Pliego GJ, Raymond RL. Body composition and metabolic changes following bariatric surgery: effects on fat mass, lean mass and basal metabolic rate: six months to one-year follow-up. Obes Surg. 2006;16:1602–8.

12.

Bond DS, Jakicic JM, Unick JL, et al. Pre- to postoperative physical activity changes in bariatric surgery patients: self report vs. objective measures. Obesity (Silver Spring). 2010;18(12):2395–7.

13.

King WC, Hsu JY, Belle SH, et al. Pre- to postoperative changes in physical activity: report from the longitudinal assessment of bariatric surgery-2 (LABS-2). Surg Obes Relat Dis. 2012;8(5):522–32.

14.

Harrison GG, Buskirk E, Carter JL, et al. Skinfold thicknesses and measurement technique. In: Anthropometric standardization reference manual; 1988. p. 55–80.

15.

Trost SG, McIver KL, Pate RR. Conducting accelerometer-based activity assessments in field-based research. Med Sci Sports Exerc. 2005;37(11 Suppl):S531–43.

16.

McClain JJ, Sisson SB, Tudor-Locke C. Actigraph accelerometer interinstrument reliability during free-living in adults. Med Sci Sports Exerc. 2007;39(9):1509–14.

17.

Tudor-Locke C, Camhi SM, Troiano RP. A catalog of rules, variables, and definitions applied to accelerometer data in the National Health and Nutrition Examination Survey, 2003-2006. Prev Chronic Dis. 2012;9:E113.

18.

Ward DS, Evenson KR, Vaughn A, et al. Accelerometer use in physical activity: best practices and research recommendations. Med Sci Sports Exerc. 2005;37(11 Suppl):S582–8.

19.

Tudor-Locke C, Sisson SB, Collova T, et al. Pedometer-determined step count guidelines for classifying walking intensity in a young ostensibly healthy population. Can J Appl Physiol. 2005;30(6):666–76.

20.

Tudor-Locke C, Aguiar EJ, Han H, et al. Walking cadence (steps/min) and intensity in 21-40 year olds: CADENCE-adults. Int J Behav Nutr Phys Act. 2019;16(1):8.

21.

Field AP, Miles J. Discovering statistics using SPSS (and sex and drugs and rock 'n' roll). 3rd ed. Los Angeles: SAGE Publications; 2010.

22.

Tabachnick BG, Fidell LS. Using multivariate statistics. 5th ed. Boston, MA: Allyn & Bacon/Pearson Education; 2007.

23.

Piercy KL, Troiano RP, Ballard RM, et al. The Physical Activity Guidelines for Americans. JAMA. 2018;320(19):2020–8.

24.

Bond DS, Jakicic JM, Vithiananthan S, et al. Objective quantification of physical activity in bariatric surgery candidates and normal-weight controls. Surg Obes Relat Dis. 2010;6(1):72–8.

25.

Bond DS, Unick JL, Jakicic JM, et al. Objective assessment of time spent being sedentary in bariatric surgery candidates. Obes Surg. 2011;21(6):811–4.

26.

Chapman N, Hill K, Taylor S, et al. Patterns of physical activity and sedentary behavior after bariatric surgery: an observational study. Surg Obes Relat Dis. 2014;10(3):524–30.

27.

McGregor DE, Palarea-Albaladejo J, Dall PM, et al. Differences in physical activity time-use composition associated with cardiometabolic risks. Prev Med Rep. 2019;13:23–9.

28.

Lightman SW, Pisarska K, Berman ER, et al. Discrepancy between self-reported and actual caloric intake and exercise in obese subjects. N Engl J Med. 1992;327:1893–8.

29.

Jakicic JM, Polley BA, Wing RR. Accuracy of self-reported exercise and the relationship with weight loss in overweight women. Med Sci Sports Exerc. 1998;30(4):634–8.

30.

Boan J, Kolotkin RL, Westman EC, et al. Binge eating, quality of life and physical activity improve after Roux-en-Y gastric bypass for morbid obesity. Obes Surg. 2004;14(3):341–8.

31.

Bond DS, Phelan S, Wolfe LG, et al. Becoming physically active after bariatric surgery is associated with improved weight loss and health-related quality of life. Obesity (Silver Spring). 2009;17(1):78–83.

32.

Rees-Punia E, Evans EM, Schmidt MD, et al. Mortality risk reductions for replacing sedentary time with physical activities. Am J Prev Med. 2019;
Ethics declarations
Conflict of Interest
The authors declare that they have no conflicts of interest.
Ethical Approval Statement
The study was approved by the Institutional Review Board (IRB) at The University of Utah.
Informed Consent Statement
Informed consent was obtained from all individual participants included in the study.
Additional information
Publisher's Note
Springer Nature remains neutral with regard to jurisdictional claims in published maps and institutional affiliations.
About this article
Cite this article
Ouellette, K.A., Mabey, J.G., Eisenman, P.A. et al. Physical Activity Patterns Among Individuals Before and Soon After Bariatric Surgery. OBES SURG 30, 416–422 (2020) doi:10.1007/s11695-019-04186-8
Keywords
Accelerometry

Rapid weight loss

Obesity

Sedentary behavior