Abstract
Background
In response to concerns about inadequate insurance coverage, bariatric surgery was included in the Affordable Care Act's essential health benefits program—requiring individual and small-group insurance plans in 23 states to cover bariatric surgery. We evaluated the impact of this policy on bariatric surgery utilization.
Methods
Multiple-group interrupted time series analyses of IBM MarketScan commercial claims data from 2009 to 2016.
Results
Bariatric surgery utilization increased in all states after ACA implementation, but this increase was no greater in states with a bariatric surgery essential health benefit.
Conclusions
Our findings suggest that the essential health benefits program may have been too narrow in scope to meaningfully increase bariatric surgery utilization at the population level.
This is a preview of subscription content, log in to check access.
Access options
Buy single article
Instant unlimited access to the full article PDF.
US$ 39.95
Price includes VAT for USA
Subscribe to journal
Immediate online access to all issues from 2019. Subscription will auto renew annually.
US$ 99
This is the net price. Taxes to be calculated in checkout.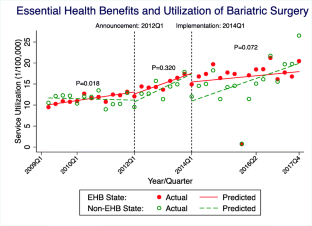 References
1.

Access to Care Fact Sheet: American Society for Metabolic and Bariatric Surgery. 2011. Available from: https://asmbs.org/resources/access-to-care-fact-sheet.

2.

Definition & Facts for Bariatric Surgery: National Institute of Diabetes and Digestive and Kidney Diseases. Available from: https://www.niddk.nih.gov/health-information/health-topics/weight-control/bariatric-surgery-severe-obesity/Pages/bariatric-surgery-for-severe-obesity.aspx.

3.

Tsuda S, Barrios L, Schneider B, et al. Factors affecting rejection of bariatric patients from an academic weight loss program. Surg Obes Relat Dis. 2009;5(2):199–202.

4.

Information on Essential Health Benefits (EHB) Benchmark plans: center for Consumer Information & Insurance Oversight, centers for Medicare and Medicaid Services. Available from: https://www.cms.gov/CCIIO/Resources/Data-Resources/ehb.html.

5.

National Coverage of Bariatric Surgery: American Society for Metabolic and Bariatric Surgery; updated 1/2018. Available from: https://asmbs.org/app/uploads/2018/01/Bariatric-Surgery-Heat-Maps-1-19-17-no-logo.pdf.

6.

Hansen L. The Truven Health MarketScan databases for life sciences researchers. Truven Health Analytics; 2017.

7.

Love KM, Mehaffey JH, Safavian D, et al. Bariatric surgery insurance requirements independently predict surgery dropout. Surg Obes Relat Dis. 2017;13(5):871–6.

8.

Westerveld D, Yang D. Through thick and thin: identifying barriers to bariatric surgery, weight loss maintenance, and tailoring obesity treatment for the future. Surg Res Pract. 2016;2016:1–7.

9.

Alvarez R, Matusko N, Stricklen AL, et al. Factors associated with bariatric surgery utilization among eligible candidates: who drops out? Surg Obes Relat Dis. 2018;14(12):1903–10.

10.

Health Insurance Coverage of the Total Population: Kaiser Family Foundation; 2016. Available from: https://www.kff.org/other/state-indicator/total-population/?currentTimeframe=0&sortModel=%7B%22colld%22:%22Location%22,%22sort%22:%22asc%22%7D.

11.

Imbus JR, Voils CI, Funk LM. Bariatric surgery barriers: a review using Andersen's Model of Health Services Use. Surg Obes Relat Dis. 2018;14(3):404–12.
Acknowledgments
The authors acknowledge the Institute for Healthcare Policy & Innovation Data and Methods Hub for analytic support on an earlier version of this manuscript.
Funding
Dr. Chhabra receives funding from the University of Michigan Institute for Healthcare Policy and Innovation Clinician Scholars Program, Agency for Healthcare Research and Quality grant T32HS000053, and the National Institutes of Health's Division of Loan Repayment. Dr. Chao receives funding from the Veterans Affairs Center for Clinical Management Research, VA Ann Arbor Healthcare System; this work does not represent the views of the US government nor the Veterans Affairs. Dr. Dimick receives grant funding from the NIH, AHRQ, and BlueCross BlueShield of Michigan Foundation. Dr. Telem receives funding from AHRQ K08 HS025778-01A1.
Ethics declarations
Conflict of Interest
Dr. Dimick is a cofounder of ArborMetrix, Inc., a company that makes software for profiling hospital quality and efficiency, which had no role in the work herein. Dr. Telem receives consulting fees from Medtronic. All other authors declare that they have no conflict of interest.
Ethical Approval Statement
For this type of study, formal consent is not required.
Informed Consent Statement
Does not apply.
Additional information
Publisher's Note
Springer Nature remains neutral with regard to jurisdictional claims in published maps and institutional affiliations.
About this article
Cite this article
Chhabra, K.R., Fan, Z., Chao, G.F. et al. Impact of Statewide Essential Health Benefits on Utilization of Bariatric Surgery. OBES SURG 30, 374–377 (2020) doi:10.1007/s11695-019-04092-z
Keywords
Health policy

Health insurance

Essential health benefits

Bariatric surgery

Utilization