The effects of processing on Garcinia xanthochymus fruit beverage
Abstract
To identify fruit processing treatments relevant for functional food applications, beverages prepared from processed Garcinia xanthochymus fruits were investigated. Treatments, including air drying (AD), sun drying (SD), freeze drying (FD), high and low temperature blanching (BH and BL), and high and low sulfating (SH and SL) were evaluated for their effects on sensory quality, pH, color, free-radical scavenging activity (DPPH), and anti-inflammatory activity. Sensory analysis concluded that the BH treatment had an elevated tropical-note as compared to the SD treatment, whereas the highest pH, b* value and DPPH scavenging activities were recorded for FD, BL, and BH treatments, respectively. Activity-guided fractionation of fruit extracts led to the identification of 2,4,6,3′,4′-pentahydroxybenzophenone-2-O-ß-D-glucopyranoside (1), showing an 80% reduction in IL-6 and a 31% reduction in nitric oxide (NO) levels. Quantitation of (1) revealed that FD followed by BH had the highest levels, at 24.9 mg/g and 2.3 mg/g, respectively. The results from this study demonstrated the potential of processed G. xanthochymus fruit as a functional beverage ingredient, with good sensory characteristics along with antioxidant and anti-inflammatory activities.
Graphic abstract
This study examined the potential of processed
G. xanthochymus
fruit as the basis of a functional beverage.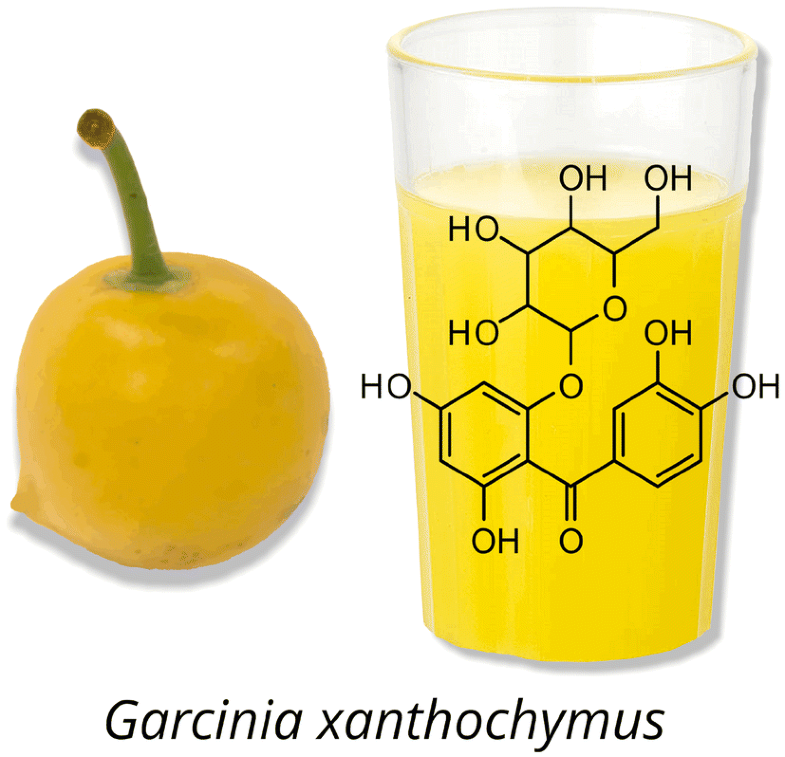 Keywords
Garcinia xanthochymus
Fruit processing 
Activity-guided fractionation 
Antioxidant 
Anti-inflammatory 
Notes
Acknowledgments
We thank David Kuhn and Mike Winterstein (USDA ARS- Subtropical Horticultural Research Station; Miami, FL) for their kind assistance in obtaining ripe G. xanthocymus fruits; Karsten Siems and Sven Jakupovic (AnalytiCon Discovery GmbH; Potsdam, Germany) for their skillful assistance with the NMR spectra; and the government of India, Department of Biotechnology (DBT), is gratefully acknowledged for the Overseas Associateship awarded to Manas R. Sahoo.
Funding
This work was supported by the USDA National Institute of Food and Agriculture Hatch Project #1016031.
Compliance with ethical standards
Conflict of interest:
The authors declare that they have no conflict of interest.
Copyright information
© Springer Science+Business Media, LLC, part of Springer Nature 2019