Lightweight Epoxy-Based Composites for EMI Shielding Applications
Progress and Challenges in Developing Electromagnetic Interference Materials
Part of the following topical collections:
Abstract
The rapid advancement in wireless technology has become both a boon and a curse for mankind. With the development of sophisticated electronics that serve to ease our day-to-day work, the emergence of electromagnetic waves from individual components interfere with each other and harm our physical as well as mental well-being. In this scenario, epoxy-based composites are emerging to be a state-of-the-art electromagnetic interference (EMI) shielding alternative to conventional materials such as metals. Their lightweight structure and improved mechanical properties render epoxy composites extremely efficient for structural applications. Reinforcements in the form of particles/fabrics are widely used in this regard. The present review deals with the various advancements in the field of modifications of epoxy composites to develop EMI shielding materials. Primary focus has been given on the development of lightweight epoxy modified composites through carbonaceous reinforcements either in the form of particles or fiber mats. Synthesis of hybrid nanoparticles in an epoxy matrix to account for both reflection and absorption losses has also been detailed in this review. Subsequently, we present an outlook on which the direction of future research work can be carried out.
Graphic Abstract
Cartoon depicting the outlook of various reinforcements that have been used in the last few years in constructing epoxy composites for EMI shielding applications.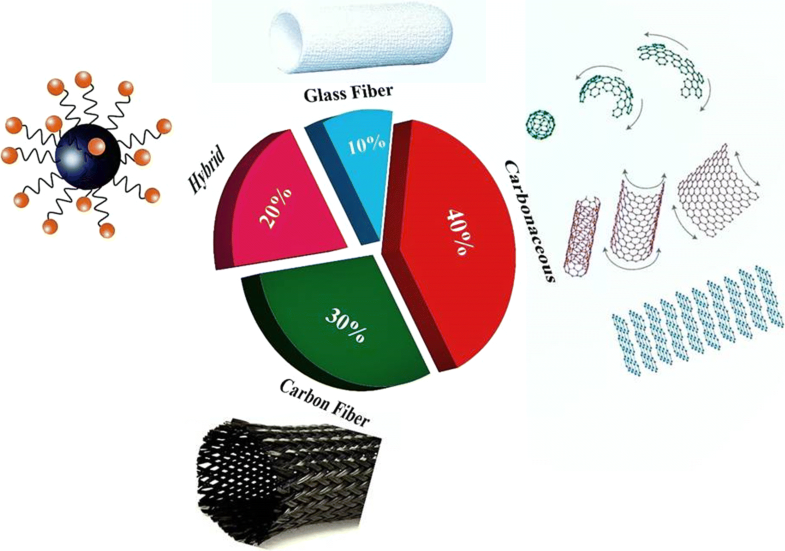 Keywords
Epoxy 
surface modification 
polymer composite 
structure–property 
EMI shielding 
Copyright information
© The Minerals, Metals & Materials Society 2019