Zusammenfassung
Bei Krebserkrankungen mit unbekanntem Primärtumor (CUP, "carcinoma of unknown primary site") handelt es sich um ein heterogenes onkologisches Krankheitsbild, bei dem nach Abschluss einer umfangreichen Primärdiagnostik kein Ursprungstumor identifiziert werden kann, jedoch histologisch und/oder zytologisch gesicherte Metastasen vorliegen. Diagnostische Bemühungen richten sich v. a. auf die Identifikation prognostisch günstiger Subgruppen sowie die Bestimmung des Disseminationsgrads. Sie umfassen neben klinischen und radiologischen Untersuchungen insbesondere eine ausführliche Histologie und Immunhistochemie. Molekulargenetische Methoden können helfen, einen wahrscheinlichen Primärtumor sowie Mutationen für den Einsatz zielgerichteter Therapien zu identifizieren. Sie finden derzeit v. a. in klinischen Studien Anwendung, sind aber bisher nicht als Routinediagnostik implementiert. Während prognostisch günstige Subgruppen eine spezifische Therapie in Anlehnung an den klinisch-pathologisch wahrscheinlichen Primärtumor erhalten, ist eine empirische, platinbasierte Kombinationschemotherapie derzeit therapeutischer Standard zur Behandlung des prognostisch ungünstigen CUP-Syndroms. Die Prognose ist dabei mit einem medianen Überleben von etwa einem Jahr schlecht. Der Einsatz von zielgerichteten, mutationsspezifischen Therapien und Immuncheckpointinhibitoren wird in aktuellen Studien untersucht.
Abstract
Carcinoma of unknown primary site (CUP) is a heterogenous oncologic disease for which extensive primary diagnostic workup fails to identify a primary tumor although histologically and/or cytologically proven metastases are present. Diagnostic efforts focus primarily on identification of prognostically favorable subsets and dissemination stage of the disease. They include thorough clinical examination, radiology, and especially comprehensive histology and immunohistochemistry. Molecular methods may help to find the putative primary or identify mutations amenable to targeted therapy. For the most part these methods are currently used in the context of clinical trials and not (yet) part of routine diagnostics. While favorable subsets are treated with regimens established for the respective putative primary cancers, the current standard for unfavorable-subset patients is empiric platinum-based combination chemotherapy. The prognosis of unfavorable CUP patients is dismal, with a median survival of less than 1 year. The use of targeted mutation-specific therapy and immune checkpoint inhibitors is being investigated in ongoing clinical trials.
This is a preview of subscription content, log in to check access.
Access options
Buy single article
Instant access to the full article PDF.
US$ 39.95
Price includes VAT for USA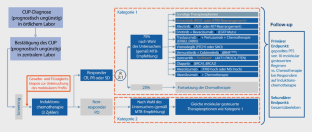 Abbreviations
AFP:

Alpha-Fetoprotein

AUC:

"Area under the curve"

β‑hCG:

Humanes Choriongonadotropin

CDKN2A:

cyclin-dependent kinase Inhibitor 2A

CDX‑2:

"Homeoboxprotein", Transkriptionsfaktor

CEA:

Karzinoembryonales Antigen

CK:

Zytokeratin

CT:

Computertomographie

CUP:

"Carcinoma of unknown primary (site)"

EGFR:

Epidermaler Wachstumsfaktorrezeptor

ECOG:

Eastern Cooperative Oncology Group

ER:

Östrogenrezeptor

ESMO:

European Society for Medical Oncology

GCDFP-15:

"Gross cystic disease fluid protein-15"

GEP:

Genexpressionsprofil

HMB45:

"Human melanoma black", Antikörper

K-RAS:

Kirsten rat sarcoma viral oncogene homolog, eine GTPase

LDH:

Laktatdehydrogenase

miRNA:

"micro RNA", kurze, hoch konservierte, nichtcodierende RNA

mRNA:

"Messenger RNA", einzelsträngiges RNA-Transkript eines zu einem Gen gehörigen Teilabschnitts der DNA

MRT:

Magnetresonanztomographie

MUO:

"Malignancy of unknown primary origin"

NGS:

"Next generation sequencing"

PET:

Positronenemissionstomographie

PLAP:

Plazentare alkalische Phosphatase

PR:

Progesteronrezeptor

PS:

"Performance status", z. B. ECOG

PSA:

Prostataspezifisches Antigen

TMB:

"Tumor mutational burden", Tumormutationslast

TP 53:

Tumorsuppressor-Gen

TTF‑1:

Thyroidaler Transkriptionsfaktor 1

VEGF:

Vaskulärer endothelialer Wachstumsfaktor

WT‑1 :

"Wilms tumor gene 1"
Literatur
1.

Abbruzzese JL, Abbruzzese MC, Hess KR et al (1994) Unknown primary carcinoma: natural history and prognostic factors in 657 consecutive patients. J Clin Oncol 12:1272–1280

2.

Bochtler T, Endris V, Leichsenring J et al (2019) Comparative genetic profiling aids diagnosis and clinical decision making in challenging cases of CUP syndrome. Int J Cancer 145:2963–2973

3.

Bochtler T, Loffler H, Kramer A (2018) Diagnosis and management of metastatic neoplasms with unknown primary. Semin Diagn Pathol 35:199–206

4.

Brahmer JR, Drake CG, Wollner I et al (2010) Phase I study of single-agent anti-programmed death‑1 (MDX-1106) in refractory solid tumors: safety, clinical activity, pharmacodynamics, and immunologic correlates. J Clin Oncol 28:3167–3175

5.

Buchanan CL, Morris EA, Dorn PL et al (2005) Utility of breast magnetic resonance imaging in patients with occult primary breast cancer. Ann Surg Oncol 12:1045–1053

6.

Chalmers ZR, Connelly CF, Fabrizio D et al (2017) Analysis of 100,000 human cancer genomes reveals the landscape of tumor mutational burden. Genome Med 9:34

7.

Conley BA, Chen AP, O'dwyer PJ et al (2016) NCI-MATCH (molecular analysis for therapy choice)—a national signal finding trial. J Clin Oncol 34:TPS2606

8.

Culine S, Kramar A, Saghatchian M et al (2002) Development and validation of a prognostic model to predict the length of survival in patients with carcinomas of an unknown primary site. J Clin Oncol 20:4679–4683

9.

Ettinger DS, Agulnik M, Cates JM et al (2011) NCCN clinical practice guidelines occult primary. J Natl Compr Canc Netw 9:1358–1395

10.

Fizazi K, Greco FA, Pavlidis N et al (2015) Cancers of unknown primary site: ESMO clinical practice guidelines for diagnosis, treatment and follow-up. Ann Oncol 26(5):v133–138

11.

Golfinopoulos V, Pentheroudakis G, Salanti G et al (2009) Comparative survival with diverse chemotherapy regimens for cancer of unknown primary site: multiple-treatments meta-analysis. Cancer Treat Rev 35:570–573

12.

Goodman AM, Kato S, Bazhenova L et al (2017) Tumor mutational burden as an independent predictor of response to immunotherapy in diverse cancers. Mol Cancer Ther 16:2598–2608

13.

Groschel S, Bommer M, Hutter B et al (2016) Integration of genomics and histology revises diagnosis and enables effective therapy of refractory cancer of unknown primary with PDL1 amplification. Cold Spring Harb Mol Case Stud 2:a1180

14.

Gross-Goupil M, Fourcade A, Blot E et al (2012) Cisplatin alone or combined with gemcitabine in carcinomas of unknown primary: results of the randomised GEFCAPI 02 trial. Eur J Cancer 48:721–727

15.

Hainsworth JD, Daugaard G, Lesimple T et al (2015) Paclitaxel/carboplatin with or without belinostat as empiric first-line treatment for patients with carcinoma of unknown primary site: a randomized, phase 2 trial. Cancer 121:1654–1661

16.

Hainsworth JD, Spigel DR, Clark BL et al (2010) Paclitaxel/carboplatin/etoposide versus gemcitabine/irinotecan in the first-line treatment of patients with carcinoma of unknown primary site: a randomized, phase III Sarah Cannon oncology research consortium trial. Cancer J 16:70–75

17.

Hainsworth JD, Spigel DR, Thompson DS et al (2009) Paclitaxel/carboplatin plus bevacizumab/erlotinib in the first-line treatment of patients with carcinoma of unknown primary site. Oncologist 14:1189–1197

18.

Hayashi H, Kurata T, Takiguchi Y et al (2019) Randomized phase II trial comparing site-specific treatment based on gene expression profiling with carboplatin and paclitaxel for patients with cancer of unknown primary site. J Clin Oncol 37:570–579

19.

Hemminki K, Forsti A, Sundquist K et al (2016) Cancer of unknown primary is associated with diabetes. Eur J Cancer Prev 25:246–251

20.

Hemminki K, Ji J, Sundquist J et al (2011) Familial risks in cancer of unknown primary: tracking the primary sites. J Clin Oncol 29:435–440

21.

Hemminki K, Riihimaki M, Sundquist K et al (2013) Site-specific survival rates for cancer of unknown primary according to location of metastases. Int J Cancer 133:182–189

22.

Huebner G, Link H, Kohne CH et al (2009) Paclitaxel and carboplatin vs gemcitabine and vinorelbine in patients with adeno- or undifferentiated carcinoma of unknown primary: a randomised prospective phase II trial. Br J Cancer 100:44–49

23.

Jones W, Allardice G, Scott I et al (2017) Cancers of unknown primary diagnosed during hospitalization: a population-based study. BMC Cancer 17:85

24.

Kaaks R, Sookthai D, Hemminki K et al (2014) Risk factors for cancers of unknown primary site: results from the prospective EPIC cohort. Int J Cancer 135:2475–2481

25.

Kandalaft PL, Gown AM (2016) Practical applications in immunohistochemistry: carcinomas of unknown primary site. Arch Pathol Lab Med 140:508–523

26.

Krämer A, Stein A, Huebner G et al (2019) Paclitaxel/carboplatin with or without cetuximab for treatment of carcinoma with unknown primary (PACET-CUP): results of a multi-center randomized phase II AIO trial. J Clin Oncol 37:4120–4120

27.

Le Tourneau C, Delord JP, Goncalves A et al (2015) Molecularly targeted therapy based on tumour molecular profiling versus conventional therapy for advanced cancer (SHIVA): a multicentre, open-label, proof-of-concept, randomised, controlled phase 2 trial. Lancet Oncol 16:1324–1334

28.

Lee JR, Kim JS, Roh JL et al (2015) Detection of occult primary tumors in patients with cervical metastases of unknown primary tumors: comparison of (18)F FDG PET/CT with contrast-enhanced CT or CT/MR imaging-prospective study. Radiology 274:764–771

29.

Loffler H, Neben K, Kramer A (2014) Cancer of unknown primary. Epidemiology and pathogenesis. Radiologe 54:107–111

30.

Loffler H, Pfarr N, Kriegsmann M et al (2016) Molecular driver alterations and their clinical relevance in cancer of unknown primary site. Oncotarget 7:44322–44329

31.

Long GV, Atkinson V, Cebon JS et al (2017) Standard-dose pembrolizumab in combination with reduced-dose ipilimumab for patients with advanced melanoma (KEYNOTE-029): an open-label, phase 1b trial. Lancet Oncol 18:1202–1210

32.

Losa F, Iglesias L, Pane M et al (2018) 2018 consensus statement by the Spanish society of pathology and the Spanish society of medical oncology on the diagnosis and treatment of cancer of unknown primary. Clin Transl Oncol 20:1361–1372

33.

Massard C, Michiels S, Ferte C et al (2017) High-throughput genomics and clinical outcome in hard-to-treat advanced cancers: results of the MOSCATO 01 trial. Cancer Discov 7:586–595

34.

Pavlidis N, Pentheroudakis G (2012) Cancer of unknown primary site. Lancet 379:1428–1435

35.

Pentheroudakis G, Golfinopoulos V, Pavlidis N (2007) Switching benchmarks in cancer of unknown primary: from autopsy to microarray. Eur J Cancer 43:2026–2036

36.

Petrakis D, Pentheroudakis G, Voulgaris E et al (2013) Prognostication in cancer of unknown primary (CUP): development of a prognostic algorithm in 311 cases and review of the literature. Cancer Treat Rev 39:701–708

37.

Randen M, Rutqvist LE, Johansson H (2009) Cancer patients without a known primary: incidence and survival trends in Sweden 1960–2007. Acta Oncol 48:915–920

38.

Robert C, Long GV, Brady B et al (2015) Nivolumab in previously untreated melanoma without BRAF mutation. N Engl J Med 372:320–330

39.

Ross JS, Wang K, Gay L et al (2015) Comprehensive genomic profiling of carcinoma of unknown primary site: new routes to targeted therapies. JAMA Oncol 1:40–49

40.

Sekine T, Barbosa FG, Sah BR et al (2017) PET/MR outperforms PET/CT in suspected occult tumors. Clin Nucl Med 42:e88–e95

41.

Siegel RL, Miller KD, Jemal A (2018) Cancer statistics, 2018. CA Cancer J Clin 68:7–30

42.

Stelow EB, Yaziji H (2018) Immunohistochemistry, carcinomas of unknown primary, and incidence rates. Semin Diagn Pathol 35:143–152

43.

Wagland R, Bracher M, Drosdowsky A et al (2017) Differences in experiences of care between patients diagnosed with metastatic cancer of known and unknown primaries: mixed-method findings from the 2013 cancer patient experience survey in England. BMJ Open 7:e17881

44.

Wolchok JD, Chiarion-Sileni V, Gonzalez R et al (2017) Overall survival with combined nivolumab and Ipilimumab in advanced melanoma. N Engl J Med 377:1345–1356

45.

Yoon HH, Foster NR, Meyers JP et al (2016) Gene expression profiling identifies responsive patients with cancer of unknown primary treated with carboplatin, paclitaxel, and everolimus: NCCTG N0871 (alliance). Ann Oncol 27:339–344
Ethics declarations
Interessenkonflikt
G.R. Boeckel, M. Pouyiourou, L. Claßen, T. Bochtler und A. Krämer geben an, dass kein Interessenkonflikt besteht.
Für diesen Beitrag wurden von den Autoren keine Studien an Menschen oder Tieren durchgeführt. Für die aufgeführten Studien gelten die jeweils dort angegebenen ethischen Richtlinien.
Additional information
Redaktion
A. Stein, Hamburg
About this article
Cite this article
Boeckel, G.R., Pouyiourou, M., Claßen, L. et al. Diagnostik und Therapie von Krebserkrankungen mit unbekanntem Primärtumor (CUP-Syndrom). best practice onkologie (2020). https://doi.org/10.1007/s11654-020-00207-6
Schlüsselwörter
Tumoren mit unbekanntem Primärtumor

Zellzykluskontrollpunkte

Immuncheckpointblockade

Molekulare zielgerichtete Therapie

DNA-Mutationsanalyse
Keywords
Neoplasms, unknown primary

Cell cycle checkpoints

Immune checkpoint blockade

Molecular targeted therapy

DNA mutational analysis