Zusammenfassung
Zielsetzung
Ziel dieses Beitrags ist es, einen Überblick über neue Techniken der Strahlentherapie in der gynäkologischen Onkologie zu geben.
Methoden
Vorgestellt und erläutert werden die technischen und klinischen Aspekte der intensitätsmodulierten Strahlentherapie (IMRT) und der helikalen Tomotherapie, der volumetrisch modulierten Strahlentherapie und der atemgetriggerten Strahlentherapie, insbesondere die Strahlentherapie in tiefer Inspiration ("deep inspiration breath hold", DIBH). Weiterhin werden Hypofraktionierung und stereotaktische Strahlentherapie (Radiochirurgie, stereotaktisch fraktionierte Strahlentherapie und stereotaktische Körperstrahlentherapie) erklärt.
Schlussfolgerung
IMRT gilt als Standardstrahlentherapie für gynäkologische Krebserkrankungen im Becken. Das DEGRO(Deutsche Gesellschaft für Radioonkologie)-Brustkrebs-Expertengremium empfiehlt DIBH als die beste Technik zur Herzschonung bei Brustkrebspatientinnen.
Abstract
Purpose
The aim of this review is to provide an overview of new radiotherapy techniques available for the treatment of gynaecological malignancies.
Methods
We introduce and explain the technical and clinical aspects of intensity-modulated radiotherapy (IMRT), helical tomotherapy, volumetric modulated arc therapy, gating and deep inspiration breath hold (DIBH). In addition, hypofractionation and stereotactic radiotherapy (radiosurgery, stereotactic fractionated radiotherapy and stereotactic body radiotherapy) are described.
Conclusion
IMRT is considered the standard radiotherapy technique for gynaecological cancers in the pelvis. The DEGRO breast cancer expert panel recommends DIBH as the best technique for heart sparing in breast cancer patients.
This is a preview of subscription content, log in to check access.
Access options
Buy single article
Instant access to the full article PDF.
US$ 39.95
Price includes VAT for USA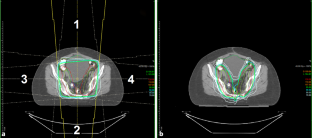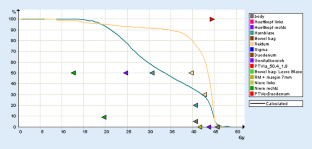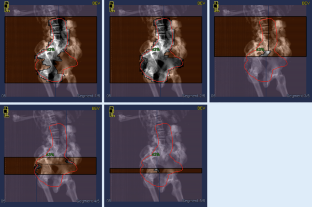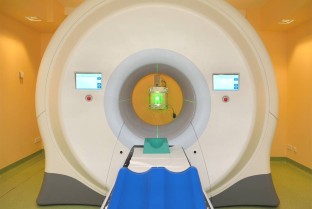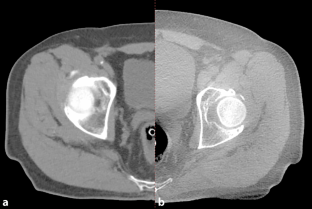 Literatur
1.

Lei C, Ma S, Huang M, An J, Liang B, Dai J, Wu L (2019) Long-term survival and late toxicity associated with pelvic intensity modulated radiation therapy (IMRT) for cervical cancer involving CT-based positive lymph nodes. Front Oncol. https://doi.org/10.3389/fonc.2019.00520

2.

Marnitz S, Lukarski D, Kohler C, Wlodarczyk W, Ebert A, Budach V, Schneider A, Stromberger C (2011) Helical tomotherapy versus conventional intensity-modulated radiation therapy for primary chemoradiation in cervical cancer patients: an intraindividual comparison. Int J Radiat Oncol Biol Phys 81(2):424–430. https://doi.org/10.1016/j.ijrobp.2010.06.005

3.

Portelance L, Chao KS, Grigsby PW, Bennet H, Low D (2001) Intensity-modulated radiation therapy (IMRT) reduces small bowel, rectum, and bladder doses in patients with cervical cancer receiving pelvic and para-aortic irradiation. Int J Radiat Oncol Biol Phys 51(1):261–266. https://doi.org/10.1016/s0360-3016(01)01664-9

4.

S3-Leitlinie Diagnostik, Therapie und Nachsorge der Patientin mit Zervixkarzinom

5.

Sharfo AW, Voet PW, Breedveld S, Mens JW, Hoogeman MS, Heijmen BJ (2015) Comparison of VMAT and IMRT strategies for cervical cancer patients using automated planning. Radiother Oncol 114(3):395–401. https://doi.org/10.1016/j.radonc.2015.02.006

6.

Chang Y, Yang ZY, Li GL, Li Q, Yang Q, Fan JQ, Zhao YC, Song YQ, Wu G (2016) Correlations between radiation dose in bone marrow and hematological toxicity in patients with cervical cancer: a comparison of 3DCRT, IMRT, and rapidARC. Int J Gynecol Cancer 26(4):770–776. https://doi.org/10.1097/IGC.0000000000000660

7.

Wang X, Shen Y, Zhao Y, Li Z, Gou H, Cao D, Yang Y, Qiu M, Li Q, Liu J, Yi C, Liao Z, Luo D, Xu F, Bi F (2015) Adjuvant intensity-modulated radiotherapy (IMRT) with concurrent paclitaxel and cisplatin in cervical cancer patients with high risk factors: A phase II trial. Eur J Surg Oncol 41(8):1082–1810 (1016/j.ejso.2015.04.018)

8.

Jouglar E, Thomas L, de la Rochefordiere A, Noel G, Le Blanc-Onfroy M, Delpon G, Campion L, Mahe MA (2016) Toxicity and early clinical outcomes in cervical cancer following extended field helical tomotherapy to para-aortic lymph nodes. Cancer Radiother 20(8):794–800. https://doi.org/10.1016/j.canrad.2016.06.007

9.

Mabuchi Y, Takiguchi Y, Yahata T, Mizoguchi M, Sasaki N, Ota N, Minami S, Ino K (2019) Short term outcomes of helical tomotherapy during concurrent chemoradiotherapy for advanced cervical cancer. Mol Clin Oncol 10(3):382–386. https://doi.org/10.3892/mco.2019.1806

10.

Mayinger M, Borm KJ, Dreher C, Dapper H, Duma MN, Oechsner M, Kampfer S, Combs SE, Habermehl D (2019) Incidental dose distribution to locoregional lymph nodes of breast cancer patients undergoing adjuvant radiotherapy with tomotherapy—is it time to adjust current contouring guidelines to the radiation technique? Radiat Oncol 14(1):135. https://doi.org/10.1186/s13014-019-1328-7

11.

Duma MN, Heinrich C, Schonknecht C, Chizzali B, Mayinger M, Devecka M, Kampfer S, Combs SE (2017) Helical TomoTherapy for locally advanced or recurrent breast cancer. Radiat Oncol 12(1):31–PMC5273793. https://doi.org/10.1186/s13014-016-0736-1

12.

Eminowicz G, Rompokos V, Stacey C, Hall L, McCormack M (2017) Understanding the impact of pelvic organ motion on dose delivered to target volumes during IMRT for cervical cancer. Radiother Oncol 122(1):116–121. https://doi.org/10.1016/j.radonc.2016.10.018

13.

Kim YJ, Kim JY, Yoo SH, Min BJ, Chung KZ, Seo SS, Kang SB, Lim MC, Hwang JH, Yoo HJ, Park SY (2013) High control rate for lymph nodes in cervical cancer treated with high-dose radiotherapy using helical tomotherapy. Technol Cancer Res Treat 12(1):45–51. https://doi.org/10.7785/tcrt.2012.500252

14.

Duma MN, Baumann R, Budach W, Dunst J, Feyer P, Fietkau R, Haase W, Harms W, Hehr T, Krug D, Piroth MD, Sedlmayer F, Souchon R, Sauer R, Breast Cancer Expert Panel of the German Society of Radiation Oncology (DEGRO) (2019) Heart-sparing radiotherapy techniques in breast cancer patients: a recommendation of the breast cancer expert panel of the German society of radiation oncology (DEGRO). Strahlenther Onkol. https://doi.org/10.1007/s00066-019-01495-w

15.

Duma MN, Munch S, Oechsner M, Combs SE (2017) Heart-sparing radiotherapy in patients with breast cancer: What are the techniques used in the clinical routine?: A pattern of practice survey in the German-speaking countries. Med Dosim 42(3):197–202. https://doi.org/10.1016/j.meddos.2017.03.002

16.

Borm KJ, Oechsner M, Combs SE, Duma MN (2018) Deep-inspiration breath-hold radiation therapy in breast cancer: a word of caution on the dose to the axillary lymph node levels. Int J Radiat Oncol Biol Phys 100(1):263–269. https://doi.org/10.1016/j.ijrobp.2017.09.026

17.

Andratschke N, Alheid H, Allgauer M, Becker G, Blanck O, Boda-Heggemann J, Brunner T, Duma M, Gerum S, Guckenberger M, Hildebrandt G, Klement RJ, Lewitzki V, Ostheimer C, Papachristofilou A, Petersen C, Schneider T, Semrau R, Wachter S, Habermehl D (2018) The SBRT database initiative of the German Society for Radiation Oncology (DEGRO): patterns of care and outcome analysis of stereotactic body radiotherapy (SBRT) for liver oligometastases in 474 patients with 623 metastases. BMC Cancer 18(1):283. https://doi.org/10.1186/s12885-018-4191-2

18.

Klement RJ, Hoerner-Rieber J, Adebahr S, Andratschke N, Blanck O, Boda-Heggemann J, Duma M, Eble MJ, Eich HC, Flentje M, Gerum S, Hass P, Henkenberens C, Hildebrandt G, Imhoff D, Kahl KH, Klass ND, Krempien R, Lohaus F, Petersen C, Schrade E, Wendt TG, Wittig A, Guckenberger M (2018) Stereotactic body radiotherapy (SBRT) for multiple pulmonary oligometastases: Analysis of number and timing of repeat SBRT as impact factors on treatment safety and efficacy. Radiother Oncol 127(2):246–252. https://doi.org/10.1016/j.radonc.2018.02.016
Ethics declarations
Interessenkonflikt
M.-N. Duma, C. Brambs und A. Wittig geben an, dass kein Interessenkonflikt besteht.
Für diesen Beitrag wurden von den Autoren keine Studien an Menschen oder Tieren durchgeführt. Für die aufgeführten Studien gelten die jeweils dort angegebenen ethischen Richtlinien.
About this article
Cite this article
Duma, M., Brambs, C. & Wittig, A. Neue Entwicklungen in der Strahlentherapie. best practice onkologie 15, 24–30 (2020). https://doi.org/10.1007/s11654-020-00199-3
Schlüsselwörter
Intensitätsmodulierte Strahlentherapie

Radiochirurgie

Stereotaktische Strahlentherapie

Fraktionierung

Mammakarzinom
Keywords
Intensity-modulated radiotherapy

Radiosurgery

Stereotactic radiotherapy

Dose fractionation

Breast neoplasms