Abstract
A large number of Eocene–Oligocene alkaline/alkali-rich igneous rocks were developed in the Tuotuohe region of the Qinghai-Tibetan Plateau. In this study, we present zircon U–Pb ages, Hf isotope data, and major and trace element compositions of the Cenozoic alkaline rocks from the Tuotuohe region in order to constraint the petrogenesis and tectonic evolution history of Qiangtang Block. Zircon U–Pb ages were measured via LA–ICP–MS to be 39.6, 37.6 and 32.0 Ma. The 39.6 Ma trachyte was characterized by low SiO2 and high K2O and MgO contents. The 37.6 and 32.0 Ma orthophyres show enrichment in SiO2 and K2O, but deficient in MgO. All of the samples belong to the alkaline rocks. These rocks display enrichment in REE, LREE, and LILE, depletion in HFSE, and no obvious Eu anomalies. Geological and geochemical features suggest that there were two possible mechanisms for the origin of the alkaline rocks in the Tuotuohe region: (1) the removed mafic lower crust dropped into the asthenosphere, forming the mix magma (Nariniya trachyte); (2) the upwelling asthenosphere triggered the crustal melting (Nariniya and Zamaqu orthophyre). The Eocene–Oligocene alkaline rocks in the study and adjacent areas are likely to be the result of the same tectonic–magmatic event of deep lithospheric evolution that is the crustal material melting triggered by lithospheric delamination. This conclusion extends the influence scope of lithospheric delamination eastward to the Tuotuohe region (~ 92°E) from Banda Co (~ 82°E).
This is a preview of subscription content, log in to check access.
Access options
Buy single article
Instant unlimited access to the full article PDF.
US$ 39.95
Price includes VAT for USA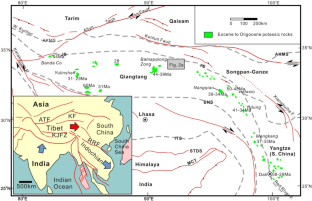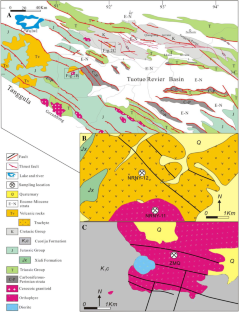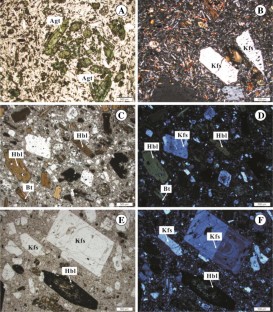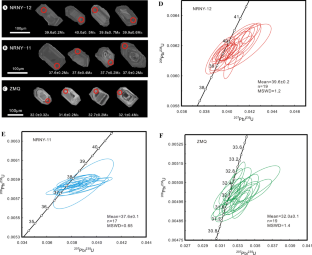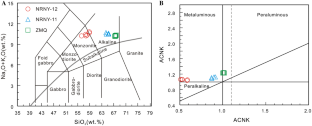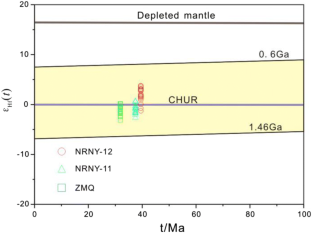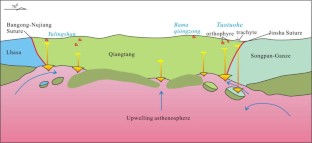 References
Aldanmaz E, Pearce JA, Thirlwall MF, Mitchell JG (2000) Petrogenetic evolution of Late Cenozoic, post-collision volcanism in western Anatolia, Turkey. J Volcanol Geoth Res 102:67–95

Anderson T (2002) Correlation of common lead in U-Pb analyses that do not report 204Pb. Chem Geol 192:59–79

Bai YS, Li L, Niu ZJ, Yao HZ, Duan QF (2006) Isotope geochronology and geochemical characteristics of Geladandong monzonitic granite in centeral Qiangtang. Acta Geosci Sin 27(03):217–225

Barazangi M, Ni J (1982) Velocities and propagation characteristics of Pn and Sn beneath the Himalayan arc and Tibetan Plateau: possible evidence for underthrusting of Indian continental lithosphere beneath Tibet. Geology 10(4):179–185

Bizzarro M, Simonetti A, Stevenson RK, David J (2002) Hf isotope evidence for a hidden mantle reservoir. Geology 30(9):771–774

Boynton WV (1984) Cosmochemistry of the rare earth elements: meteorite studies. In: Henderson P (ed) Rare earth element geochemistry. Elsevier, Amsterdam, pp 63–114

Chen JL, Xu JF, Wang BD, Kang ZQ (2010) The relationship between the NS-trending grabens and the ultrapotassic volcanic rocks in Lhasa block, Qinghai-Tibetan Plateau. Acta Petrol Mineral 29(04):341–354

Chung S, Lo C, Lee T, Zhang Y, Xie Y, Li X, Wang K, Wang P (1998) Diachronous uplift of the Tibetan plateau starting 40 Myr ago. Nature 394(6695):769–773

Chung SL, Chu MF, Zhang Y, Xie Y, Lo CH, Lee TY (2005) Tibetan tectonic evolution inferred from spatial and temporal variations in post-collisional magmatism. Earth-Sci Rev 68(3–4):173–196

Clark Burchfiel B, Royden L (1991) Tectonic of Asia 50 years after the death of Emile Argand. Eclogae Geol Helv 84(3):599–629

Deng WM (1998) Cenozoic intraplate volcanic rocks in the Northern Qinghai-Xizang Plateau. Geol. Publ. House, Beijing

Ding L, Zhang JJ, Zhou Y, Deng WM, Xu RH, Zhong DL (1999) Tectonic implication on the lithosphere evolution of the Tibet Plateau. Acta Petrol Sin 15(03):408–420

Ding L, Kapp P, Yin A, Deng W-M, Zhong D-L (2003) Early Tertiary volcanism in the Qiangtang terrane of central Tibet: evidence for a transition from oceanic to continental subduction. J Petrol 44:1833–1865

Dong YH, Wang Q, Xu JF, Zi F (2008) Dongyue Lake adakitic volcanic rocks with high Mg# in north Qiangtang block: petrogenesis and its tectonic implication. Acta Petrol Sin 24(02):291–302

Duan ZM, Li Y, Zhan Y, Li YL, Wang M (2005) Zircon u-pb age, continent dynamics significance and geochemical characteristics of the mesozoic and cenozoic granites from the tanggula range in the qinghai—tibet plateau. Acta Geol Sin 79(1):88–97

Elhlou S, Belousova E, Griffin W, Pearson N, O'reilly S (2006) Trace element and isotopic composition of GJ-red zircon standard by laser ablation. Geochim Cosmochim Acta 70(18):A158

Fan JJ (2015) Reconstructing the late Mesozoic closing process of the middle and western segments of the Bangong-Nujiang Ocean in space and time. Jilin University, Changchun, pp 1–229

Gao S, Jin ZM (1997) Delamination and its geodynamical significance for the crust-mantle evolution. Geol Sci Technol Inf 16(001):1–9

Griffin W, Pearson N, Belousova E, Jackson S, Van Achterbergh E, O'Reilly SY, Shee S (2000) The Hf isotope composition of cratonic mantle: LA-MC-ICPMS analysis of zircon megacrysts in kimberlites. Geochim Cosmochim Acta 64(1):133–147

Hofmann A, Jochum K, Seufert M, White W (1986) Nb and Pb in oceanic basalts: new constraints on mantle evolution. Earth Planet Sci Lett 79(1):33–45

Hou ZQ (2010) Metallogensis of continental collision. Acta Geol Sin 84(01):30–58

Hou ZQ, Ma HW, Zaw K, Zhang YQ (2003a) The Yulong pophyry copper belt: product of large scale strike slip faulting in Eastern Tibet. Econ Geol 98:125–145

Hou ZQ, Lu QT, Wang AJ, Li XB, Wang EQ (2003b) Continental collision and related metallogeny: a case study of mineralization in tibetan orogen. Miner Depos 22(4):319–333

Hou ZQ, Pan GT, Wang AJ, Mo XX, Tian SH, Sun XM, Ding L, Wang EQ (2006) Metallogenesis in Tibetan collisional orogenic belt: II. Mineralization in late_collisional transformation setting. Mineral Depos 25(05):521–543

Hou KJ, Li YH, Zou TR, Qu XM, Shi YR, Xie GQ (2007) Laser ablation-MC-ICP-MS technique for Hf isotope microanalysis of zircon and its geological applications. Acta Petrol Sin 23(10):2595–2604

Irvine TN, Baragar WRA (1971) A guide to the chemical classification of the common volcanic rocks. Can J Earth Sci 8(5):523–548

Jiang YH, Jiang SY, Ling HF, Dai BZ (2006) Petrogenesis of Cu_bearing porphyry associated with continent_continent collisional setting: evidence from the Yulong porphyry Cu ore_belt, east Tibet. Acta Petrol Sin 22:697–706

Li GM (2000) Petrologic features and genesis of Cenozoic volcanic rocks, Qiangtang area, northern Tibetan Plateau. Geol Geochem 28(02):38–44

Li YL, Wang CS, Yi HS, Liu ZF, Li Y (2006) Cenozoic thrust system and uplifting of the Tanggula Mountain, Northern Tibet. Acta Geol Sin 80(08):1118–1130 (+1234)

Li YL, Wang CS, Zhao XX, Yin A, Ma C (2012) Cenozoic thrust system, basin evolution, and uplift of the Tanggula Range in the Tuotuohe region, central Tibet. Gondwana Res 22(2):482–492

Liu YS, Hu ZC, Gao S, Günther D, Xu J, Gao C, Chen H (2008) In situ analysis of major and trace elements of anhydrous minerals by LA-ICP-MS without applying an internal standard. Chem Geol 257(1):34–43

Liu JF, Chi XG, Zhao XY, Zhao Z, Dong CY, Li GG, Zhao YD (2009) Chronology, geochemistry and tectonic significances of the Cenozoic Zougouyouchacuo and Nadingcuo volcanic rocks in northern Tibetan Plateau. Acta Petrol Sin 25(12):3259–3274

Liu D, Zhao ZD, Zhu DC, Wang Q, Sui QL, Liu YS, Hu ZC, Mo XX (2011a) The petrogenesis of postcollisional potassic-ultrapotassic rocks in Xungba basin, western Lhasa terrane: constraints from zircon U-Pb geochronology and geochemistry. Acta Petrol Sin 27(07):2045–2059

Liu YX, Wang GH, Jiang XJ, Hou ZQ, Li Z, Song YC, Wang XH (2011b) An analysis of Paleogene-Neogene sedimentary framework and basin evolution of Tuotuohe basin in the northern segment of the Sanjiang region. Acta Petrol Mineral 30(03):381–390

Liu Y, Wang M, Li C, Li S, Xie C, Zeng X, Dong Y, Liu J et al (2019) Late cretaceous tectono-magmatic activity in the Nize region, central Tibet: evidence for lithospheric delamination beneath the Qiangtang-Lhasa collision zone. Int Geol Rev 61(5):1–22

Ludwig KR (2003) ISOPLOT 3.00: a geochronological toolkit for Microsoft Excel. Berkeley Geochronology Center, Berkeley, p 39

McDonough WF, Sun SS (1995) The composition of the earth. Chem Geol 120(3):223–253

McNamara DE, Owens TJ, Silver PG, Wu FT (1994) Shear wave anisotropy beneath the Tibetan Plateau. J Geophys Res Solid Earth (1978–2012) 99(B7):13655–13665

Mingram B, Trumbull R, Littman S, Gerstenberger H (2000) A petrogenetic study of anorogenic felsic magmatism in the Cretaceous Paresis ring complex, Namibia: evidence for mixing of crust and mantle-derived components. Lithos 54(1):1–22

Mo XX, Zhao ZD, Deng JF, Yu XH, Luo ZH, Dong GC (2007) Migration of the Tibetan Cenozoic potassic volcanism and its transition to eastern basaltic province: implications for crustal and mantle flow. Geoscience 21(02):255–264

Nasdala L, Hofmeister W, Norberg N, Martinson JM, Corfu F, Dörr W, Kamo SL, Kennedy AK, Kronz A, Reiners PW (2008) Zircon M257—a homogeneous natural reference material for the ion microprobe U–Pb analysis of zircon. Geostand Geoanal Res 32(3):247–265

Owens TJ, Zandt G (1997) Implications of crustal property variations for models of Tibetan plateau evolution. Nature 387(6628):37–43

Peccerillo A, Taylor SR (1976) Geochemistry of eocene calc-alkaline volcanic rocks from the Kastamonu area, Northern Turkey. Contrib Mineral Petrol 58(1):63–81

Petford N, Atherton M (1996) Na-rich partial melts from newly underplated basaltic crust: the Cordillera Blanca Batholith, Peru. J Petrol 37:1491–1521

Powell CM, Conaghan P (1995) Tectonic models of the Tibetan Plateau. Geology 3(12):727–731

Qi L, Hu J, Gregoire DC (2000) Determination of trace elements in granites by inductively coupled plasma mass spectrometry. Talanta 51(3):507–513

Qian Y, Sun FY, Li BL, Li SJ, Zhao JW (2014) Early Permian-Late Triassic Magmatism in the Tuotuohe Region of the Qinghai-Tibet Plateau: constraints on the Tectonic evolution of the Western Segment of the Jinshajiang Suture. Acta Geol Sin Engl Ed 88(2):498–516

Rapp RP, Watson EB (1995) Dehydration melting of metabasalt at 8–32 kbar: implications for continental growth and crust-mantle recycling. J Petrol 36(4):891–931

Rapp R, Shimizu N, Norman M, Applegate G (1999) Reaction between slab-derived melts and peridotite in the mantle wedge: experimental constraints at 3.8 GPa. Chem Geol 160(4):335–356

Söderlund U, Patchett PJ, Vervoort JD, Isachsen CE (2004) The 176Lu decay constant determined by Lu–Hf and U-Pb isotope systematics of Precambrian mafic intrusions. Earth Planet Sci Lett 219(3):311–324

Spurlin MS, Yin A, Horton BK, Zhou J, Wang J (2005) Structural evolution of the Yushu-Nangqian region and its relationship to syncollisional igneous activity, east-central Tibet. Bull Geol Soc Am 117(9–10):1293–1317

Sun SS, McDonough WF (1989) Chemical and isotopic systematics of oceanic basalts: implications for mantle composition and processes, vol 42, no 1. Geological Society, London, Special Publications, pp 313–345

Tapponnier P, Peltzer G, Le Dain AY, Armijo R, Cobbold P (1982) Ropagating extrusion tectonics in Asia: new insights from simple experiments with plasticine. Geology 10(12):611

Taylor SR, McLennan SM (1985) The continental crust: its composition and evolution. Oxford Press, Blackwell, Oxford

Tu GZ (1989) On the alkali-rich intrusive rocks. Miner Resour Geol 13(3):1–4

Veevers J, Saeed A, Belousova E, Griffin W (2005) U-Pb ages and source composition by Hf-isotope and trace-element analysis of detrital zircons in Permian sandstone and modern sand from southwestern Australia and a review of the paleogeographical and denudational history of the Yilgarn Craton. Earth-Sci Rev 68(3):245–279

Wang J (2003) Shoshonitic magmatism in Dali-Jianchuan area, western Yunnan: a eochemical study of arc magmatism in a post-collisional strike-slip extensional setting. Acta Petrol Sin 19(1):61–70

Wang JH, Yin A, Harrison TM, Grove M, Zhang YQ, Xie GH (2001) A tectonic model for cenozoic igneous activities in the eastern indo-asian collision zone. Earth Planet Sci Lett 188(1):123–133

Wei QR, Li DW, Wang GC, Zheng JP (2007) Zircon SHRIMP U-Pb dating and geochemical characteristics of Chabaoma Formation volcanic rocks in northern Tibetan plateau and its petrogenesis. Acta Petrol Sin 23(11):2727–2736

Wu FY, Huang BC, Ye K, Fang AM (2008) Collapsed Himalayan-Tibetan orogen and the rising Tibetan Plateau. Acta Petrol Sin 24(1):1–30

Wu ZH, Ye PS, Hu DG, Lu L (2011) Paleogene thrust system in southern Qiangtang basin, central Tibetan Plateau. Geol Bull China 30(07):1009–1016

Wyllie PJ (1977) Crustal anatexis: an experimental review. Tectonophysics 43(1):41–71

Xiao XC, Liu X, Gao R, Gao H, Luo ZH (2001) Collision tectonics between the tarim block (basin) and the northwestern tibet plateau: new observations from a multidisciplinary geoscientific investigation in the western kunlun mountains. Acta Geol Sin 75(2):126–132

Xu JF, Wang Q (2003) Tracing the thickening process of continental crust through studying adakitic rocks: evidence from volcanic rocks in the north tibet. Earth Sci Front 10(4):401–406

Xu ZQ, Li HB, Yang JS (2006) An orogenic plateau: the orogenic collage and orogenic types of the qinghai-tibet plateau. Earth Sci Front 13(4):1–17

Zhai QG, Li C, Wang J, Chen W (2009) 40Ar/39Ar dating for cenozoic potassic volcanic rocks in northern gemucuo from qiangtang, northern tibet, china. Geol Bull China 28(9):1221–1228

Zhang YQ, Xie YW (1997) Geochronology of Ailaoshan-Jinshajing alkali-rich intrusive rocks and their Sr and Nd isotopic characteristics. Sci China Ser D Earth Sci 40(5):524–529

Zhang K, Wang Q, Xia B, Zhang B, Zhang G (2002) Post-miocene imbricate thrust structures in middle qiangtang, western china. J Naijing Univ 38(02):266–269

Zhao RF, Zhu YT, Zou QH, Wang MC, Li JX, Sun NY (2004) Discovery of angular unconformity below Triassic strata in the Yushu area, Qinghai. Geol bull China 23(5–6):616–619

Zhao ZD, Mo XX, Nomade S, Renne PR, Liao ZL (2006) Post-collisional ultrapotassic rocks in lhasa block, tibetan plateau: spatial and temporal distribution and its implications. Acta Petrol Sin 22(4):787–794

Zhong DL, Ding L, Ji JJ, Zhang JJ, Liu FT, Liu JH, Yan XW (2001) Coupling of the lithospheric convergence of west china and dispersion of east china in cenozoic: link with paleoenvironmental changes. Quat Sci 21(4):303–312
Acknowledgements
The authors would like to thank two anonymous journal reviewers for critical reviews and helpful comments which greatly improved the manuscript. This indoor research was supported by Dr. Huo Liang, College of Earth Science, Jilin University. Field geological work was supported by colleagues in Qinghai Geological Survey and the Qinghai Fifth Geological and Mineral Exploration Institute. The authors would like to acknowledge the above-named individuals and institutes for their support and help. This research was funded by the National Natural Science Foundation of China (Grant No. 41402060).
About this article
Cite this article
Qian, Y., Tian, S., Li, Y. et al. Zircon U–Pb age and geochemical constraints on the origin and tectonic implication of the Tuotuohe Cenozoic alkaline magmatism in Qinghai–Tibet Plateau. Acta Geochim 39, 67–84 (2020) doi:10.1007/s11631-019-00354-w
Received:

Revised:

Accepted:

Published:

Issue Date:
Keywords
Zircon U–Pb chronology

Zircon Hf isotopic

Delamination

Tuotuohe region

Qinghai–Tibetan Plateau