Abstract
Apennines genepì (Artemisia umbelliformis Lam. subsp. eriantha), is a high-altitude plant endangered by illegal and indiscriminate harvesting to produce the homonymous liqueur. Even if synthetic seeds represented a valid propagation technique to respond to this threat, this technology still requires methods to improve the low germination and plantlet development rates. The aim of the present study was to evaluate the suitability of the bacterial consortium formed by Azospirillum brasilense, Gluconacetobacter diazotrophicus, Burkholderia ambifaria, and Herbaspirillum seropedicae, as an enrichment agent of Apennines Genepì synthetic seeds. To evaluate the effectiveness as an improving agent, the consortium was incorporated in the synthetic seeds, compared to a control, and followed until ex vitro cultivations. Plants were evaluated for their growth and development parameters, total phenolic and flavonoid contents, antioxidant properties, polyphenolic compounds concentrations, and volatile fractions. The results demonstrated that the investigated consortium is a good candidate as an enrichment agent in synthetic seed technology. The rhizobacterial presence induced an improved response in plant propagation and the acclimatization process. Plant quality was also enhanced, with an increased accumulation of plant secondary metabolites and higher antioxidant capacity. The investigated bacterial consortium is a good candidate as an enrichment agent in synthetic seed technology. Plant clones can be translocated for species conservation and also commercialized to reduce the illegal and undiscerning collections.
This is a preview of subscription content, log in to check access.
Access options
Buy single article
Instant unlimited access to the full article PDF.
US$ 39.95
Price includes VAT for USA
Subscribe to journal
Immediate online access to all issues from 2019. Subscription will auto renew annually.
US$ 99
This is the net price. Taxes to be calculated in checkout.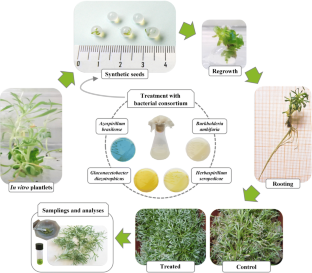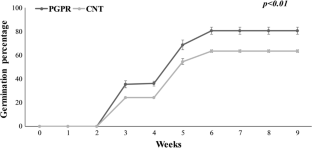 References
Almaghrabi OA, S. AT, Albishri HM, Moussa TAA (2014) Enhancement of maize growth using some plant growth promoting Rhizobacteria (PGPR) under laboratory conditions. Life Sci J 11:764–772

Arnon DI (1949) Copper enzymes in isolated chloroplasts. Polyphenoloxidase in Beta vulgaris. Plant Physiol 24:1–15

Baldani JI, Baldani VLD, Soldin L, Döbereiner J (1986) Characterization of Herbaspirillum seropedicae. Gen. Nov., a root associated nitrogen fixing bacteria. Int J Syst Bacteriol 36:86–93

Bashan Y, Hernandez J, Leyva LA, Bacilio M (2002) Alginate microbeads as inoculant carriers for plant growth-promoting bacteria. Biol Fertil Soils 35:359–368

Blasa M, Candiracci M, Accorsi A, Piacentini MP, Albetini MC, Piatti E (2006) Raw Millefiori honey is packed full of antioxidants. Food Chem 97:217–222

Botta AL, Santacecilia A, Ercole C, Cacchio P, Del Gallo M (2013) In vitro and in vivo inoculation of four endophytic bacteria on Lycopersicon esculentum. New Biotechnol 30:666–674

Brand-Williams W, Cuvelier ME, Berset C (1995) Use of a free radical method to evaluate antioxidant activity. LWT - Food Sci Technol 28:25–30

Coenye T, Mahenthiralingan E, Henry D, Hoste B, Vandemulebroukcke K, Gillis M, Speert DP, Vandamme P (2001) Burkholderia ambifaria sp. nov., a novel member of the Burkholderia cepacea complex comprising biocontrol and cystic-fibrosis related isolates. Int J Syst Evol Microbiol 51:1481–1490

Dar ZM, Rouf A, Masood A, Asif M, Malik MA (2018) Review on plant growth promoting rhizobacteria and its effect on plant growth. J Pharmacogn Phytochem 7:2802–2804

Fasciani P, Marcozzi G, Reale S, Pace L (2017) Volatile compounds of ex vitro and wild plantlets of Artemisia umbelliformis subsp. eriantha (Apennines' genepì). In: Beruto M, Ozudogru EA (eds) VI International symposium on production and establishment of micropropagated plants, 1155. ISHS Acta Horticulturae, Sanremo, pp 565–572

Gholami A, Shahsavani S, Nezarat S (2009) The effect of plant growth promoting Rhizobacteria (PGPR) on germination, seedling growth and yield of maize. Int J Biol Biomol Agric Food Biotechnol Eng 3:9–14

Glick BR (1995) The enhancement of plant growth by free-living bacteria. Can J Microbiol 41:109–117

Glick BR, Bashan Y (1997) Genetic manipulation of plant growth-promoting bacteria to enhance biocontrol of phytopathogens. Biotechnol Adv 15:353–378

Gopinath S, Kumaran KS, Sundararaman M (2015) A new initiative in micropropagation: airborne bacterial volatiles modulate organogenesis and antioxidant activity in tobacco (Nicotiana tabacum L.) callus. In Vitro Cell Dev Biol - Plant 51:514–523

Gullon B, Pintado ME, Barber X, Fernández-López J, Pérez-Álvarez JA, Viuda-Martos M (2015) Bioaccessibility, changes in the antioxidant potential and colonic fermentation of date pits and apple bagasse flours obtained from co-products during simulated in vitro gastrointestinal digestion. Food Res Int 78:169–176

IUCNS (2013) Guidelines for reintroductions and other conservation translocations. IUCN Species Survival Commission, Gland, Switzerland

Jain DK, Patriquin DG (1985) Characterization of a substance produced by Azospirillum which causes branching of wheat root hairs. Can J Microbiol 31:206–210

Javed SB, Alatar AA, Anis M, Faisal M (2017) Synthetic seeds production and germination studies, for short term storage and long distance transport of Erythrina variegata L. a multipurpose tree legume. Ind Crop Prod 105:41–46

Khalid M, Hassani D, Bilal M, Asad F, Huang D (2017) Influence of bio-fertilizer containing beneficial fungi and rhizospheric bacteria on health promoting compounds and antioxidant activity of Spinacia oleracea L. Bot Stud 58:35

Kilam D, Saifi M, Abdin MZ, Agnihotri A, Varma A (2015) Combined effects of Piriformospora indica and Azotobacter chroococcum enhance plant growth, antioxidant potential and steviol glycoside content in Stevia rebaudiana. Symbiosis 66:149–156

Kiprovski B, Malenčić D, Durić S, Bursać M, Cvejić J, Sikora V (2016) Isoflavone content and antioxidant activity of soybean inoculated with plant-growth promoting rhizobacteria. J Serbian Chem Soc 81:1239–1249

Lamont BB, Pérez-Fernández M (2016) Total growth and root-cluster production by legumes and proteas depends on rhizobacterial strain, host species and nitrogen level. Ann Bot 118:725–732

Larraburu EE, Carletti SM, Rodríguez Cáceres EA, Llorente BE (2007) Micropropagation of photinia employing rhizobacteria to promote root development. Plant Cell Rep 26:711–717

Larraburu EE, Llorente BE (2015) Azospirillum brasilense enhances in vitro rhizogenesis of Handroanthus impetiginosus (pink lapacho) in different culture media. Ann For Sci 72:219–229

Lee LM, Vassilaros DL, White CM (1979) Retention indices for programmed-temperature capillary-column gas chromatography of polycyclic aromatic hydrocarbons. Anal Chem 51:768–773

Magray MM, Wani KP, Chatto MA, Ummyiah HM (2017) Synthetic seed technology. Int J Curr Microbiol Appl Sci 6:662–674

Marathe RJ, Phatake YB, Shaikh AC, Shinde BP, Gajbhiye MH (2017) Effect of IAA produced by Pseudomonas aeruginosa 6A (BC4) on seed germination and plant growth of Glycin max. J Exp Biol Agric Sci 5:351–358

Moussous A, Paris C, Khelifi-Slaoui M, Bekhouche M, Zaoui D, Rosloski SM, Makhzoum A, Desobry S, Khelifi L (2018) Pseudomonas spp. increases root biomass and tropane alkaloid yields in transgenic hairy roots of Datura spp. In Vitro Cell Dev Biol - Plant 54:117–126

Mucciarelli M, Caramiello R, Maffei M, Chialva F (1995) Essential oils from some Artemisia species growing spontaneously in north-West Italy. Flavour Fragr J 10:25–32

Murashige T, Skoog F (1962) A revised medium for rapid growth and bio assays with tobacco tissue cultures. Physiol Plant 15:473–497

Oyaizu M (1986) Studies on products of browning reaction: Antioxidative activity of products of browning reaction prepared from glucosamine. Japan J Nutr 44:307–315

Pace L, Grandi S, Marotti M, Piccaglia R, Pacioni G, Spanò L (2010) Terpenoid profiles of in vitro regenerated Artemisia petrosa subsp. eriantha (Apennines' genepì). Ann Appl Biol 157:309–316

Pace L, Pacioni G, Spano L (2004) In vitro propagation of Artemisia petrosa ssp. eriantha: potential for the preservation of an endangered species. Plant Biosyst 138:291–294

Pagnani G, Pellegrini M, Galieni A, D'Egidio S, Matteucci F, Ricci A, Stagnari F, Sergi M, Lo Sterzo C, Pisante M, Del Gallo M (2018) Plant growth-promoting rhizobacteria (PGPR) in Cannabis sativa 'Finola' cultivation: an alternative fertilization strategy to improve plant growth and quality characteristics. Ind Crop Prod 123:75–83

Pérez-Montaño F, Alías-Villegas C, Bellogín RA, del Cerro P, Espuny MR, Jiménez-Guerrero I, López-Baena FJ, Ollero FJ, Cubo T (2014) Plant growth promotion in cereal and leguminous agricultural important plants: from microorganism capacities to crop production. Microbiol Res 169:325–336

Petriccione B (2005) Short-term changes in key plant communities of central Apennines (Italy). Acta Bot Gallica 152:545–561

Piluzza G, Bullitta S (2011) Correlations between phenolic content and antioxidant properties in twenty-four plant species of traditional ethnoveterinary use in the Mediterranean area. Pharm Biol 49:240–247

Reiter N, Lawrie AC, Linde CC (2018) Matching symbiotic associations of an endangered orchid to habitat to improve conservation outcomes. Ann bot 947–959

Rihan H, Kareem F, El-Mahrouk M, Fuller M (2017) Artificial seeds (principle, aspects and applications). Agronomy 7:71

Rosenblueth M, Martínez-Romero E (2006) Bacterial Endophytes and their interactions with hosts. Mol Plant-Microbe Interact 19:827–837

Rubiolo P, Matteodo M, Bicchi C, Appendino G, Gnavi G, Bertea C, Maffei M (2009) Chemical and biomolecular characterization of Artemisia umbelliformis lam., an important ingredient of the alpine liqueur "Genepì". J Agric Food Chem 57:3436–3443

Russo A, Vettori L, Felici C, Fiaschi G, Morini S, Toffanin A (2008) Enhanced micropropagation response and biocontrol effect of Azospirillum brasilense Sp245 on Prunus cerasifera L. clone Mr.S 2/5 plants. J Biotechnol 134:312–319

Sahoo SL, Rout JR, Kanungo S (2012) Synthetic seed. In: Sharma HP, Dogra JVV, Misra AN (eds) Plant tissue culture: totipotency to transgenic. Agrobios (India), Jodhpur, pp 101–118

Singleton VL, Rossi JA (1965) Colorimetry of Total Phenolics with Phosphomolybdic-Phosphotungstic acid reagents. Am J Enol Vitic 16:144–158

Stanisci A, Pelino G, Blasi C (2005) Vascular plant diversity and climate change in the alpine belt of the central Apennines (Italy). Biodivers Conserv 14:1301–1318

Suada EP, Jasim B, Jimtha CJ, Gayatri GP, Radhakrishnan EK, Remakanthan A (2015) Phytostimulatory and hardening period-reducing effects of plant-associated bacteria on micropropagated Musa acuminata cv. Grand Naine In Vitro Cell Dev Biol - Plant 51:682–687

Thuiller W (2007) Climate change and the ecologist. Nature 448:550–552

Yamada YK, Hoshino T, Ishikawa T (1997) The phylogeny of acetic acid bacteria based on the partial sequences of 16S ribosomal RNA: the elevation of the subgenus Gluconacetobacter to the generic level. Biosci Biotechnol Biochem 61:1244–1251
Acknowledgements
We are thankful for the kind collaboration of Prof. Paola Pittia (HPLC-DAD analyses), and Dr. Antonella Ricci (GC-MS analyses) from the Faculty of Bioscience and Technologies for Food, Agriculture and Environment, University of Teramo. We thank Gran Sasso Monti della Laga National Park for providing permission to collect natural seeds.
Ethics declarations
Conflict of interest
The authors declare that there are no conflicts of interest.
Electronic supplementary material
Supplementary material consists of Table S1, Polyphenolic compounds investigated by means of HPLC-DAD characterization, and related identification and validation parameters. (DOC 50 kb)
About this article
Cite this article
Pace, L., Pellegrini, M., Palmieri, S. et al. Plant growth-promoting rhizobacteria for in vitro and ex vitro performance enhancement of Apennines' Genepì (Artemisia umbelliformis subsp. eriantha), an endangered phytotherapeutic plant. In Vitro Cell.Dev.Biol.-Plant (2020). https://doi.org/10.1007/s11627-019-10035-1
Received:

Accepted:

Published:
Keywords
In vitro propagation

Synthetic seeds

Rhizobacterial plant growth promotion

Polyphenols

Volatile compounds

Antioxidants