Protective effects of noradrenaline on benzo[a]pyrene-induced oxidative stress responses in brain tumor cell lines
Abstract
Benzo[a]pyrene (B[a]P) is an ubiquitous environmental pollutant that is generated during combustion of fossil fuels. We examine the effect of noradrenaline (NA) on B[a]P-induced neurotoxicity in brain tumor cell lines like neuroblastoma (Neuro2a) and glioma (C6). We pre-treated tumor cells with NA for 6 h, followed by addition of B[a]P for additional 24 h. Cell viability was measured using trypan blue dye-exclusion assay and comet assay was performed to measure DNA damage. Cell cycle status was analyzed using flow cytometry and oxidative DNA damage (8-oxodG) production was examined by immunostaining. The intracellular Ca2+ concentration was analyzed using Fura-2AM. Our results showed viability of Neuro2a and C6 cells declined (24% and 20%) in B[a]P-treated groups. However, pre-treating with NA increased viability of cells by reducing percentage of cell death in both. Furthermore, B[a]P-induced deregulation of cell cycle (G2/M and S phase cell arrest) was significantly restored by pre-treatment with NA in Neuro2a cells as compared to C6 cells. We further observed increased 8-oxodG production in B[a]P-treated cells; however, NA pre-treatment significantly (p < 0.05) reduced the 8-oxodG production in Neuro2a, while C6 cells were less affected possibly due to better protective machinery. B[a]P-induced intracellular Ca2+ influx was significantly reduced in both the cell lines due to co-treatment of NA possibly by reducing Ca2+ influx. NA protects brain tumor cells against B[a]P-induced neurotoxicity may be by decreasing percentage of G2 cell arrest, oxidative DNA damage, and reducing intracellular Ca2+ influx. These findings suggested that NA may be considered as a natural potential protective agent against B[a]P-induced neurotoxicity.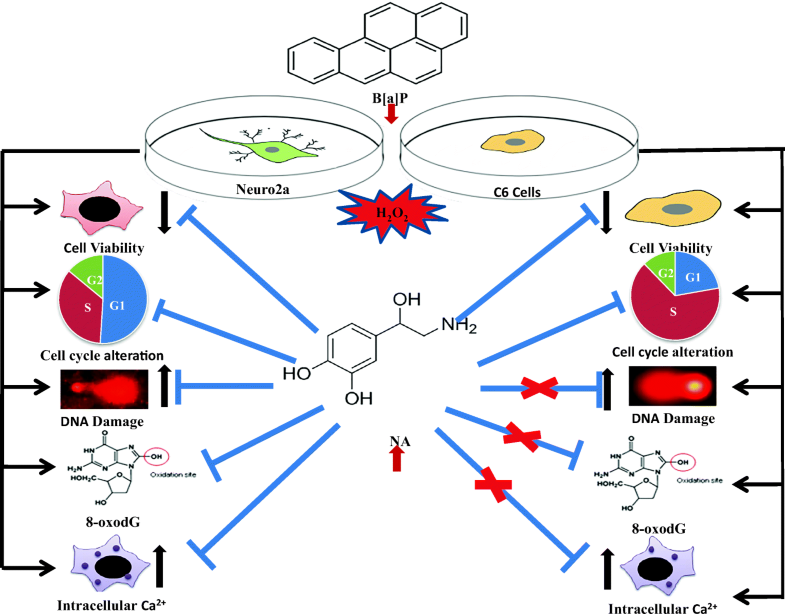 Keywords
Benzo[a]pyrene 
Noradrenaline 
Neuro2a 
C6 cells 
DNA damage 
Comet assay 
Calcium influx 
Notes
Acknowledgments
The authors also thank all members of Neurobiology Laboratory, School of Life Sciences, JNU, New Delhi, for their kind help, technical support, and instrumentation facility.
Funding
This work was supported by funding from the Project DAE-BRNS, Mumbai, No. 37(1)14/27/2015/ BRNS and DRDO, New Delhi, No. O/o DG (TM)/81/48222/LSRB-294/PEE&BS/2017 to Manorama Patri.
Compliance with ethical standards
Competing interests
The authors declare that they have no competing interests.
Copyright information
© The Society for In Vitro Biology 2019