Abstract
Background
Effective type 2 diabetes care remains a challenge for patients including those receiving primary care in safety net settings.
Objective
The Partnership to Improve Diabetes Education (PRIDE) trial team and leaders from a regional department of health evaluated approaches to improve care for vulnerable patients.
Design
Cluster randomized controlled trial.
Patients
Adults with uncontrolled type 2 diabetes seeking care across 10 unblinded, randomly assigned safety net clinics in Middle TN.
Interventions
A literacy-sensitive, provider-focused, health communication intervention (PRIDE; 5 clinics) vs. standard diabetes education (5 clinics).
Main Measures
Participant-level primary outcome was glycemic control [A1c] at 12 months. Secondary outcomes included select health behaviors and psychosocial aspects of care at 12 and 24 months. Adjusted mixed effects regression models were used to examine the comparative effectiveness of each approach to care.
Key Results
Of 410 patients enrolled, 364 (89%) were included in analyses. Median age was 51 years; Black and Hispanic patients represented 18% and 25%; 96% were uninsured, and 82% had low annual income level (< $20,000); adequate health literacy was seen in 83%, but numeracy deficits were common. At 12 months, significant within-group treatment effects occurred from baseline for both PRIDE and control sites: adjusted A1c (− 0.76 [95% CI, − 1.08 to − 0.44]; P < .001 vs − 0.54 [95% CI, − 0.86 to − 0.21]; P = .001), odds of poor eating (0.53 [95% CI, 0.33–0.83]; P = .01 vs 0.42 [95% CI, 0.26–0.68]; P < .001), treatment satisfaction (3.93 [95% CI, 2.48–6.21]; P < .001 vs 3.04 [95% CI, 1.93–4.77]; P < .001), and self-efficacy (2.97 [95% CI, 1.89–4.67]; P < .001 vs 1.81 [95% CI, 1.1–2.84]; P = .01). No significant difference was observed between study arms in adjusted analyses.
Conclusions
Both interventions improved the participant's A1c and behavioral outcomes. PRIDE was not more effective than standard education. Further research may elucidate the added value of a focused health communication program in this setting.
This is a preview of subscription content, log in to check access.
Access options
Buy single article
Instant unlimited access to the full article PDF.
US$ 39.95
Price includes VAT for USA
Subscribe to journal
Immediate online access to all issues from 2019. Subscription will auto renew annually.
US$ 99
This is the net price. Taxes to be calculated in checkout.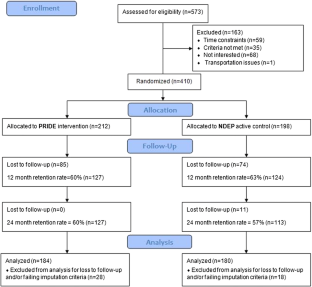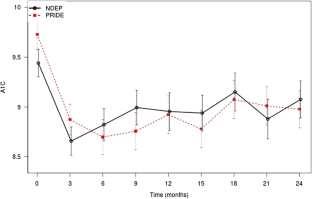 Abbreviations
ARMS:

Adherence to Refills and Medication Scale

A1c:

Hemoglobin A1c

BMI:

Body mass index

DNT:

Diabetes Numeracy Test

DTSQ:

Diabetes Treatment Satisfaction Questionnaire

NDEP:

National Diabetes Education Program

PCMH:

Patient-centered medical home

PDQ:

Personal Diabetes Questionnaire

PDSMS:

Perceived Diabetes Self-Management Scale

PRIDE:

Partnership to Improve Diabetes Education

SDSCA:

Summary of Diabetes Self-Care Activities

s-TOFHLA:

Short Test of Functional Health Literacy in Adults

TDOH:

Tennessee Department of Health

T2D:

Type 2 diabetes mellitus
References
1.

Centers for Disease Control and Prevention: National Diabetes Statistics Report. Atlanta (GA), Centers for Disease Control and Prevention, US Department of Health and Human Services, 2017, p. 20

2.

Selvin E, Parrinello CM, Sacks DB, Coresh J: Trends in prevalence and control of diabetes in the United States, 1988-1994 and 1999-2010. Ann Intern Med 2014;160:517–525

3.

Ali MK, McKeever Bullard K, Imperatore G, Barker L, Gregg EW, Centers for Disease C, Prevention: Characteristics associated with poor glycemic control among adults with self-reported diagnosed diabetes--National Health and Nutrition Examination Survey, United States, 2007-2010. MMWR Suppl 2012;61:32–37

4.

Osborn CY, de Groot M, Wagner JA: Racial and ethnic disparities in diabetes complications in the northeastern United States: the role of socioeconomic status. J Natl Med Assoc 2013;105:51–58

5.

Beverly EA, Ganda OP, Ritholz MD, Lee Y, Brooks KM, Lewis-Schroeder NF, Hirose M, Weinger K: Look who's (not) talking: diabetic patients' willingness to discuss self-care with physicians. Diabetes Care 2012;35:1466–1472

6.

Nam S, Chesla C, Stotts NA, Kroon L, Janson SL: Barriers to diabetes management: patient and provider factors. Diabetes Res Clin Pract 2011;93:1–9

7.

White RO, Chakkalakal RJ, Presley CA, Bian A, Schildcrout JS, Wallston KA, Barto S, Kripalani S, Rothman R: Perceptions of Provider Communication Among Vulnerable Patients With Diabetes: Influences of Medical Mistrust and Health Literacy. J Health Commun 2016;21:127–134

8.

White RO, Eden S, Wallston KA, Kripalani S, Barto S, Shintani A, Rothman RL: Health communication, self-care, and treatment satisfaction among low-income diabetes patients in a public health setting. Patient Educ Couns 2015;98:144–149

9.

Cavanaugh K, Huizinga MM, Wallston KA, Gebretsadik T, Shintani A, Davis D, Gregory RP, Fuchs L, Malone R, Cherrington A, Pignone M, DeWalt DA, Elasy TA, Rothman RL: Association of numeracy and diabetes control. Ann Intern Med 2008;148:737–746

10.

Osborn CY, Cavanaugh K, Wallston KA, Rothman RL: Self-efficacy links health literacy and numeracy to glycemic control. J Health Commun 2010;15 Suppl 2:146–158

11.

Rothman RL, Housam R, Weiss H, Davis D, Gregory R, Gebretsadik T, Shintani A, Elasy TA: Patient understanding of food labels: the role of literacy and numeracy. Am J Prev Med 2006;31:391–398

12.

Rothman RL, Malone R, Bryant B, Wolfe C, Padgett P, DeWalt DA, Weinberger M, Pignone M: The Spoken Knowledge in Low Literacy in Diabetes scale: a diabetes knowledge scale for vulnerable patients. Diabetes Educ 2005;31:215–224

13.

Cavanaugh K, Wallston KA, Gebretsadik T, Shintani A, Huizinga MM, Davis D, Gregory RP, Malone R, Pignone M, DeWalt D, Elasy TA, Rothman RL: Addressing literacy and numeracy to improve diabetes care: two randomized controlled trials. Diabetes Care 2009;32:2149–2155

14.

Rothman RL, DeWalt DA, Malone R, Bryant B, Shintani A, Crigler B, Weinberger M, Pignone M: Influence of patient literacy on the effectiveness of a primary care-based diabetes disease management program. JAMA 2004;292:1711–1716

15.

Rothman RL, Malone R, Bryant B, Shintani AK, Crigler B, Dewalt DA, Dittus RS, Weinberger M, Pignone MP: A randomized trial of a primary care-based disease management program to improve cardiovascular risk factors and glycated hemoglobin levels in patients with diabetes. Am J Med 2005;118:276–284

16.

Wolff K, Cavanaugh K, Malone R, Hawk V, Gregory BP, Davis D, Wallston K, Rothman RL: The Diabetes Literacy and Numeracy Education Toolkit (DLNET): materials to facilitate diabetes education and management in patients with low literacy and numeracy skills. Diabetes Educ 2009;35:233–236, 238–241, 244–235

17.

National Institute of Diabetes and Digestive and Kidney Diseases (NIDDK), Vanderbilt University: The public private partnership addressing literacy-numeracy to improve diabetes care (PRIDE). In ClinicalTrialsgov Bethesda (MD), National Library of Medicine (NLM), 2011

18.

Daniel DM, Norman J, Davis C, Lee H, Hindmarsh MF, McCulloch DK, Wagner EH, Sugarman JR: A state-level application of the chronic illness breakthrough series: results from two collaboratives on diabetes in Washington State. Jt Comm J Qual Saf 2004;30:69–79

19.

National Diabetes Education Program [article online], 2017. Available from https://nccd.cdc.gov/DDT_DPR/. Accessed 2018 Mar 2

20.

Wolff K, Chambers L, Bumol S, White RO, Gregory BP, Davis D, Rothman RL: The PRIDE (Partnership to Improve Diabetes Education) Toolkit: Development and Evaluation of Novel Literacy and Culturally Sensitive Diabetes Education Materials. Diabetes Educ 2016;42:23–33

21.

Wallace AS, Seligman HK, Davis TC, Schillinger D, Arnold CL, Bryant-Shilliday B, Freburger JK, DeWalt DA: Literacy-appropriate educational materials and brief counseling improve diabetes self-management. Patient Educ Couns 2009;75:328–333

22.

Doak CC, Doak LG, Root JH: Teaching patients with low literacy skills. Philadelphia (PA), J.B. Lippincott Company, 1996

23.

Baker DW, DeWalt DA, Schillinger D, Hawk V, Ruo B, Bibbins-Domingo K, Weinberger M, Macabasco-O'Connell A, Pignone M: "Teach to goal": theory and design principles of an intervention to improve heart failure self-management skills of patients with low health literacy. J Health Commun 2011;16 Suppl 3:73–88

24.

Schillinger D, Piette J, Grumbach K, Wang F, Wilson C, Daher C, Leong-Grotz K, Castro C, Bindman AB: Closing the loop: physician communication with diabetic patients who have low health literacy. Arch Intern Med 2003;163:83–90

25.

Bowen ME, Cavanaugh KL, Wolff K, Davis D, Gregory RP, Shintani A, Eden S, Wallston K, Elasy T, Rothman RL: The diabetes nutrition education study randomized controlled trial: a comparative effectiveness study of approaches to nutrition in diabetes self-management education. Patient Educ Couns 2016;99:1368–1376

26.

Baker DW, Williams MV, Parker RM, Gazmararian JA, Nurss J: Development of a brief test to measure functional health literacy. Patient Educ Couns 1999;38:33–42

27.

White RO, 3rd, Osborn CY, Gebretsadik T, Kripalani S, Rothman RL: Development and validation of a Spanish diabetes-specific numeracy measure: DNT-15 Latino. Diabetes Technol Ther 2011;13:893–898

28.

Chakkalakal RJ, Venkatraman S, White RO, Kripalani S, Rothman R, Wallston K: Validating Health Literacy and Numeracy Measures in Minority Groups. Health Lit Res Pract 2017;1(2):e23-e30

29.

Toobert DJ, Hampson SE, Glasgow RE: The summary of diabetes self-care activities measure: results from 7 studies and a revised scale. Diabetes Care 2000;23:943–950

30.

Stetson B, Schlundt D, Rothschild C, Floyd JE, Rogers W, Mokshagundam SP: Development and validation of The Personal Diabetes Questionnaire (PDQ): a measure of diabetes self-care behaviors, perceptions and barriers. Diabetes Res Clin Pract 2011;91:321–332

31.

Kripalani S, Risser J, Gatti ME, Jacobson TA: Development and evaluation of the Adherence to Refills and Medications Scale (ARMS) among low-literacy patients with chronic disease. Value Health 2009;12:118–123

32.

Biderman A, Noff E, Harris SB, Friedman N, Levy A: Treatment satisfaction of diabetic patients: what are the contributing factors? Fam Pract 2009;26:102–108

33.

Wallston KA, Rothman RL, Cherrington A: Psychometric properties of the Perceived Diabetes Self-Management Scale (PDSMS). J Behav Med 2007;30:395–401

34.

Eldridge SM, Ashby D, Feder GS, Rudnicka AR, Ukoumunne OC: Lessons for cluster randomized trials in the twenty-first century: a systematic review of trials in primary care. Clin Trials 2004;1:80–90

35.

Harrell FE, Jr: Regression Modeling Strategies. New York, Springer, 2016

36.

Rubin DB: Multiple Imputation for Nonresponse in Surveys. New York, Wiley, 1987

37.

Gunter KE, Nocon RS, Gao Y, Casalino LP, Chin MH: Medical Home Characteristics and Quality of Diabetes Care in Safety Net Clinics. J Community Health 2017;42:303–311

38.

Varkey AB, Manwell LB, Williams ES, Ibrahim SA, Brown RL, Bobula JA, Horner-Ibler BA, Schwartz MD, Konrad TR, Wiltshire JC, Linzer M, Investigators M: Separate and unequal: clinics where minority and nonminority patients receive primary care. Arch Intern Med 2009;169:243–250

39.

Vest BM, Kahn LS, Danzo A, Tumiel-Berhalter L, Schuster RC, Karl R, Taylor R, Glaser K, Danakas A, Fox CH: Diabetes self-management in a low-income population: impacts of social support and relationships with the health care system. Chronic Illn 2013;9:145–155
Acknowledgments
The PRIDE team thanks the leadership at the TDOH, especially Cathy Taylor DrPH, RN, and all of the patients who gave their time and efforts. We acknowledge the recruitment efforts of Laura Chambers, Alexis and Nicolas Ludi, and Ricardo Trochez.
Funding Information
This study was funded by 5R18 DK083264 and ROW supported by K23 5DK092470 from the NIDDK. Additional support was obtained from Vanderbilt University CTSA 5UL1TR000445, Vanderbilt CDTR DK092986, and study data were collected and managed using Research Electronic Data Capture.
Ethics declarations
Conflict of Interest
Dr. Rothman is a consultant for edLogics and Abbott, unrelated to the current project.
Additional information
Publisher's Note
Springer Nature remains neutral with regard to jurisdictional claims in published maps and institutional affiliations.
About this article
Cite this article
White, R.O., Chakkalakal, R.J., Wallston, K.A. et al. The Partnership to Improve Diabetes Education Trial: a Cluster Randomized Trial Addressing Health Communication in Diabetes Care. J GEN INTERN MED (2020) doi:10.1007/s11606-019-05617-z
Received:

Accepted:

Published:
KEY WORDS
diabetes care

disparities

health communication

vulnerable populations

public health