Physician Payment Disparities and Access to Services—a Look Across Specialties
Much has been written about the shortage of primary care physicians.
1
However, the supply and distribution of a whole range of specialties needed to care for an aging population raise similar concerns. Declining interest among trainees for certain specialties render potential disparities in access as an underappreciated issue in US health policy. Consider the following simple observation. Figure
1
shows the percent of counties in the USA that lack a single physician serving Medicare across a number of specialties, as well as the population in those counties. Relative to highly paid specialties, lower paid specialties are more likely to be absent in a county. While an outlier, the young but critically important specialty of addiction medicine, given the opioid epidemic, is currently absent in the vast majority of counties.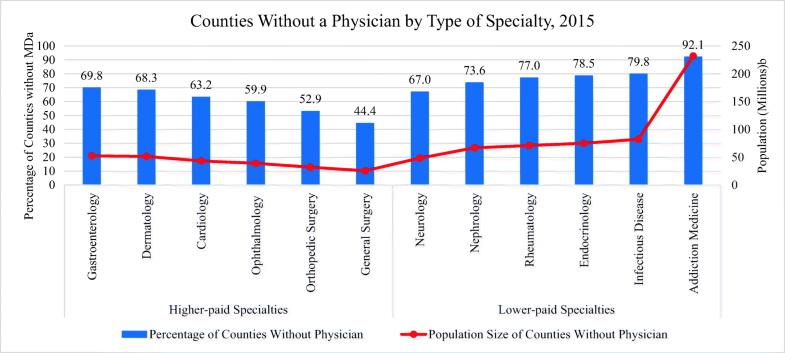 Notes
Funding Information
This study is financially supported by a grant from the Office of the Director, National Institutes of Health (NIH Director's Early Independence Award, 1DP5OD024564, to Dr. Song).
Compliance with Ethical Standards
Conflict of Interest
The authors declare that they do not have a conflict of interest.
Copyright information
© Society of General Internal Medicine 2019