Abstract
Background
There is an anticipated shortage of primary care providers trained to care for patients with HIV. The Yale School of Medicine developed and implemented a novel HIV training track within our Primary Care Internal Medicine Residency Program. A set of 12 Entrustable Professional Activities (EPAs) were developed to guide curriculum development and resident assessment.
Aim
To describe the process of implementing a novel EPA-based curriculum for the HIV Primary Care Training Track including EPA-based trainee evaluation tools.
Participants/Settings
Two to three residents were enrolled annually from 2012 to 2017 (total n = 11). Training sites included the outpatient academic center HIV clinic and inpatient HIV ward.
Program Description
An expert panel developed 12 HIV-specific EPAs. These were mapped to curricular and reporting internal medicine milestones. Curricular activities and evaluation tools were developed to guide EPA progress.
Program Evaluation
Graduating residents were ready for unsupervised practice in 91% of EPAs at the end of the 3-year program.
Discussion
Development of HIV-specific training EPAs was effective for driving curricular development and resident evaluation, and served as an effective method to communicate expectations to resident participants. These HIV-specific EPAs could serve as a useful template to enhance HIV education in academic settings.
This is a preview of subscription content, log in to check access.
Access options
Buy single article
Instant unlimited access to the full article PDF.
US$ 39.95
Price includes VAT for USA
Subscribe to journal
Immediate online access to all issues from 2019. Subscription will auto renew annually.
US$ 99
This is the net price. Taxes to be calculated in checkout.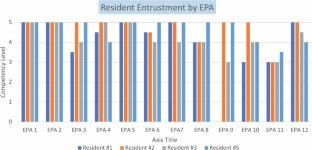 References
1.

Fessler DA, Huang GC, Potter J, Baker JJ, Libman H. Development and implementation of a novel HIV Primary Care Track for internal medicine residents. J Gen Intern Med. 2017;32(3):350–354.

2.

Barakat LA, Dunne DW, Tetrault JM, et al. The changing face of HIV care: expanding HIV training in internal medicine residency program. Acad Med. 2018.

3.

Caverzagie KJ, Iobst WF, Aagaard EM, et al. The internal medicine reporting milestones and the next accreditation system. Ann Intern Med. 2013;158(7):557–559.

4.

Caverzagie KJ, Cooney TG, Hemmer PA, Berkowitz L. The development of entrustable professional activities for internal medicine residency training: a report from the Education Redesign Committee of the Alliance for Academic Internal Medicine. Acad Med. 2015;90(4):479–484.

5.

ten Cate O, Chen HC, Hoff RG, Peters H, Bok H, van der Schaaf M. Curriculum development for the workplace using Entrustable Professional Activities (EPAs): AMEE Guide No. 99. Med Teach. 2015;37(11):983–1002.

6.

Shumway NM, Dacus JJ, Lathrop KI, Hernandez EP, Miller M, Karnad AB. Use of milestones and development of entrustable professional activities in 2 hematology/oncology training programs. J Grad Med Educ. 2015;7(1):101–104.

7.

Bhuyan N, Miser WF, Dickson GM, et al. From family medicine milestones to entrustable professional activities (EPAS). Ann Fam Med. 2014;12(4):380–381.

8.

Lomis KD, Ryan MS, Amiel JM, Cocks PM, Uthman MO, Esposito KF. Core entrustable professional activities for entering residency pilot group update: considerations for medical science educators. Med Sci Educ. 2016:1–4.

9.

Englander R, Flynn T, Call S, et al. Toward defining the foundation of the MD degree: core entrustable professional activities for entering residency. Acad Med. 2016;91(10):1352–1358.

10.

Sherbuk JE, Barakat LA. Training the next generation of HIV providers: impact of trainees on patient satisfaction in an urban HIV clinic. AIDS Care. 2018:1–4.
Acknowledgments
We would like to acknowledge our HIV Training Track residents; the staff of Nathan Smith Clinic, John Moriarty, M.D., Stephen Huot, M.D., Onyema Ogbuagu, M.D., and David Chia, M.D.; and all our wonderful patients.
Funders
We acknowledge AIDS Education and Training Centers (AETC) grant support: H4HA22762.
Ethics declarations
Conflict of Interest
DD—spouse holds stock in Pfizer, Inc.
Lydia Aoun Barakat served as a consultant for Gilead Sciences.
All other authors report no conflicts of interest.
Additional information
Publisher's Note
Springer Nature remains neutral with regard to jurisdictional claims in published maps and institutional affiliations.
Electronic supplementary material
About this article
Cite this article
Dunne, D., Green, M., Tetrault, J. et al. Development of a Novel Competency-Based Evaluation System for HIV Primary Care Training: the HIV Entrustable Professional Activities. J GEN INTERN MED 35, 331–335 (2020). https://doi.org/10.1007/s11606-019-04956-1
KEY WORDS
HIV training

EPA

residency training

primary care training