Abstract
Despite widespread advances in laparoscopic surgery, laparoscopic repair of post-cholecystectomy bile duct injury (BDI) has rarely been reported related mainly to technical difficulty. We describe three cases of BDI treated laparoscopically with one illustrated by a video. With our gained experience in hepatic pedicle dissection during laparoscopic pancreaticoduodenectomy, we decided to perform laparoscopic repair of BDI in patients with an intact biliary confluence without vascular injury. Three patients were operated including two women: one was re-operated by subcostal incision for peritonitis and two had undergone cholecystectomy without conversion. Surgical technique is detailed in the manuscript and the video. Laparoscopic repair was performed between 45 and 300 days after cholecystectomy. Surgery lasted between 250 and 270 min with no conversion and no transfusion. The postoperative course was uneventful with a hospital stay ranging from 7 to 9 days. After a mean follow-up of 9–33 months, patients were symptom free with normal liver function tests. The laparoscopic approach can be safely and effectively proposed to a subgroup of patients with BDI. This approach has the advantages of the laparoscopic approach and represents the main new surgical advancement in the management of this complication.
This is a preview of subscription content, log in to check access.
Access options
Buy single article
Instant unlimited access to the full article PDF.
US$ 39.95
Price includes VAT for USA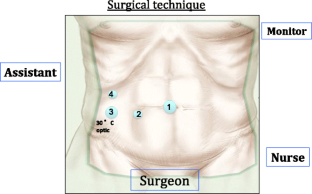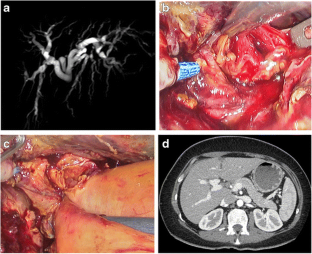 Abbreviations
BDI:

Bile duct injury

BF:

Biliary fistula
References
1.

Schwaitzberg SD, Scott DJ, Jones DB, McKinley SK, Castrillion J, Hunter TD, Michael Brunt L. Threefold increased bile duct injury rate is associated with less surgeon experience in an insurance claims database: More rigorous training in biliary surgery may be needed. Surg Endosc 2014; 11: 3068–73.

2.

Grbas H, Kunisek L, Zelić M, Petrosić N, Cepić I, Pirjavec A, Lovasić F, Uravić M. Outcome evaluation of 10,317 laparoscopic cholecystectomies: a 17-year experience at a single center. Hepatogastroenterology 2013; 128:1873–6.

3.

Fullum TM, Downing SR, Ortega G, Chang DC, Oyetunji TA, Van Kirk K, Tran DD, Woods I, Cornwell EE, Turner PL. Is laparoscopy a risk factor for bile duct injury during cholecystectomy? JSLS 2013; 17(3):365–70.

4.

Hamad MA, Nada AA, Abdel-Atty MY, Kawashti AS. Major biliary complications in 2,714 cases of laparoscopic cholecystectomy without intraoperative cholangiography: a multicenter retrospective study. Surg Endosc 2011; 25(12):3747–51.

5.

Parrilla P, Robles R, Varo E, Jiménez C, Sánchez-Cabús S, Pareja E, Spanish Liver Transplantation Study Group. Liver transplantation for bile duct injury after open and laparoscopic cholecystectomy. Br J Surg 2014;101(2):63–8.

6.

Barbier L, Souche R, Slim K, Ah-Soune P. Long-term consequences of bile duct injury after cholecystectomy. J Visc Surg 2014;151(4):269–79.

7.

Landman MP, Feurer ID, Moore DE, Zaydfudim V, Pinson CW. The long-term effect of bile duct injuries on health-related quality of life: a meta-analysis. HPB (Oxford)2013 ;15(4):252–9.

8.

Fatima J, Barton JG, Grotz TE, Geng Z, Harmsen WS, Huebner M, Baron TH, Kendrick ML, Donohue JH, Que FG, Nagorney DM, Farnell MB. Is there a role for endoscopic therapy as a definitive treatment for post-laparoscopic bile duct injuries? J Am Coll Surg 2010;211(4):495–502.

9.

Eum YO, Park JK, Chun J, Lee SH, Ryu JK, Kim YT, Yoon YB, Yoon CJ, Han HS, Hwang JH. Non-surgical treatment of post-surgical bile duct injury: clinical implications and outcomes. World J Gastroenterol 2014;20(22):6924–31.

10.

de Mestral C, Rotstein OD, Laupacis A, Hoch JS, Zagorski B, Alali AS, Nathens AB. Comparative operative outcomes of early and delayed cholecystectomy for acute cholecystitis: a population-based propensity score analysis. Ann Surg 2014;259(1):10–5.

11.

Cuendis-Velázquez A, Morales-Chávez C, Aguirre-Olmedo I, et al. Laparoscopic hepaticojejunostomy after bile duct injury. Surg Endosc 2016;30(3):876–82.

12.

Sicklick JK, Camp MS, Lillemoe KD, Melton GB, Yeo CJ, Campbell KA, Talamini MA, Pitt HA, Coleman J, Sauter PA, Cameron JL. Surgical management of bile duct injuries sustained during laparoscopic cholecystectomy: perioperative results in 200 patients. Ann Surg 2005;241(5):786–92.

13.

Pekolj J, Alvarez FA, Palavecino M, Sánchez Clariá R, Mazza O, de Santibañes E. Intraoperative management and repair of bile duct injuries sustained during 10,123 laparoscopic cholecystectomies in a high-volume referral center. J Am Coll Surg 2013;216(5):894–901.

14.

Laurent A, Sauvanet A, Farges O, Watrin T, Rivkine E, Belghiti J. Major hepatectomy for the treatment of complex bile duct injury. Ann Surg 2008;248(1):77–83.

15.

Li J, Frilling A, Nadalin S, Broelsch CE, Malago M. Timing and risk factors of hepatectomy in the management of complications following laparoscopic cholecystectomy. J Gastrointest Surg 2012 ;16(4):815–20.

16.

Sulpice L, Garnier S, Rayar M, Meunier B, Boudjema K. Biliary cirrhosis and sepsis are two risk factors of failure after surgical repair of major bile duct injury post-laparoscopic cholecystectomy. Langenbecks Arch Surg 2014;399(5):601–8.

17.

Ejaz A, Spolverato G, Kim Y, Dodson R, Sicklick JK, Pitt HA, Lillemoe KD, Cameron JL, Pawlik TM. Long-Term Health-Related Quality of Life after Iatrogenic Bile Duct Injury Repair. J Am Coll Surg 2014 ;219(5):923–32.
Ethics declarations
The authors state that informed consent was obtained from all patients, and that the study protocol has been approved by the institute's committee on human research.
Conflict of Interest
The authors declare that they have no conflict of interest.
Electronic Supplementary Material
About this article
Cite this article
Dokmak, S., Amharar, N., Aussilhou, B. et al. Laparoscopic Repair of Post-cholecystectomy Bile Duct Injury: an Advance in Surgical Management. J Gastrointest Surg 21, 1368–1372 (2017) doi:10.1007/s11605-017-3400-7
Received:

Accepted:

Published:

Issue Date:
Keywords
Cholecystectomy

Bile duct injury

Laparoscopic repair

Traumatism