Abstract
Background and Aim
Hepatic resection involves not only complete removal of tumors but also preservation of optimal liver function after surgery. This study introduces the technique of inferior right hepatic vein (IRHV)-preserving trisegmentectomy 5, 7, and 8 and evaluates its clinical feasibility.
Methods
Between January 2008 and December 2011, four patients underwent this procedure. Postoperative outcomes and interim results were evaluated.
Results
The median estimated volumes of the left lobe only and the left lobe plus preserved parenchyma relative to the total estimated liver volume were 22.8 % (range, 21.1–24.2 %) and 43.6 % (range, 38.0–47.5 %), respectively. The median total operating time and blood loss were 349 min (range, 348–417 min) and 650 ml (range, 300–1,700 ml), respectively. One patient developed the postoperative complication of bile leakage. The median hospital stay was 14.5 days (range, 14–50 days). Median follow-up was 23.5 months (range, 6–70 months), and two patients developed recurrence. One patient died of disease progression, and the other three patients were alive at the last follow-up.
Conclusion
Based on our experience, IRHV-preserving trisegmentectomy 5, 7, and 8 is a safe and feasible procedure. This technique could be an option for curative resection minimizing postoperative deterioration of liver function without preoperative portal vein embolization in patients with a reliable IRHV.
This is a preview of subscription content, log in to check access.
Access options
Buy single article
Instant unlimited access to the full article PDF.
US$ 39.95
Price includes VAT for USA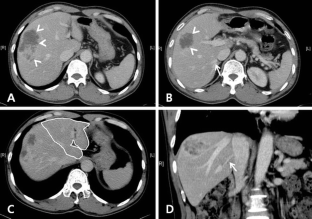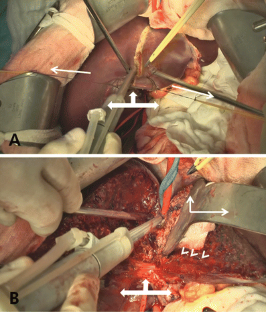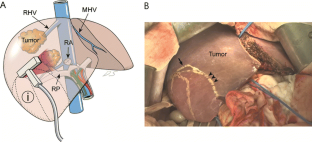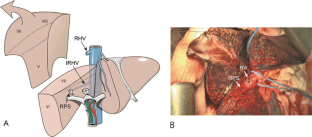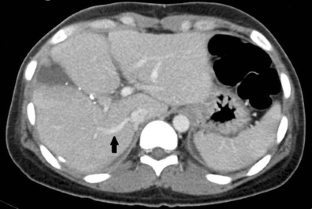 References
1.

Okuda K. Primary liver cancer. Quadrennial review lecture. Dig Dis Sci 1986;31(9 Suppl):133S-146S.

2.

Mullen JT, Ribero D, Reddy SK, et al. Hepatic insufficiency and mortality in 1,059 noncirrhotic patients undergoing major hepatectomy. J Am Coll Surg 2007;204(5):854–862; discussion 862–854

3.

Shirabe K, Shimada M, Gion T, et al. Postoperative liver failure after major hepatic resection for hepatocellular carcinoma in the modern era with special reference to remnant liver volume. J Am Coll Surg 1999;188(3):304–309.

4.

Makuuchi M, Thai BL, Takayasu K, et al. Preoperative portal embolization to increase safety of major hepatectomy for hilar bile duct carcinoma: a preliminary report. Surgery 1990;107(5):521–527.

5.

Abulkhir A, Limongelli P, Healey AJ, et al. Preoperative portal vein embolization for major liver resection: a meta-analysis. Ann Surg 2008;247(1):49–57.

6.

van Gulik TM, van den Esschert JW, de Graaf W, et al. Controversies in the use of portal vein embolization. Dig Surg 2008;25(6):436–444.

7.

Makuuchi M, Hasegawa H, Yamazaki S, Takayasu K. Four new hepatectomy procedures for resection of the right hepatic vein and preservation of the inferior right hepatic vein. Surg Gynecol Obstet 1987;164(1):68–72.

8.

Baer HU, Dennison AR, Maddern GJ, Blumgart LH. Subtotal hepatectomy: a new procedure based on the inferior right hepatic vein. Br J Surg 1991;78(10):1221–1222.

9.

Nakamura S, Tsuzuki T. Surgical anatomy of the hepatic veins and the inferior vena cava. Surg Gynecol Obstet 1981;152(1):43–50.

10.

Kubota K, Makuuchi M, Kusaka K, et al. Measurement of liver volume and hepatic functional reserve as a guide to decision-making in resectional surgery for hepatic tumors. Hepatology 1997;26(5):1176–1181.

11.

Choi GH, Park JY, Hwang HK, et al. Predictive factors for long-term survival in patients with clinically significant portal hypertension following resection of hepatocellular carcinoma. Liver Int 2011;31(4):485–493.

12.

de Baere T, Roche A, Elias D, Lasser P, Lagrange C, Bousson V. Preoperative portal vein embolization for extension of hepatectomy indications. Hepatology 1996;24(6):1386–1391.

13.

Hemming AW, Reed AI, Howard RJ, et al. Preoperative portal vein embolization for extended hepatectomy. Ann Surg 2003;237(5):686–691; discussion 691–683

14.

Yigitler C, Farges O, Kianmanesh R, Regimbeau JM, Abdalla EK, Belghiti J. The small remnant liver after major liver resection: how common and how relevant? Liver Transpl 2003;9(9):S18-25.

15.

Azoulay D, Castaing D, Krissat J, et al. Percutaneous portal vein embolization increases the feasibility and safety of major liver resection for hepatocellular carcinoma in injured liver. Ann Surg 2000;232(5):665–672.

16.

Azoulay D, Castaing D, Smail A, et al. Resection of nonresectable liver metastases from colorectal cancer after percutaneous portal vein embolization. Ann Surg 2000;231(4):480–486.

17.

Liu H, Zhu S. Present status and future perspectives of preoperative portal vein embolization. Am J Surg 2009;197(5):686–690.

18.

Sano K, Makuuchi M, Miki K, et al. Evaluation of hepatic venous congestion: proposed indication criteria for hepatic vein reconstruction. Ann Surg 2002;236(2):241–247.

19.

Hwang S, Lee SG, Park KM, et al. Hepatic venous congestion in living donor liver transplantation: preoperative quantitative prediction and follow-up using computed tomography. Liver Transpl 2004;10(6):763–770.

20.

Filipponi F, Romagnoli P, Mosca F, Couinaud C. The dorsal sector of human liver: embryological, anatomical and clinical relevance. Hepatogastroenterology 2000;47(36):1726–1731.

21.

Fang CH, You JH, Lau WY, et al. Anatomical variations of hepatic veins: three-dimensional computed tomography scans of 200 subjects. World J Surg 2012;36(1):120–124.

22.

De Cecchis L, Hribernik M, Ravnik D, Gadzijev EM. Anatomical variations in the pattern of the right hepatic veins: possibilities for type classification. J Anat 2000;197:487–493.

23.

Chouillard E, Cherqui D, Tayar C, Brunetti F, Fagniez PL. Anatomical bi- and trisegmentectomies as alternatives to extensive liver resections. Ann Surg 2003;238(1):29–34.

24.

Muratore A, Conti P, Amisano M, Bouzari H, Capussotti L. Bisegmentectomy 7–8 as alternative to more extensive liver resections. J Am Coll Surg 2005;200(2):224–228.

25.

Machado MA, Herman P, Makdissi FF, Figueira ER, Bacchella T, Machado MC. Feasibility of bisegmentectomy 7–8 is independent of the presence of a large inferior right hepatic vein. J Surg Oncol 2006;93(4):338–342.

26.

Machado MA, Bacchella T, Makdissi FF, Surjan RT, Machado MC. Extended left trisectionectomy severing all hepatic veins preserving segment 6 and inferior right hepatic vein. Eur J Surg Oncol 2008;34(2):247–251.

27.

Choi GH, Choi SH, Kim SH, Hwang HK, Kang CM, Choi JS, et al. Robotic liver resection: technique and results of 30 consecutive procedures. Surg Endosc 2012;26:2247–2258.
Acknowledgments
The authors would like to express the special thanks to Dong-Su Jang (Medical Illustrator, Medical Research Support Section, Yonsei University College of Medicine, Seoul, Korea) for his help with the figures and Jee-Ye Kim (M.D., Department of Surgery, Yonsei University College of Medicine, Seoul, Korea) for her valuable devotion and contribution in preparing an English narration in the supplementary video stream.
Conflict of interest
Dr. Sung Hoon Choi, Gi Hong Choi, Dae Hoon Han, Jin Sub Choi, and Woo Jung Lee have no conflicts of interest or source of funding to disclose.
Electronic supplementary material
Below is the link to the electronic supplementary material.
About this article
Cite this article
Choi, S.H., Choi, G.H., Han, D.H. et al. Clinical Feasibility of Inferior Right Hepatic Vein-Preserving Trisegmentectomy 5, 7, and 8 (with Video). J Gastrointest Surg 17, 1153–1160 (2013). https://doi.org/10.1007/s11605-012-2130-0
Received:

Accepted:

Published:

Issue Date:
Keywords
Liver

Anatomy

Resection

Hepatectomy

Inferior right hepatic vein