Abstract
Introduction
This study evaluated operative outcomes and workload during single-site laparoscopy (SSL) using a magnetically anchored cautery dissector (MAGS) compared with a conventional laparoscopic hook cautery (LAP).
Methods
Each cautery was used to perform six SSL porcine cholecystectomies. For MAGS, the cautery device was inserted through the umbilical incision, magnetically coupled, and deployed; two graspers and a laparoscope were used. For LAP, two percutaneous retraction sutures, one grasper, a hook cautery dissector, and a laparoscope were used. Operative outcomes, surgeon ratings (scale, 1–5; 1 = superior), and workload (scale, 1–10; 1 = superior) were evaluated.
Results
No significant differences were detected for operative outcomes and surgeon ratings, however, trends were detected favoring MAGS. Surgeon workload ratings were significantly better for MAGS (2.6 ± 0.2) vs. LAP (5.6 ± 1.1; p < 0.05). For MAGS, depth perception and triangulation were excellent and the safe handling protocol was followed with no complications. For LAP, the parallelism of instruments and lack of triangulation hindered depth perception, caused instrument conflicts, and resulted in two minor complications (one superficial liver laceration and one inadvertent burn to the diaphragm).
Conclusion
These data suggest that using the MAGS device for SSL cholecystectomy results in equivalent (or better) operative outcomes and less workload compared with LAP.
This is a preview of subscription content, log in to check access.
Access options
Buy single article
Instant unlimited access to the full article PDF.
US$ 39.95
Price includes VAT for USA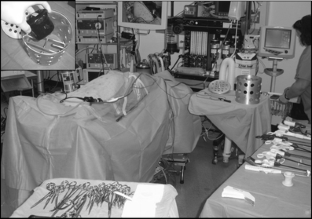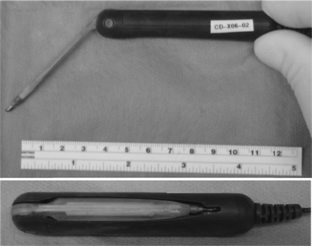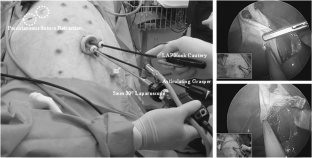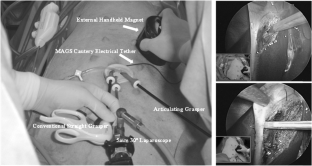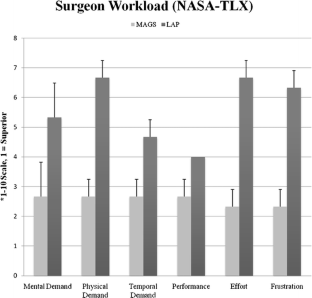 References
1.

Rao A, Kynaston JU, MacDonald ER, Ahmed I. Patient preferences for surgical techniques: should we invest in new approaches? Surg Endosc 2010;24:3016–3025.

2.

Scott DJ, Castellvi AO, Varela JE, Rivas H. Video. Modified single-incision laparoscopic adjustable gastric band. Surg Endosc 2010;24(9):2314–5.

3.

Rivas H, Varela E, Scott D. Single-incision laparoscopic cholecystectomy: initial evaluation of a large series of patients. Surg Endosc 2010;24(6):1403–12.

4.

Curcillo PG. Single-incision laparoscopic right hemicolectomy. Br J Surg 2010;97(12):1884.

5.

Lakdawala MA, Muda NH, Goel S, Bhasker A. Single-incision sleeve gastrectomy versus conventional laparoscopic sleeve gastrectomy—a randomised pilot study. Obes Surg 2011; 21(11):1664–70.

6.

Cao AG, Cai W, Qin MF, Zhao HZ, Yue P, Li Y. Randomized clinical trial of single-incision versus conventional laparoscopic cholecystectomy: short-term operative outcomes. Surg Laparosc Endosc Percutan Tech 2011;21:311–313.

7.

Ju SH, Lee DG, Lee JH, Baek MK, Jeong BC, Jeon SS, Lee KS, Han DH. Laparoendoscopic single-site pyeloplasty using additional 2 mm instruments: a comparison with conventional laparoscopic pyeloplasty. Korean J Urol 2011;52:616–621.

8.

Raman SR, Franco D, Holover S, Garber S. Does transumbilical single incision laparoscopic adjustable gastric banding result in decreased pain medicine use? A case-matched study. Surg Obes Relat Dis 2011;7:129–133.

9.

Islam A, Castellvi AO, Tesfay ST, Castellvi AD, Wright AS, Scott DJ. Early surgeon impressions and technical difficulty associated with laparo-endoscopic single-site surgery: a SAGES learning center study. Surg Endosc 2011;25(8):2597–603.

10.

Mashaud LB, Kabbani W, Caban A, Best S, Hogg DC, Cadeddu JA, Bergs R, Beardsley H, Fernandez R, Scott DJ. Tissue compression analysis for magnetically anchored cautery dissector during single-site laparoscopic cholecystectomy. J Gastrointest Surg 2011;15(6):902–7.

11.

Best SL, Cadeddu JA. Development of magnetic anchoring and guidance systems for minimally invasive surgery. Indian J Urol 2010;26(3):418–22.

12.

Best SL, Kabbani W, Scott DJ, Bergs R, Beardsley H, Fernandez R, Mashaud LB, Cadeddu JA. Magnetic anchoring and guidance system instrumentation for laparo-endoscopic single-site surgery/natural orifice transluminal endoscopic surgery: lack of histologic damage after prolonged magnetic coupling across the abdominal wall. Urology 2011;77(1):243–7.

13.

Best SL, Bergs R, Gedeon M, Paramo J, Fernandez R, Cadeddu JA, Scott DJ. Maximizing coupling strength of magnetically anchored surgical instruments: how thick can we go? Surg Endosc 2011;25(1):153–9.

14.

Best SL, Cadeddu JA. Use of magnetic anchoring and guidance systems to facilitate single trocar laparoscopy. Curr Urol Rep 2010;11(1):29–32.

15.

Raman JD, Cadeddu JA. Single access laparoscopic nephrectomy. Indian J Urol 2008;24(4):457–60.

16.

Cadeddu J, Fernandez R, Desai M, Bergs R, Tracy C, Tang SJ, Rao P, Desai M, Scott D. Novel magnetically guided intra-abdominal camera to facilitate laparoendoscopic single-site surgery: initial human experience. Surg Endosc 2009;23(8):1894–9.

17.

Raman JD, Bergs RA, Fernandez R, Bagrodia A, Scott DJ, Tang SJ, Pearle MS, Cadeddu JA. Complete transvaginal NOTES nephrectomy using magnetically anchored instrumentation. J Endourol 2009;23(3):367–71.

18.

Scott DJ, Tang SJ, Fernandez R, Bergs R, Goova MT, Zeltser I, Kehdy FJ, Cadeddu JA. Completely transvaginal NOTES cholecystectomy using magnetically anchored instruments. Surg Endosc 2007;21:2308–2316.

19.

Mashaud L, Eisenstein E, Caban A, Fernandez R, Bergs RA, Cadeddu JA, Scott DJ. Magnetic cautery dissector suitability for traditional or single-site laparoscopic cholecystectomy in human cadaver models. Surg Endosc 2012 (in press).

20.

Hart SG, Staveland LE. Development of NASA-TLX (Task Load Index): Results of empirical and theoretical research. In Hancock PA, Meshkati N (eds). Human Mental Workload. Amsterdam: Elsevier; 1987.

21.

Fronza JS, Linn JG, Nagle AP, Soper NJ. A single institution's experience with single incision cholecystectomy compared to standard laparoscopic cholecystectomy. Surgery 2010;148(4):731–4.

22.

Chow A, Purkawastha S, Aziz O, Paraskeva P. Single-incision laparoscopic surgery for cholecystectomy: an evolving technique. Surg Endosc 2010;24(3):709–14.

23.

Endo S, Souda S, Nezu R, Yoshikawa Y, Hashimoto J, Mori T, Uchikoshi F. A new method of laparoscopic cholecystectomy using three trocars combined with suture retraction of gallbladder. J Laparoendosc Adv Surg Tech A 2001;11(2):85–8.

24.

Schlager A, Khalaileh A, Shussman N, Elazary R, Kediar A, Pikarsky AJ, Ben-Shushan A, Shibolet O, Horgan S, Talamini M, Zamir G, Rivking AI, Mintz Y. Providing more through less: current methods of retraction in SIMIS and NOTES cholecystectomy. Surg Endosc 2010;24(7):1542–6.

25.

Ramos-Valadez DI, Ragupathi M, Nieto J, Patel CB, Miller S, Pickron TB, Haas EM. Single-incision versus conventional laparoscopic sigmoid colectomy: a case-matched series. Surg Endosc 2011;26(1):96–102.

26.

Montero PN, Acker CE, Heniford BT, Stefanidis D. Single incision laparoscopic surgery (SILS) is associated with poorer performance and increased surgeon workload compared with standard laparoscopy. Am Surg 2011;77(1):73–7.

27.

Padilla BE, Dominguez G, Millan C, Martinez-Ferro M. The use of magnets with single-site umbilical laparoscopic surgery. Sem Ped Surg 2011;20:224–231.
Acknowledgments
We would like to acknowledge the generous contributions in research grants that were provided for this study by Ethicon Endo-Surgery, Inc. (Cincinnati, OH).
Disclaimer
These devices are not approved by the Food and Drug Administration (FDA) for use in humans and are intended for research and experimental purposes only at this time.
Additional information
For consideration in the Journal of Gastrointestinal Surgery
Electronic Supplementary Material
Below is the link to the electronic supplementary material.
About this article
Cite this article
Arain, N.A., Cadeddu, J.A., Hogg, D.C. et al. Magnetically Anchored Cautery Dissector Improves Triangulation, Depth Perception, and Workload During Single-Site Laparoscopic Cholecystectomy. J Gastrointest Surg 16, 1807–1813 (2012). https://doi.org/10.1007/s11605-012-1926-2
Received:

Accepted:

Published:

Issue Date:
Keywords
Magnetic anchoring and guidance system (MAGS)

Magnetic instruments

Single-site laparoscopy (SSL)

Triangulation

Workload