Abstract
Background
We describe the development of a highly elastic and adhesive surgical tissue sealant, based on photochemically crosslinked gelatin, for sealing sutured incisions in the gastrointestinal (GI) tract in a rabbit surgical model and in a canine colon anastomosis study.
Methods
The study included in vitro assessment of mechanical parameters of the tissue sealant and in vivo analysis of burst strength and histology at 24 h, 3 days and 7 days post surgery, in a rabbit model, to assess progress of wound healing at the suture sites. Utility of this sealant to repair and seal a lower colonic resection and anastomosis procedure in a canine model was also investigated.
Results
We show that a photopolymerised gelatin tissue sealant provides effective sealing of GI incisions and facilitates wound healing with no evidence of inflammation up to 28 days post-surgery. Blending of derivatised gelatin with underivatised gelatin allowed tuning of elasticity and elastic modulus of the photopolymerised sealant to suit surgical applications. High tissue adhesive strength was maintained at all blend ratios and exceeded 100 kPa.
Conclusions
This highly elastic and adhesive photopolymerised gelatin tissue sealant offers a number of advantages over currently available sealants suitable for GI surgical procedures.
This is a preview of subscription content, log in to check access.
Access options
Buy single article
Instant unlimited access to the full article PDF.
US$ 39.95
Price includes VAT for USA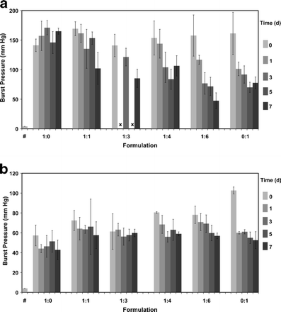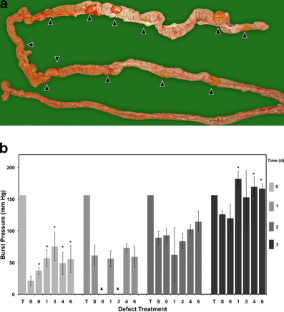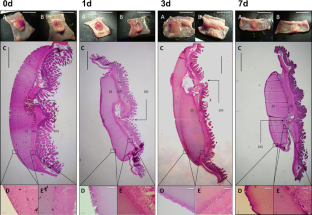 References
1.

Chambers WM, Mortensen NJ. Postoperative leakage and abscess formation after colorectal surgery. Best Pract Res Clin Gastroenterol 2004;18:865–880.

2.

Graf W, Glimelius B, Bergström R, Påhlman L. Complications after double and single stapling in rectal surgery. Eur J Surg 1991;157:543–7.

3.

Soeters PB, de Zoete JP, Dejong CH, Williams NS, Baeten CG. Colorectal surgery and anastomotic leakage. Dig Surg 2002;19:150–5.

4.

Goligher JC, Graham NG, De Dombal FT. Anastomotic dehiscence after anterior resection of rectum and sigmoid. Br J Surg 1970;57:109–18.

5.

Buchs NC, Gervaz P, Secic M, Bucher P, Mugnier-Konrad B, Morel P. Incidence, consequences, and risk factors for anastomotic dehiscence after colorectal surgery: a prospective monocentric study. Int J Colorectal Dis 2008;23:265–270.

6.

Kingham TP, Pachter HL. Colonic anastomotic leak: risk factors, diagnosis, and treatment. J Am College Surg 2009;208:269–278.

7.

Ho YH, Ashour MA. Techniques for colorectal anastomosis. World J Gastroenterol 2010;16:1610–1621.

8.

Spotnitz WD, Burks S. Hemostats, sealants, and adhesives: components of the surgical toolbox. Transfusion 2008;48:1502–16.

9.

Hoeppner J, Wassmuth B, Marjanovic G, Timme S, Hopt UT, Keck T. Anastomotic sealing by extracellular matrices (ECM) improves healing of colonic anastomoses in the critical early phase. J Gastrointest Surg 2010;14:977–86.

10.

Nordentoft T, Rømer J, Sørensen M. Sealing of gastrointestinal anastomoses with a fibrin glue-coated collagen patch: a safety study. J Invest Surg 2007;20:363–369.

11.

Akgün A, Kuru S, Uraldi C, Tekin O, Karip B, Tug T, Ongören AU. Early effects of fibrin sealant on colonic anastomosis in rats: an experimental and case-control study. Tech Coloproctol 2006;10:208–214.

12.

Yol S, Tekin A, Yilmaz H, Küçükkartallar T, Esen H, Caglayan O, Tatkan Y. Effects of platelet rich plasma on colonic anastomosis. J Surg Res 2008;146:190–194.

13.

Kayaoglu HA, Ersoy OF, Ozkan N, Celik A, Filiz NO. Effect of n-butyl-2-cyanoacrylate on high-risk colonic anastomoses. Kaohsiung J Med Sci 2009;25:177–83.

14.

Shazly TM, Artzi N, Boehning F, Edelman ER. Viscoelastic adhesive mechanics of aldehyde-mediated soft tissue sealants. Biomaterials 2008;29:4584–91.

15.

van der Ham AC, Kort WJ, Weijma IM, van den Ingh HF, Jeekel J. Effect of fibrin sealant on the healing colonic anastomosis in the rat. Br J Surg 1991;78:49–53.

16.

van der Ham AC, Kort WJ, Weijma IM, van den Ingh HF, Jeekel H. Healing of ischemic colonic anastomosis: fibrin sealant does not improve wound healing. Dis Colon Rectum 1992;35:884–891.

17.

Byrne DJ, Hardy J, Wood RA, McIntosh R, Hopwood D, Cuschieri A. Adverse influence of fibrin sealant on the healing of high-risk sutured colonic anastomoses. J R Coll Surg Edinb 1992;37:394–398.

18.

Rotstein OD, Pruett TL, Simmons RL. Fibrin in peritonitis. V. Fibrin inhibits phagocytic killing of Escherichia coli by human polymorphonuclear leukocytes. Ann Surg 1986;203:413–419.

19.

Nursal TZ, Anarat R, Bircan S, Yildirim S, Tarim A, Haberal M. The effect of tissue adhesive, octyl-cyanoacrylate, on the healing of experimental high-risk and normal colonic anastomoses. Am J Surg 2004;187:28–32.

20.

Singh RP, Maheshwari V, Verma AK. Evaluation of gelatin/resorcinol/aldehyde as a hemostatic agent and tissue adhesive: an experimental study in rat. Int Surg 2008;93:25–31.

21.

Kunihara T, Iizuka K, Sasaki S, Shiiya N, Sata F, Matsui Y. Optimal proportions of gelatin–resorcin–formalin components in aortic surgery. Eur J Cardiothorac Surg 2009 ;36:962–6.

22.

Spotnitz WD. Tissue adhesives: science, products and clinical use. In: Pietrzak WS, Eppley BL, (Editors). Musculoskeletal tissue regeneration: biological materials and methods. Totowa, NJ: Humana Press, 2008. p. 531–46.

23.

Bolton AE, Hunter WM. The labelling of proteins to high specific radioactivities by conjugation to a 125I-containing acylating agent. Biochem J 1973;133:529–539.

24.

Miller BT. Acylation of peptide hydroxyl groups with the Bolton-Hunter reagent. Biochem Biophys Res Commun 1996;218:377–382.

25.

Fancy DA, Kodadek T. Chemistry for the analysis of protein–protein interactions: rapid and efficient cross-linking triggered by long wavelength light. Proc Natl Acad Sci USA 1999;96:6020–4.

26.

Elvin CM, Vuocolo T, Brownlee AG, Sando L, Huson MG, Liyou NE, Stockwell PR, Lyons RE, Kim M, Edwards GA, Johnson G, McFarland GA, Ramshaw JA, Werkmeister JA. A highly elastic tissue sealant based on photopolymerised gelatin. Biomaterials 2010;31:8323–31.

27.

Bigi A, Cojazzi G, Panzavolta S, Rubini K, Roveri N. Mechanical and thermal properties of gelatin films at different degrees of glutaraldehyde crosslinking. Biomaterials 2001; 22:763–768.

28.

Shazly TM, Baker AB, Naber JR, Bon A, Van Vliet KJ, Edelman ER. Augmentation of postswelling surgical sealant potential of adhesive hydrogels. J Biomed Mater Res A 2010;95:1159–69.

29.

Thavarajah D, De Lacy P, Hussain R, Redfern RM Postoperative cervical cord compression induced by hydrogel (DuraSeal): a possible complication. Spine 2010 35:E25-6.

30.

Blackburn SL, Smyth MD. Hydrogel-induced cervicomedullary compression after posterior fossa decompression for Chiari malformation. Case report. J Neurosurg 2007 ;106:302–4.

31.

Campbell P. Evaluation of absorbable surgical sealants: in-vitro testing. In: In-vitro testing. Edited by Bennet S, Sawhney A. Covidien Laboratories, Mansfield, MA; 2007.

32.

Nandakumar G, Richards BG, Trencheva K, Dakin G. Surgical adhesive increases burst pressure and seals leaks in stapled gastrojejunostomy. Surg Obes Relat Dis 2010 ;6:498–501.

33.

Sidle DM, Maas CS. Determination of shear strength of periosteum attached to bone with BioGlue™ Surgical Adhesive. Arch Facial Plast Surg 2008;10:316–320.

34.

Berchane NS, Andrews MJ, Kerr S, Slater NK, Jebrail FF. On the mechanical properties of bovine serum albumin (BSA) adhesives. J Mater Sci Mater Med 2008;19:1831–8.

35.

Azadani AN, Matthews PB, Ge L, Shen Y, Jhun CS, Guy TS, Tseng EE. Mechanical properties of surgical glues used in aortic root replacement. Ann Thorac Surg 2009;87:1154–60.

36.

Chao HH, Torchiana DF. BioGlue: albumin/glutaraldehyde sealant in cardiac surgery. J Card Surg 2003;18:500–3.

37.

Devbhandari MP, Chaudhery Q, Duncan AJ. Acute intraoperative malfunction of aortic valve due to surgical glue. Ann Thorac Surg 2006;81:1499–1500.

38.

Goldberg SP, Cambell DN. Mechanical aortic valve dysfunction due to biological glue. Ann Thorac Surg 2009;88:671–672.

39.

Bernabeu E, Castella M, Barriuso C, Mulet J. Acute limb ischemia due to embolization of biological glue after repair of type A aortic dissection. Interact Cardiovasc Thorac Surg 2005;4:329–331.

40.

Mahmood Z, Cook DS, Luckraz H, O'Keefe P. Fatal right ventricular infarction caused by Bioglue embolization. J Thorac Cardiovasc Surg 2004;128:770–771.

41.

Rubio Alvarez J, Sierra Quiroga J, de Alegria AM, Delgado Dominguez C. Pulmonary embolism due to biological glue after repair of type A aortic dissection. Interact Cardiovasc Thorac Surg 2011;12:650–1.

42.

Babin-Ebell J, Bougioukakis P, Urbanski P, Froehner S, Diegeler A. Foreign material reaction to BioGlue® as a possible cause of cardiac tamponade. Thorac Cardiovasc Surg 2010;58:489–91.

43.

Bonchek LI, Fuchs JC, Braunwald NS. Use of a cross-linked gelatin tissue adhesive in surgery of the urinary tract. Surg Gynecol Obstet 1967;125:1301–6.

44.

Witter K, Tonar Z, Matejka VM, Martinca T, Jonák M, Rokosný S, Pirk J. Tissue reaction to three different types of tissue glues in an experimental aorta dissection model: a quantitative approach. Histochem Cell Biol 2010;133:241–59.

45.

Liu Y, Kopelman D, Wu LQ, Hijji K, Attar I, Preiss-Bloom O, Payne GF. Biomimetic sealant based on gelatin and microbial transglutaminase: an initial in vivo investigation. J Biomed Mater Res B Appl Biomater 2009;91:5–16.

46.

Watters DA, Smith AN, Eastwood MA, Anderson KC, Elton RA. Mechanical properties of the rat colon: the effect of age, sex and different conditions of storage. Q J Exp Physiol 1985;70:151–162.
Acknowledgements
We wish to thank Kathleen Kimpton, Tara Gallagher, Jason Grimmer (CSIRO Food and Nutritional Sciences) for assistance with animal surgery.
Electronic supplementary material
Below is the link to the electronic supplementary material.
Canine colon anastomosis procedure using ILS stapler and sutures and subsequent sealing of the site using photopolymerised gelatin sealant (MP4 32.7 mb)
Canine colon anastomosis procedure using ILS stapler and sutures and subsequent sealing of the site using photopolymerised gelatin sealant (MP4 32.7 mb)
About this article
Cite this article
Vuocolo, T., Haddad, R., Edwards, G.A. et al. A Highly Elastic and Adhesive Gelatin Tissue Sealant for Gastrointestinal Surgery and Colon Anastomosis. J Gastrointest Surg 16, 744–752 (2012). https://doi.org/10.1007/s11605-011-1771-8
Received:

Accepted:

Published:

Issue Date:
Keywords
Tissue sealant

Gelatin

Crosslinking

Photopolymerisation

Gastrointestinal anastomosis

Dehiscence