Abstract
Introduction
Limitations of endoscopic therapies for Barrett's esophagus and superficial cancer include a compromised histological assessment, the need for surveillance, subsequent procedures, and stricture formation. Circumferential en bloc resection of the mucosa–submucosa complex followed by deployment of a biologic scaffold onto the remaining muscularis propria may address these concerns. The objective of this study was to determine technical feasibility of transoral resection of the esophageal lining.
Materials and Methods
Transoral endoscopic inner layer esophagectomy was performed in ten swine. Endpoints included procedure duration, hemorrhage, number of perforations, and adequacy of resection length and depth.
Results
Procedures were successfully completed in all animals without perioperative mortality. Procedure times averaged 179 min (range 125–320). No perforations were found, and a mean of 1.7 (0–4) interventions for hemorrhage was required. Complete longitudinal resection was achieved in nine of ten animals. Resection depth included all mucosal layers in 100% of tissue sections, the submucosal layers, SM1 in 100%, and SM2 in 96%. A portion of SM3 was adherent to the muscularis propria in 70%.
Conclusion
Transoral endoscopic resection of the inner esophageal layers was feasible and reproducible. This technique may facilitate a single-step definitive treatment and staging tool for early neoplastic lesions, obviating the need for esophagectomy.
This is a preview of subscription content, log in to check access.
Access options
Buy single article
Instant unlimited access to the full article PDF.
US$ 39.95
Price includes VAT for USA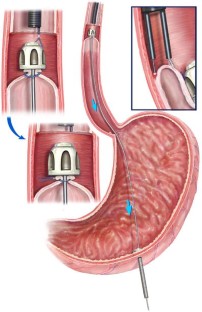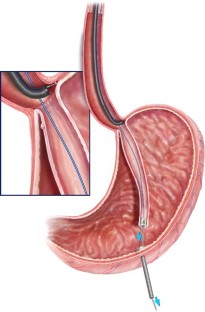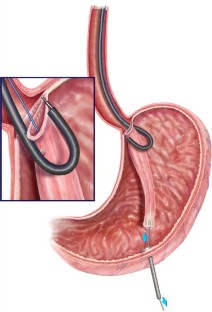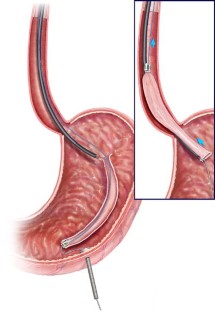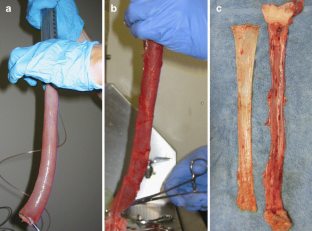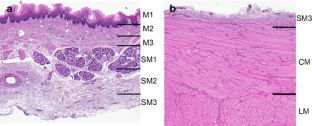 Abbreviations
TEE:

Transoral endoscopic inner layer esophagectomy

MSC:

Mucosa–submucosa complex
References
1.

DeMeester SR. New options for the therapy of Barrett's high-grade dysplasia and intramucosal adenocarcinoma: endoscopic mucosal resection and ablation versus vagal-sparing esophagectomy. Ann Thorac Surg 2008;85:S747–750.

2.

Shaheen NJ, Sharma P, Overholt BF, Wolfsen HC, Sampliner RE, Wang KK, Galanko JA, Bronner MP, Goldblum JR, Bennett AE, Jobe BA, Eisen GM, Fennerty MB, Hunter JG, Fleischer DE, Sharma VK, Hawes RH, Hoffman BJ, Rothstein RI, Gordon SR, Mashimo H, Chang KJ, Muthusamy VR, Edmundowicz SA, Spechler SJ, Siddiqui AA, Souza RF, Infantolino A, Falk GW, Kimmey MB, Madanick RD, Chak A, Lightdale CJ. Radiofrequency ablation in Barrett's esophagus with dysplasia. N Engl J Med 2009;360:2277–2288.

3.

Thomas P, Doddoli C, Neville P, Pons J, Lienne P, Giudicelli R, Giovannini M, Seitz JF, Fuentes P. Esophageal cancer resection in the elderly. Eur J Cardiothorac Surg 1996;10:941–946.

4.

Ell C, May A, Pech O, Gossner L, Guenter E, Behrens A, Nachbar L, Huijsmans J, Vieth M, Stolte M. Curative endoscopic resection of early esophageal adenocarcinomas (Barrett's cancer). Gastrointest Endosc 2007;65:3–10.

5.

Holscher AH, Bollschweiler E, Schneider PM, Siewert JR. Early adenocarcinoma in Barrett's oesophagus. Br J Surg 1997;84:1470–1473.

6.

Oh DS, Hagen JA, Chandrasoma PT, Dunst CM, Demeester SR, Alavi M, Bremner CG, Lipham J, Rizzetto C, Cote R, Demeester TR. Clinical biology and surgical therapy of intramucosal adenocarcinoma of the esophagus. J Am Coll Surg 2006;203:152–161.

7.

Rice TW, Blackstone EH, Adelstein DJ, Zuccaro G Jr., Vargo JJ, Goldblum JR, Murthy SC, DeCamp MM, Rybicki LA. Role of clinically determined depth of tumor invasion in the treatment of esophageal carcinoma. J Thorac Cardiovasc Surg 2003;125:1091–1102.

8.

Rice TW, Zuccaro G Jr., Adelstein DJ, Rybicki LA, Blackstone EH, Goldblum JR. Esophageal carcinoma: depth of tumor invasion is predictive of regional lymph node status. Ann Thorac Surg 1998;65:787–792.

9.

Farrell JJ, Lauwers GY, Brugge WR. Endoscopic mucosal resection using a cap-fitted endoscope improves tissue resection and pathology interpretation: an animal study. Gastric Cancer 2006;9:3–8.

10.

Ahmadi A, Draganov P. Endoscopic mucosal resection in the upper gastrointestinal tract. World J Gastroenterol 2008;14:1984–1989.

11.

Kakushima N, Yahagi N, Fujishiro M, Kodashima S, Nakamura M, Omata M. Efficacy and safety of endoscopic submucosal dissection for tumors of the esophagogastric junction. Endoscopy 2006;38:170–174.

12.

Yoshinaga S, Gotoda T, Kusano C, Oda I, Nakamura K, Takayanagi R. Clinical impact of endoscopic submucosal dissection for superficial adenocarcinoma located at the esophagogastric junction. Gastrointest Endosc 2008;67:202–209.

13.

Oyama T, Tomori A, Hotta K, Morita S, Kominato K, Tanaka M, Miyata Y. Endoscopic submucosal dissection of early esophageal cancer. Clin Gastroenterol Hepatol 2005;3:S67–70.

14.

Kamler JP, Borsatto R, Binmoeller KF. Circumferential endoscopic mucosal resection in the swine esophagus assisted by a cap attachment. Gastrointest Endosc 2002;55:923–928.

15.

Katada C, Muto M, Manabe T, Boku N, Ohtsu A, Yoshida S. Esophageal stenosis after endoscopic mucosal resection of superficial esophageal lesions. Gastrointest Endosc 2003;57:165–169.

16.

Conio M, Sorbi D, Batts KP, Gostout CJ. Endoscopic circumferential esophageal mucosectomy in a porcine model: an assessment of technical feasibility, safety, and outcome. Endoscopy 2001;33:791–794.

17.

Kudo S. Endoscopic mucosal resection of flat and depressed types of early colorectal cancer. Endoscopy 1993;25:455–461.

18.

Ono H, Kondo H, Gotoda T, Shirao K, Yamaguchi H, Saito D, Hosokawa K, Shimoda T, Yoshida S. Endoscopic mucosal resection for treatment of early gastric cancer. Gut 2001;48:225–229.

19.

Endo M, Yoshino K, Kawano T, Nagai K, Inoue H. Clinicopathologic analysis of lymph node metastasis in surgically resected superficial cancer of the thoracic esophagus. Dis Esophagus 2000;13:125–129.

20.

Ries LA, Wingo PA, Miller DS, Howe HL, Weir HK, Rosenberg HM, Vernon SW, Cronin K, Edwards BK. The annual report to the nation on the status of cancer, 1973–1997, with a special section on colorectal cancer. Cancer 2000;88:2398–2424.

21.

Enzinger PC, Mayer RJ. Esophageal cancer. N Engl J Med 2003;349:2241–2252.

22.

Fitzgerald RC, Saeed IT, Khoo D, Farthing MJ, Burnham WR. Rigorous surveillance protocol increases detection of curable cancers associated with Barrett's esophagus. Dig Dis Sci 2001;46:1892–1898.

23.

van Sandick JW, van Lanschot JJ, Kuiken BW, Tytgat GN, Offerhaus GJ, Obertop H. Impact of endoscopic biopsy surveillance of Barrett's oesophagus on pathological stage and clinical outcome of Barrett's carcinoma. Gut 1998;43:216–222.

24.

Overholt BF, Panjehpour M, Halberg DL. Photodynamic therapy for Barrett's esophagus with dysplasia and/or early stage carcinoma: long-term results. Gastrointest Endosc 2003;58:183–188.

25.

Prasad GA, Wang KK, Buttar NS, Wongkeesong LM, Krishnadath KK, Nichols FC 3rd, Lutzke LS, Borkenhagen LS. Long-term survival following endoscopic and surgical treatment of high-grade dysplasia in Barrett's esophagus. Gastroenterology 2007;132:1226–1233.

26.

Ganz RA, Overholt BF, Sharma VK, Fleischer DE, Shaheen NJ, Lightdale CJ, Freeman SR, Pruitt RE, Urayama SM, Gress F, Pavey DA, Branch MS, Savides TJ, Chang KJ, Muthusamy VR, Bohorfoush AG, Pace SC, DeMeester SR, Eysselein VE, Panjehpour M, Triadafilopoulos G. Circumferential ablation of Barrett's esophagus that contains high-grade dysplasia: a U.S. multicenter registry. Gastrointest Endosc 2008;68:35–40.

27.

Giovannini M, Bories E, Pesenti C, Moutardier V, Monges G, Danisi C, Lelong B, Delpero JR. Circumferential endoscopic mucosal resection in Barrett's esophagus with high-grade intraepithelial neoplasia or mucosal cancer. Preliminary results in 21 patients. Endoscopy 2004;36:782–787.

28.

Lopes CV, Hela M, Pesenti C, Bories E, Caillol F, Monges G, Giovannini M. Circumferential endoscopic resection of Barrett's esophagus with high-grade dysplasia or early adenocarcinoma. Surg Endosc 2007;21:820–824.

29.

Ishihara R, Iishi H, Uedo N, Takeuchi Y, Yamamoto S, Yamada T, Masuda E, Higashino K, Kato M, Narahara H, Tatsuta M. Comparison of EMR and endoscopic submucosal dissection for en bloc resection of early esophageal cancers in Japan. Gastrointest Endosc 2008;68:1066–1072.

30.

von Delius S, Feussner H, Henke J, Schneider A, Hollweck R, Rosch T, Prinz C, Schmid RM, Frimberger E. Submucosal endoscopy: a novel approach to en bloc endoscopic mucosal resection (with videos). Gastrointest Endosc 2007;66:753–756.

31.

Willingham FF, Gee DW, Sylla P, Lauwers GY, Rattner DW, Brugge WR. En bloc esophageal mucosectomy for concentric circumferential mucosal resection (with video). Gastrointest Endosc 2009;69:147–151.

32.

Akiyama H, Tsurumaru M, Ono Y, Udagawa H, Kajiyama Y. Esophagectomy without thoracotomy with vagal preservation. J Am Coll Surg 1994;178:83–85.

33.

Nigro JJ, Hagen JA, DeMeester TR, DeMeester SR, Peters JH, Oberg S, Theisen J, Kiyabu M, Crookes PF, Bremner CG. Prevalence and location of nodal metastases in distal esophageal adenocarcinoma confined to the wall: implications for therapy. J Thorac Cardiovasc Surg 1999;117:16–23. discussion 23–15.

34.

Nieponice A, Gilbert TW, Badylak SF. Reinforcement of esophageal anastomoses with an extracellular matrix scaffold in a canine model. Ann Thorac Surg 2006;82:2050–2058.

35.

Nieponice A, McGrath K, Qureshi I, Beckman EJ, Luketich JD, Gilbert TW, Badylak SF. An extracellular matrix scaffold for esophageal stricture prevention after circumferential EMR. Gastrointest Endosc 2008;69:289–296.
Conflict of Interest
The authors report that there are no disclosures relevant to this publication.
Funding
This study was supported by the Robert Anthony McHugh Research Fund for the Prevention and Early Detection of Esophageal Cancer, an American Surgical Association Foundation Fellowship Award (RWO), and National Institutes of Health grants K23 DK066165-01 (BAJ) and K08 DK074397 (RWO).
Additional information
Discussant
Dr. Lee Swanstrom (Portland, OR): Thank you for inviting me to discuss this very interesting paper and congratulations to Dr. Witteman, Jobe, and their team for doing this very innovative and I think thought-provoking study. Also thank you for sending the very nicely written manuscript.
I think we are looking at the future of GI surgery here; it certainly represents a developing trend toward local treatment of early cancers. This is a porcine model of en bloc esophageal mucosal resection, not quite esophagectomy yet. Your title is a little challenging in this regard but I think, as you point out, this is just step one in an ongoing study.
As you also mention, it is not a totally new concept. It has obviously always been desirable to not excise the whole en bloc esophagus for early cancer or for benign disease; Akiyama and DeMeester described this over 20 years ago, as you mentioned, as a treatment in humans for benign disease: stripping the mucosa out with a vein stripper and for diseases like end-stage achalasia to do a subsequent pull-up through the muscularis tube. So it has been around for awhile. But obviously, what is novel here is that you are applying it to cancer, and I think that is a very important stage because it really goes hand in hand with some of the things like Barrett's ablation that are increasingly popular.
I just want to point out to the audience some of the points that need to be emphasized. The first is that this is an extension, a surgical extension of those technologies like Barrett's ablation of early cancers that I think is probably going to eliminate traditional esophagectomy for premalignant mucosa and early stage malignancies. This approach is superior to ablation in that it provides us with a pathology specimen, so margin determination and better staging are possible. There is no doubt in my mind that this is the way things are obviously going to go.
I think the other thing to stress is that this was totally an endoscopic procedure. Unlike traditional mucosal stripping techniques which require open or laparoscopic access, this is essentially done with no incisions other than a peg tube. So it is an important and "NOTES"-like development in patient friendly care. I would also emphasize the fact that this is a bunch of surgeons doing a very complex interventional endoscopic procedure and use this as a chance to soap box that surgeons need to be involved in flexile endoscopy and especially interventional endoscopy.
Then, as you mentioned with your teaser at the end of the presentation and in your previous publications, this is a platform for future development in tissue engineering for stricture prevention and maybe someday for esophageal replacement and that has a very exciting future. So my questions to you are: Please enlarge a little bit more on what you see are the differences between doing this in the porcine model and in humans who have a very different esophageal physiology. If you work with pigs, you are aware that the mucosa is pretty slippery on the submucosa, but is it the same in humans, and what do you forecast the difficulties being along that line? Will there be more bleeding? And will the split on the same plain that nice deep submuscularis in a human or will it split in a more superficial plain?
You mentioned the possibility of fibrosis. These experiments were done in a normal esophagus. How are you going to investigate looking at a diseased esophagus whether it is ulcerated, fibrotic, or with Barrett's? What impact will that have? How are you going to investigate that before this technique goes into widespread human use?
A couple of technical questions: The procedure took 3 h, even though the video made it look like 10 min. What steps actually used up most of that time? It sounds like the early experience with getting that proximal mucosectomy is a little bit difficult, and I see that one of your video clips shows a very elegant one-stage technique. Maybe you can enlarge on that just briefly.
How much of this was really dissection versus stripping? Or maybe this is a more relevant question in a human; how much do you think is actually going to be dissection under direct vision to get a good clean layer versus just tying a strip to it by yanking real hard, which makes the endoscope only needed for mopping up the bleeding? Bleeding control in humans is a real problem with endoscopic submucosal (ESD) kind of techniques. How do you control bleeding? Did you use clips?
Finally, the last question: I think you tease us a bit with this tissue regeneration thing. I think we all know that that is probably a way out there before it is widely available. Do you see an intermediate use of this technique of massive en bloc lengths of Barrett's being stripped out, i.e., could you do a pull-up through muscular tube potentially to combine this with maybe a minimally invasive tubularization of the stomach and a pull-up? Can you perhaps comment on that?
Closing Discussant
Dr. Bart P. Witteman (Pittsburgh, PA): Thank you Dr. Swanstrom for your very interesting remarks and questions. The first question was on the expected difference in performing this technique in humans instead of in the swine model. We expect that this dissection will be more challenging in the human esophagus. In the patient I showed, we used submucosal dissection techniques, which were spearheaded by the Japanese. I expect that these techniques will be very useful not only to access the initial submucosal plain but also to assist the inversion process, once the vein stripper is secured. I think during a stepwise procedure in which the assistant carefully draws back on the vein stripper and strips portions of the submucosal complex down the esophagus, the surgeon can use submucosal dissection tools endoluminally to control hemorrhage and dissect adhesions between the submucosa and muscular layer. That brings me to the second question, which was on how to perform TEE in a diseased esophagus. I think the submucosal dissection techniques will also be very helpful in this area, as many years of progressing disease can cause more adherence of the submucosal layer to the muscularis propria. In our procedures, the creation of an initial 2–3-cm cuff was most time-consuming as for this step we tried different techniques. We used hydrodissection techniques to lift the submucosa from the muscularis propria and also blunt dissection, using the transparent cap of the EMR kit at the tip of the endoscope for dissection, but these were time-consuming and insufficient for tight adhesions. Therefore, we relayed on the mentioned submucosal dissection techniques.
The third question was how to control bleeding. We used an endoscopic forceps with cautery in the swine model, which will probably be very useful in humans too. With the inversion technique, vessels become nicely visible and are easily grabbed with the forceps during a stepwise dissection.
The fourth question was on how we think about the use of a biologic scaffold for controlling stricture formation and if there is a role for gastric pull-up in the resected area instead. The use of an extracellular matrix scaffold has been very promising in the canine model after circumferential EMR and showed site-specific tissue remodeling. We now perform a study to explore the effects of a bioscaffold on stricture formation after TEE in the swine model. We also have future plans to perform a study in patients with en bloc resection and bioscaffold substitution for treatment of Barrett's esophagus with high-grade dysplasia. I think the technique of a gastric pull-up in the muscularis tube will be a less attractive option as the laparoscopic part will add invasiveness to the procedure. Especially after the experience in our first patient, we would like to explore the use of TEE technique, the endoscopic circumferential stripping of the mucosa–submucosa complex, followed by placement of the extracellular matrix scaffold to control postoperative stricture formation.
Electronic supplementary material
Below is the link to the electronic supplementary material.
About this article
Cite this article
Witteman, B.P.L., Foxwell, T.J., Monsheimer, S. et al. Transoral Endoscopic Inner Layer Esophagectomy: Management of High-Grade Dysplasia and Superficial Cancer with Organ Preservation. J Gastrointest Surg 13, 2104–2112 (2009). https://doi.org/10.1007/s11605-009-1053-x
Received:

Accepted:

Published:

Issue Date:
Keywords
Endoscopy

Esophagus

Barrett's esophagus

High-grade dysplasia

Esophagectomy

Cancer

Transoral

Incisionless