Fabrication and bifunctional electrocatalytic performance of FeNi3/MnFe2O4/nitrogen-doping reduced graphene oxide nanocomposite for oxygen electrocatalytic reactions
Abstract
The exploration of high-efficiency, low-cost, and long-durability bifunctional electrocatalysts for the oxygen reduction/evolution reactions (ORR/OER) through tuning the chemical components is a great challenge in the energy conversion and storage systems. Herein, we developed a facile and cost-effective strategy to fabricate a FeNi3/MnFe2O4/nitrogen-doped reduced graphene oxide (N-RGO) nanocomposite by calcining the NiFeMn-layered double hydroxides (LDHs)/polypyrrole (PPy)/RGO precursor at 550 °C in Ar atmosphere. The resulting FeNi3/MnFe2O4/N-RGO nanocomposite exhibits not only superior ORR activities (a half-wave potential (E1/2) of 0.76 V vs. RHE and a J1600 rpm of − 4.40 mA cm−2 at 0.5 V vs. RHE) but also excellent OER activities (an overpotential η10 mA cm-2 of 343 mV) in alkaline media. The overall oxygen electrode performance of FeNi3/MnFe2O4/N-RGO demonstrates the smallest ΔE (EOER, 10 mA cm-2-EORR, −3 mA cm-2) value of 0.85 V compared with the benchmark (commercial 20 wt% Pt/C and RuO2/C). Moreover, FeNi3/MnFe2O4/N-RGO also displays superior methanol tolerance in ORR and good durability in both ORR and OER, making it promising applications for oxygen electrocatalysis.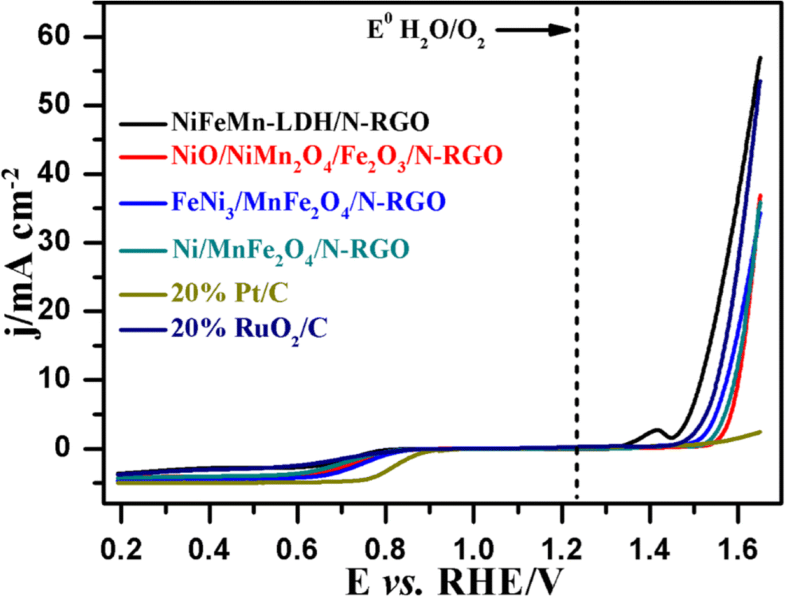 Keywords
Bifunctional electrocatalysts 
Layered double hydroxides 
FeNi3/MnFe2O4/N-RGO nanocomposite 
Oxygen electrocatalytic reactions 
Notes
Funding information
This work is supported by the Doctoral Research start-up Fund of Zhengzhou University of Light Industry (2017BSJJ040), Project of National Science Foundation of China (No. 21671178), Joint Project of National Natural Science Foundation of China (U1704256).
Copyright information
© Springer-Verlag GmbH Germany, part of Springer Nature 2019