Octahedral Pt-Ni nanoparticles prepared by pulse-like hydrothermal method for oxygen reduction reaction
Abstract
Herein, the pulse temperature is provided during the nucleation period of the nanoparticles to shorten the nucleation time for Pt-based nanoparticle growth. Herein, 3-nm-sized Pt-Ni alloy octahedral catalysts were prepared by pulse-like hydrothermal method. The influence of the pulse on nucleation is demonstrated by comparing the morphology obtained from the conditions of constant temperature and pulse temperature. It has been found that pulse temperature could decrease the nucleation time, and the final morphology of the nanoparticle is different due to the different growth temperatures and times. When used in oxygen reduction reaction, the octahedron Pt-Ni exhibited a 50 mV positive shift of the half-wave potential and the mass-specific activity and area-specific activity are 5 and 7 times higher than that of commercial 40% Pt/C at 0.9 V. Through this way, kinds of multiple alloy compounds could be composed with less time in the future.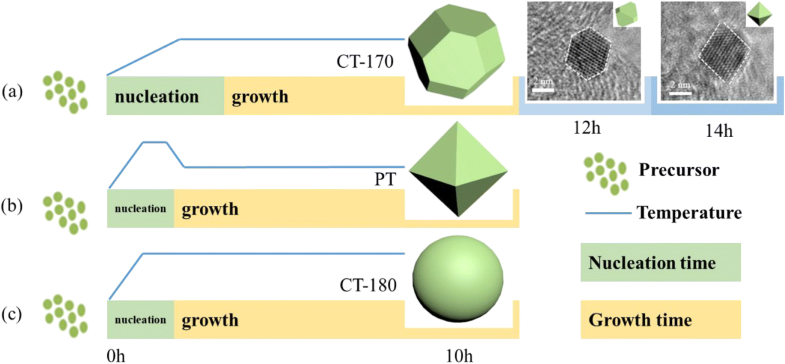 Keywords
Pt-Ni alloy 
Nanoparticles 
Temperature pulse 
Oxygen reduction reaction 
Electrochemical active surface area 
Notes
Funding information
This work was financially supported by the Nature Science Foundation of Beijing (L172024), the National Natural Science Foundation of China (21476246), the National Research Foundation of Korea (NRF) grant funded by the Korean Government (MSIT) (2019R1C1C1006310, 2019R1A2C1002844), the Ministry of Education, South Korea (2016R1A6A1A03012877), and State Key Laboratory for Modification of Chemical Fibers and Polymer Materials, Donghua University.
Copyright information
© Springer-Verlag GmbH Germany, part of Springer Nature 2019