Surfactant induced formation of flower-like V2O5 microspheres as cathode materials for rechargeable magnesium batteries
Abstract
Flower-like V2O5 microspheres were synthesized via a facile hydrothermal route with hexadecyl trimethyl ammonium bromide (HTAB) surfactant. However, the irregular V2O5 assemblies formed in the absence of HTAB. In particular, the cathode based on V2O5 microflowers can deliver superior discharge capacity, better cycling stability, and enhanced rate capability, compared with that based on irregular assemblies. Specially, it can deliver considerable discharge specific capacity (an initial capacity of 126.2 mAh g−1 at 50 mA g−1), good cycling stability (90.7 mAh g−1 after 80 cycles), and enhanced rate capability (above 60 mAh g−1 at 200 mA g−1). The improved electrochemical performance for V2O5 microflowers may be due to the increased specific surface area, interspace, and flexibility. The discharge-charge mechanism was investigated by X-ray diffraction and X-ray photoelectron spectroscopic results. This work indicates the important role of the surfactant on morphology control of cathode active materials for the promotion of electrochemical performance of rechargeable magnesium batteries.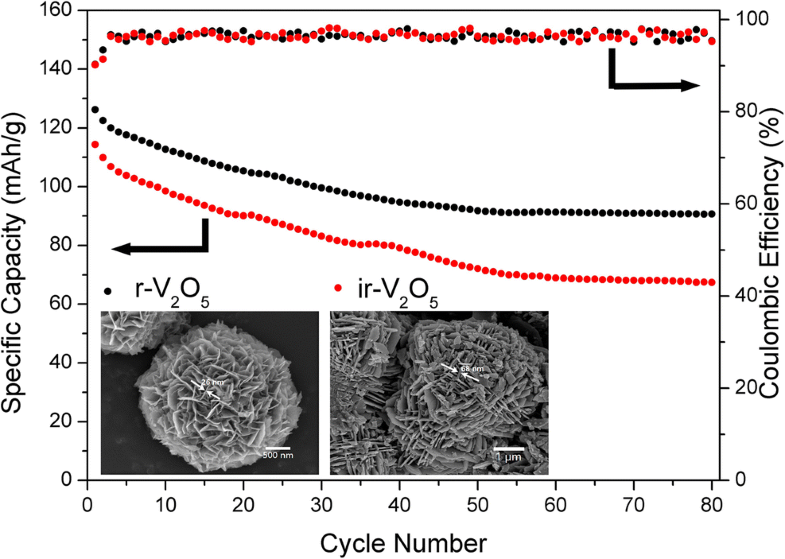 Keywords
Flower-like V2O5 microspheres 
HTAB surfactant 
Rechargeable magnesium batteries 
Specific capacity 
Cycling stability 
Notes
Funding
This work is supported by National Natural Science Foundation of China (No. 51771112), "Shuguang" Scholar Project (16SG08) from Shanghai Education Commission, and China Postdoctoral Science Foundation (2017 M621476).
Copyright information
© Springer-Verlag GmbH Germany, part of Springer Nature 2019