Tailoring hydrophilic and porous nature of polysiloxane derived ceramer and ceramic membranes for enhanced bioelectricity generation in microbial fuel cell
Abstract
Selection of proton conducting membrane is currently a key factor that decides the performance of microbial fuel cell (MFC). Uniaxial pressed polysiloxane-derived ceramer and ceramic membrane with proton conducting fillers like montmorillonite and H3PMo12O40/SiO2 were applied for the first time as separator in MFC. Here, we present a series of polymer-derived ceramic membranes tailored based on pyrolysis temperature and filler addition, in which ion exchange capacity, cation transport number, and oxygen permeability are influenced through the hydrophilic and porous structural property. The maximum power density of MFC with polysiloxane-derived ceramer membrane modified with 20 wt% montmorillonite and 10 wt% H3PMo12O40/SiO2 reached a value of 5.66 W m−3, which was four times higher than that with non-modified polysiloxane-derived ceramer membrane. Furthermore, the specific power recovery per unit cost of the membrane was found to be 2-fold higher than MFC using polymeric Nafion membrane. In contrast, MFC with polysiloxane-derived ceramic membrane modified with 20 wt% montmorillonite delivers 1.2 times lower power density (4.20 W m−3) than that with non-modified macroporous polysiloxane-derived ceramic membrane. Hence, the findings demonstrated that tailoring the hydrophilic and porous structure of the ceramic membrane is a new and promising approach to enhance the performance of MFC.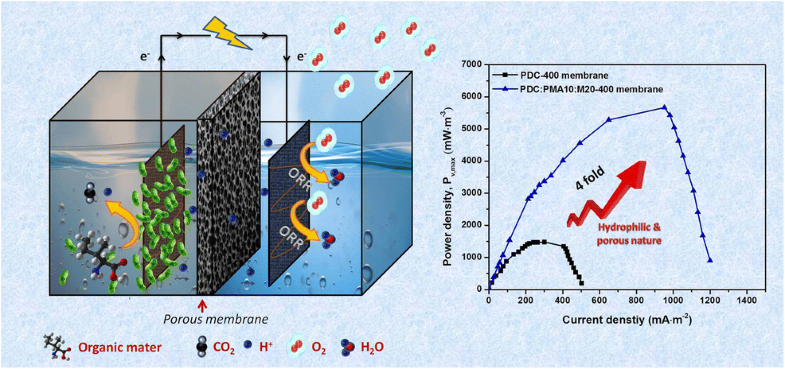 Keywords
Microbial fuel cell 
Porous structure 
Hydrophilic nature 
Polymer-derived ceramics 
Proton exchange membrane 
Abbreviations
MFC

microbial fuel cell

IEC

ion exchange capacity

SiOC

silica oxycarbide

PDC

polymer-derived ceramics

APTES

aminopropyltriethoxysilane

DO

dissolved oxygen

CE

coulombic efficiency

COD

chemical oxygen demand
Notes
Acknowledgments
This research work was completed due to the financial support provided by the German Federal Ministry of Education and Research (BMBF), INNO INDIGO Partnership Program (01DQ15013) and German Research Foundation (DFG), Research Training Group GRK 1860 "Micro-, meso- and macroporous nonmetallic Materials: Fundamentals and Applications" (MIMENIMA), and Department of Biotechnology, Government of India (BT/IN/INNO-INDIGO/28/MMG/2015-16).
Compliance with ethical standards
Competing interests
The authors declare that they have no competing interests.
Copyright information
© Springer-Verlag GmbH Germany, part of Springer Nature 2019