Improvements in heterogeneous cation exchange membranes by incorporation of Fe2O3 nanoparticles
Abstract
Ion exchange membranes are the heart of the electrodialysis process which is a well-known water treatment technology. Herein, a heterogeneous cation exchange membrane (CEM) is synthesized by using a polymeric blend and the effects of Fe2O3 and sulfate-functionalized (s-Fe2O3) nanoparticles incorporation on the properties of the membranes were investigated. The addition of Fe2O3 nanoparticles caused a reduction in electrical resistance up to 53%. Moreover, the ion exchanged capacity (IEC) and permselectivity were improved by 34% and 42%, respectively. Meanwhile, by sulfonation of the Fe2O3 nanoparticles, further cation exchange groups were introduced to the nanoparticles structure which significantly improved the membrane properties. Through addition of 0.5 wt% s-Fe2O3 nanoparticles to the CEM matrix, a 45% reduction in the electrical resistance, and 45% and 43% enhancement in the IEC and permselectivity were obtained, respectively.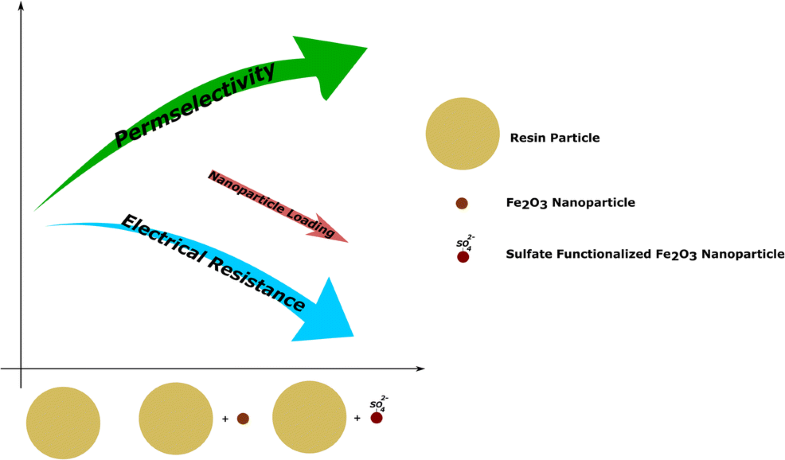 Keywords
Heterogeneous cation exchange membrane 
Sulfate Fe2O3 
Nanoparticle 
PVC/HIPS/ABS binder 
Notes
Acknowledgments
This project received financial support from the research council at Iran University of Science and Technology (IUST).
Copyright information
© Springer-Verlag GmbH Germany, part of Springer Nature 2019