A novel electrochemical sensor for uric acid detection based on PCN/MWCNT
Abstract
A simple, novel electrochemical sensing platform based on porous g-C3N4 (PCN) and multi-walled carbon nanotubes (MWCNTs) for the sensitive detection of uric acid (UA) has been proposed. The obtained PCN possessed good biocompatibility and large specific surface area with good dispersion, which was beneficial to electrocatalysis. The introduction of MWCNT as the conducting matrix improved the poor conductivity of PCN. Due to synergistic effect, the redox peak currents of UA substantially enhanced at PCN/MWCNT-modified electrode. The oxidation peak current exhibited linear responses to the concentration of UA in the range from 0.2 to 4 μM and 4 to 20 μM, and the limit of detection was calculated as 0.139 μM (signal-to-noise ratio of 3 (S/N = 3)). The sensor based on PCN/MWCNT-modified electrode was also successfully applied in human serums and also showed excellent selectivity, reproducibility, and stability. This work illustrated that the fabricated electrochemical sensor was promising for analytical applications.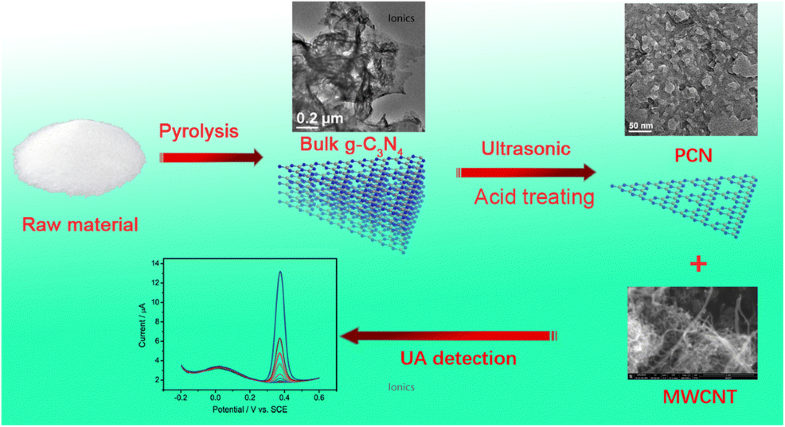 Keywords
PCN 
MWCNTs 
Electrochemical sensor 
UA 
Notes
Acknowledgments
The work was supported by the National Natural Science Foundation of China (Nos. 51572127, 21576138, and 51872140), China-Israel Cooperative Program (2016YFE0129900), Program for NCET-12-0629, the Changzhou Sci&Tech Program (Grant No. CJ20179015), Ph.D. Program Foundation of Ministry of Education of China (No. 20133219110018), Six Major Talent Summit (XNY-011), Natural Science Foundation of Jiangsu Province (BK20160828), Postdoctoral Science Foundation (1501016B) and PAPD of Jiangsu Province, and the program for Science and Technology Innovative Research Team in Universities of Jiangsu Province, China.
We also thank Dr. Huaping Bai and Dr. Wanying Tang at the Analysis and Test Center, Nanjing University of Science and Technology, for XRD and other data collection.
Copyright information
© Springer-Verlag GmbH Germany, part of Springer Nature 2019